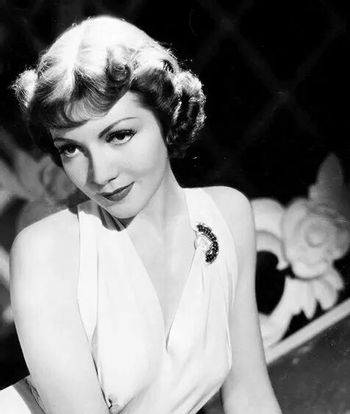 Claudette Colbert, born Émilie "Lily" Chauchoin (September 13, 1903 – July 30, 1996), was a French-American actor from The Golden Age of Hollywood known for playing modern women with sophisticated wit.
Born in suburban Paris, Colbert moved with her family to New York City at the age of seven and first became interested in acting in high school. After studying at the Art Students League of New York she began her career on Broadway, where she was generally typecast as the French Maid. Wanting to get away from this, she moved to Hollywood in 1928. There she signed up with Paramount Pictures, and gradually received roles with the bigwigs of the 1930s Hollywood, including The Smiling Lieutenant, directed by Ernst Lubitsch, and two Cecil B. DeMille films, The Sign of the Cross and Cleopatra.
Then the movie that changed it all: Frank Capra's classic Screwball Comedy It Happened One Night—no one thought it would amount to anything, least of all Claudette. Before the film's shooting, she famously asked for a doubling of her salary (making it $50,000) and that the film wrap up before her planned ski vacation. Fortunately, the film succeeded and shot Claudette to movie stardom, winning the Academy Award for Best Actress and achieving success as a top comedienne.
She's also the only female actor to star in three films nominated for Best Picture in the same year (1934): Capra's It Happened One Night, De Mille's Cleopatra, and John Stahl's Imitation of Life.
Claudette worked with the best directors of the time (Ernst Lubitsch, Cecil B. DeMille, Frank Capra, and Preston Sturges), was dedicated to her work, and a shrewd woman; during The '30s, she was the best paid star in Hollywood, negotiating her way to the top, and continuing to work hard in The '40s.
Less active in films during The '50s, Colbert returned to Broadway and received a Tony Award nomination for her work in The Marriage Go-Round (1958). She was also nominated for an Emmy Award, and won a Golden Globe, for her performance in the TV movie The Two Mrs. Grenvilles (1987).
Colbert was married to actor and director Norman Foster from 1928 until they divorced in 1935, and to physician Joel Pressman from 1935 until his death in 1968. She had no children.
She died in 1996 at the age of 92, a legend of the silver screen.
---
Select Claudette Colbert Films:
---