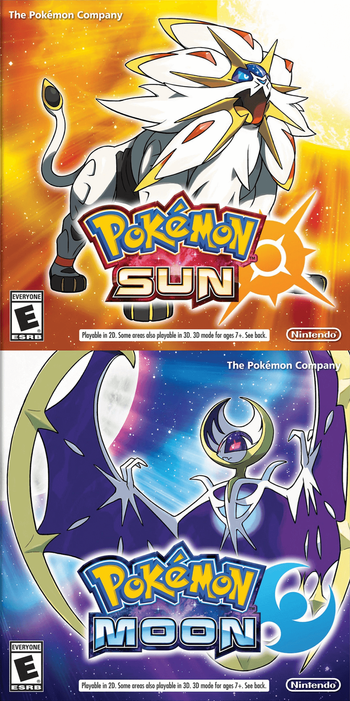 Pokémon Sun and Pokémon Moon are the first games in the seventh generation of the main Pokémon game series, which were released for the Nintendo 3DS.
Sun and Moon take place in the Alola region, based on the US State of Hawaiʻi, one of the most ecologically diverse places on Earth. The games begin when a family moves to Alola, and a new trainer sets out on an adventure across the four islands that make up the region. The games mark a major shift in some of the series conventions, such as including a Fairy Companion in the form of the Rotom Pokédex, more realistic graphics instead of the stylized caricatures which were used prior, the introduction of new variations on old Pokémon, and the addition of Z-Moves, which allow for any Pokémon to release a powerful attack based on a single type, but can only be performed once per battle.
The existence of the games was leaked via a trademark registration website in Europe, and were announced the next day on the February 27, 2016 (the franchise's 20th Anniversary) via Pokémon Direct. A demo version became available on October 18, 2016. They were released for most of the world on November 18, 2016, and delayed until November 23, 2016 for Europe. Sun and Moon retain the multilingual support of Pokémon X and Y, rather than all languages being on separate game carts, adding simplified (Mandarin) Chinese and traditional Chinese to the seven languages available in X and Y, although as before, choosing a specific language locks the game to that language until saved data is deleted.
Not to be confused with the first set of Robopon games, which had Sun, Moon, and Star versions.
On June 6th 2017, Game Freak and Nintendo revealed Pokémon Ultra Sun and Ultra Moon for the Nintendo 3DS, which is an alternate retelling of Sun and Moon with different Pokémon available, including new Solgaleo and Lunala forms for Necrozma.
---
Spoiler Warning:
Pokémon Sun and Moon is very popular and contains lots of spoilers here and its subpages. Due to this, it is recommended to have the spoiler view turned off if you don't want to be spoiled. This game has many plot twists and surprises, and most spoilers are marked. Some of them are unmarked, however. You Have Been Warned.
---
Tropes that Pokémon Sun and Moon provide:
open/close all folders
# to A
Authority Equals Asskicking:

Kahunas are the leaders of their respective islands, and the most powerful trainers on said islands.
The Captains who orchestrate the Trials don't battle the player during said Trials, but there are a few opportunities to do so at other times, and they're pretty good, too.
Totem Pokémon are Minion Masters that summon weaker, related Pokémon during their battles. As one of the final challenges in their islands, they're no slouch themselves.
After you become the Pokémon League champion, you get to pull off one of these. Unlike other games, where the old champion remains the champion even after you beat them, you get to defend your title as champion.
Several post-game bosses too. Principal Akusa heads the Trainer's School, and is pretty tough, while Anabel (Looker's boss) will flatten you if you're unprepared for the battle, her Pokémon are not only strong, but her team is diverse and well-balanced.

Automatic New Game: Unlike previous entries, starting the game without an existing save on the cart will bypass the title screen and immediately start initial setup and trainer customization before jumping straight to the prologue cutscene.
Awesome, but Impractical: Using the Z move Z-Splash. It may sound awesome to increase your attack by 3 stages (more than Swords Dance's 2), but not worth occupying a move slot over nor wasting a Z-Move over. Not even on Gyarados.
B to D
E to G
H to L
M to N
O to R
S
T to Z
---