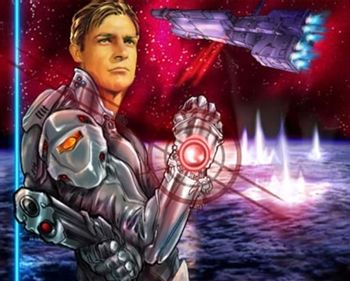 "Holy Klono's tungsten teeth and curving carballoy claws!"
The Lensman series by E. E. "Doc" Smith counts as one the earliest Space Operas, and, therefore, the Trope Maker of many of the conventions used by the genre. This makes the series a must-read for anyone interested in the genesis of Science Fiction.
The series was assembled from Galactic Patrol, a serial published in Astounding Stories magazine from 1937 onwards. (Smith rewrote and expanded Triplanetary, serialized in 1934 in Amazing Stories, to serve as a prequel to the main series.) It describes the epic battle between Good and Evil as personified by Civilization (and their sponsors, Arisia) and Boskone (and their sponsors, Eddore), respectively. Each faction is, in fact, the pawn of a different race of Sufficiently Advanced Aliens who each have a grand plan for the sentient beings of the universe.
The Kinnison bloodline plays an important role for Civilization, since it was carefully bred over millennia by the Arisians to produce a race of super-beings that would ultimately supplant the Arisians themselves.
The title object, the Lens of Civilization, is an Empathic Weapon that initially grants its users Psychic Powers which vary in strength and effectiveness from user to user, as well as providing an identification for Law Enforcement that cannot be forged or duplicated and instantly kills anyone attempting impersonation. For certain, special individuals, the Lens is largely a Magic Feather.
The Lensman series consists of:
Triplanetary (serialized 1934, book publication 1948)
First Lensman (book publication 1950)
Galactic Patrol (serialized 1937-8, book publication 1950)
Gray Lensman (serialized 1939-40, book publication 1951)
Second Stage Lensmen (serialized 1941-2, book publication 1953)
Children of the Lens (serialized 1947-8, book publication 1954)
The book version converted Triplanetary, an originally unrelated serial, into a prequel by adding new material to the beginning. The original serialized version of Triplanetary, but not the revised version of the novel, has gone into public domain, meaning that a number of e-bookstores have the old version, sometimes for free.
Masters of the Vortex (also known as The Vortex Blaster) appeared as works of short fiction which Smith reconfigured into novel form in 1960. It occurs in the same continuity but here the events of the Boskonian war are peripheral and irrelevant to the plot. Atomic powerplants around the galaxy have for many years been exploding, turning into all-consuming, all-polluting, inexorably-growing fireballs that defy analysis, explanation or control. Neal Cloud, a mathematical prodigy who heads up the scientific efforts to do all three, is inspired to develop a means for their destruction when he loses his family to one and sets out to clear the galaxy of them. Along the way, he has various adventures, foils a criminal mastermind and, with the help of a female cybernetic engineer every bit as brilliant as himself, finds out the stunning truth of exactly what the Vortices are and why.
The Lensman series was adapted into a (unlicensed) Japanese Anime movie (SF New Century Lensman) and series (Lensman: Galactic Patrol) , which took the basic outline and the names of most of the major characters and turned it all into a Star Wars ripoff. Doc Smith's estate attempted to sue the anime's creators over the series but the lawsuit was thrown out on a technicality. (The litigants had waited too long before acting and thus failed to protect their copyright.) The movie and a Compilation Movie of part of the series were dubbed in English by Harmony Gold USA. Later, Streamline Pictures redubbed the movie with the original soundtrack and no cuts for content.
In 1963 the New England Science Fiction Association named their annual SF convention "Boskone" (a play on "Boston Convention") in Smith's honor. The convention newsletter is named "Helmuth", of course.note Helmuth is an intermediate Dragon who always begins his messages to his underlings by saying "Helmuth, speaking for Boskone!" After a group of fans got in trouble with the Boskone organizers, they started up an alternative (and, eventually, larger) convention called "Arisia."
WARNING: Spoilers may be unmarked.
---
Tropes used in the Lensman series include:
open/close all folders
Tropes A - G
Tropes H - P
Tropes Q - Z
Quitting to Get Married: Clarissa comments at the end of Gray Lensman that she's facing a huge amount of demerits for having not one, but three men in her quartersnote . The chief surgeon (one of those men) assures her she won't get in trouble, because her resignation to marry Kinnison will be backdated to before the meeting. (Note that Clarissa hadn't said anything about resigning, everyonenote just assumed she would, and a woman quitting her career to get married was par for the course when the stories were first published.) Turns into a 10-Minute Retirement when Mentor delivers a psychic Dope Slap to Kinnison at the beginning of Second Stage Lensmen ... but before she gets to go through with the wedding at the end of that book, she resigns againnote .
Ray Gun: By the time of Galactic Patrol, DeLameters are standard Patrol equipment, capable of vaporising anything that doesn't have advanced shielding.
Raygun Gothic: Before it was retro, even.
A Real Man Is a Killer: All Tellurian Lensmen are male, because a Lensman must be able to kill without a conscience if the situation calls for it and only men can be natural-born killers like that; women, supposedly, just don't have that kind of sociopathy in them. Virgilia Samms is disqualified from being a Lensman for this reason, and she says that there will one day be a woman Lensman, but she'll be an absolute freak of nature.

Actually, Virgilia's being fed a crock of bullshit. The Arisians don't want women in the Lensman corps because it might screw up their breeding program.

"The Reason You Suck" Speech:

Helmuth receives one when he tries to visit Arisia:

Mentor: "Inflated — overwhelmingly by your warped and perverted ideas, by your momentary success in dominating your handful of minions, tied to you by bonds of greed, of passion, and of crime, you come here to wrest from us the secret of the Lens, from us, a race as much abler than yours as we are older — a ratio of millions to one.

"You consider yourself cold, hard, ruthless. Compared to me, you are weak, soft, tender, as helpless as a newborn child. That you may learn and appreciate that fact is one reason why you are living at this present moment.

Your lesson will now begin

."

Later, one of the lesser Guardians does the same to a couple of trespassing Eich leaders.

Red Oni, Blue Oni: In First Lensman, Roderick Kinnison and Virgil Samms have this sort of dynamic going, with Rod's impulsive charisma balanced by Samms's methodical cunning.
Revenge Is Sweet: The Overlords of Delgon had been enslaving and torturing Velantians to death for millennia. With the help of the Galactic Patrol, the Velantians became able to go on a Roaring Rampage of Revenge, and whenever they successfully wiped out a den of Overlords it felt wonderful. One particular episode in Second Stage Lensmen had Worsel of Velantia return from a raid on a den of Overlords radiating "self-satisfaction, bliss, and contentment." This despite being banged up, stitched up, and bandaged due to injuries received in the fight.
Rule of Cool: Averted, surprisingly; the basic fictional scientific principles such as the Bergenholm drive, hyperspatial tubes, force fields, rays etc are all handled with consistency and care. Smith finds new ways to apply these principles, rather than whipping out more Applied Phlebotinum. Even his predilection for the Boarding Party, and, of course the Valerian Space Axe Recycled In Space, are solidly justified. Though the Bergenholm drive only averts it in the basic view; in the details it is more an example of playing it straight. "Inertialess" objects still display inertial behaviour in cases where it would be too awkward to behave "realistically". For example, true inertialessness would halt all thermal motion of atoms and molecules, which would wreak lethal havoc on any biological system, far beyond the "space-sickness" which is the worst such effect described (and then only in the case of the first prototype, later developments avoid this). A spaceship going inertialess in a gravity well would instantly, without perceptible time-lapse, fall to the bottom of the well and likely be vaporised in the heart of a star; again this simply does not happen, and the behaviour of the Bergenholm drive in relation to gravitational fields can only be explained by assuming it to also function as a Cavorite-style gravity shield - the first test of the initial prototype inertialess drive indeed does exactly this.
Roaring Rampage of Revenge: Worsel, to avenge the millennia his people suffered at the hands of the Overlords of Delgon (not to mention his own suffering), vows to obliterate the entire species from the universe. Pretty much does. Considers the fact that he has to torture some of them for information to be a bonus. This is a species that tortures its victims slowly to death in order to enjoy their agonies and then consume their life-force as they die. Not because they need to do so to live or anything, they just like it. Little wonder that the Velantians' allies saw fit to help them destroy it.
Save the Villain: Lensmen will try to save even Boskonian agents if rehabilitation is at all possible. They have no hesitation about destroying those that prove to be too hardened or indoctrinated to save (which generally translates to pretty much all of the upper echelons of their leadership).
Scary Dogmatic Aliens: Boskone is The Empire pitted against the benevolent and free Civilization. Consider the stories were written in the run-up to, and during, WWII and you can see who they stand for. It's probably not coincidence that the title of the Eddorian leader is also one of the titles of the German Kaiser ("All-Highest"). Also Cf. Helmuth von Moltke, German commander at the start of the First World War.
Schematized Prop: Any and all weapons, but particularly the DeLameter blaster. Almost all spaceships.
Science Hero: Quite often, the tide of the war against Boskone is changed as a result of brilliant scientists whipping up the newest Big Thing just in time to give the Space Pirates a thrashing.
Sci-Fi Writers Have No Sense of Scale:

Averted; Smith appears very much aware that he's portraying a galaxy-wide civilization. Here's the Gray Lensman on leading the assault on a major Boskonian stronghold:

Kinnison: "With around a million fleets to handle we can't spend spend much time on any one."

The starships of the Galactic Patrol use total conversion of matter to energy for their engines. At first, the power was conducted in meters-thick, liquid-helium-cooled silver busbars, because nothing less could handle it. It's specifically noted that to utilize their extreme power sources to their fullest, they needed to go a step further than that and discover room-temperature superconductors.

Screw This, I'm Outta Here: After

Ploor

is destroyed, the remnants of the Boskonian fleet flee back to their respective planets. The Patrol, thoroughly sick of killing mooks like shooting fish in barrels, lets them go.
Secret Weapon: Primary beams, kept secret from the Boskonians throughout most of Gray Lensman. The Galactic Patrol only used them when they knew none of its victims could escape to tell the tale.
Sequel Reset: Every one of the original four novels ends with the Lensmen thinking they've finally destroyed the nerve center of Boskone's operations and wrapped things up for good... which means that every sequel has to have a scene establishing that, no, there's still one level higher to go (at least until they finally confront the Eddorians).
Serial Escalation: Goes hand-in-hand with the Lensman Arms Race. Each book introduces at least one superweapon that's ultra-powerful at the moment it's revealed but that becomes so ubiquitous by the sequel that it's practically the new baseline for weapons tech, resulting in scientists on both sides developing still more powerful superweapons in an effort to break the status quo. Wash, rinse, repeat.
Shades of Conflict: The general perception of Boskonia in Civilization early on, fueled by numerous war crimes and atrocities, is that they are all deranged psychopaths and deserve no mercy. While remaining largely true for some particularly vile units and organizations, this gradually changes as more or less peaceful contacts with the enemy increase, and people realize that there are both more and less evil individuals and cultures within Boskonia's not completely monolithic evil empire.
Shipper on Deck: After Kinnison's disastrous encounter with the Wheelmen in Galactic Patrol ends up with him laid up in a hospital, Doctor Lacy and Port Admiral Haynes conspire to set him up with Clarissa MacDougall, an eligible nurse who happens to also be related to the Samms family. The two do eventually fall for one another.

Just as the Arisians intended from the start of their breeding program.

Show, Don't Tell: For all the loving detail Smith put into his descriptions of technology and military tactics, his character descriptions tended to be "This is what you should think about this character."
Shown Their Work: For such a dated (and often over-the-top) series, Lensman can be surprisingly hard science-fiction at times.
Skip the Anesthetic: Played with in Gray Lensman. Kinnison has barely survived torture and needs radical surgery. He offers to just keep his mental nerve block up, but the doctors convince him that he needs to be out cold due to possible psychological trauma from what they'll have to do to him. Then the anesthesia only blocks the pain and leaves Kinnison conscious. Worsel has to be brought into the operating room to put Kinnison under via mental powers.
Sleazy Politician: In the prequel First Lensman, Senator Morgan, who mixes shady political dealing and ties with corrupt corporations and the mob with secret subservience to the evil alien empire. His chief aide, Herkimer Herkimer III, is probably the closest thing Lensman has to an utter monster. (Well, as far as human beings are concerned, at least.) Morgan can probably also be considered a mild Strawman Political against left-wing economic populism.
Sleep Cute: Costigan and Clio Marsden share a chaste moment of slumber together after their rescue from Grey Roger's clutches.
The So-Called Coward: Nadreck refers to himself as a Dirty Coward. He's also probably the second most effective Lensman in Civilization, prior to the Children of the Lens; the fact that he doesn't stick his neck out leads him to take no risks and defeat the enemies of Civilization with consummate skill, efficiency, and guile.

His race regards cowardice as a virtue. At one point, he's acutely embarrassed by the fact that he was forced to personally kill three enemies in single combat, instead of manipulating them into killing each other. Like the other few hundred enemies in the base.
Eventually, the human penultimate, Kimball Kinnison, reluctantly comes to the conclusion that Nadreck is right about this, and that he has to adopt the same sort of ruthless, coldly pragmatic thinking to succeed. He doesn't enjoy it one bit.

So Last Season: The powers of Civilization, Boskone, and the Lensmen keep going up and up and up... by the final novel, even the superhuman Kimball Kinnison has to take a back seat to the final Guardians of Civilization.
Solar System Neighbors: Martians and Venusians are mentioned, while Pluto was colonized by the exosolar Palainians long before Earth (Tellus) discovered space travel.
Sorting Algorithm of Evil: Boskone, played to the hilt. Every time Kinnison thinks that this time Boskone is for sure, absolutely, 100% beyond a doubt finished... surprise! Those bad guys were just a puppet of the next and even more dangerous layer of Boskone.
Space Battle: While most of the action centered on the larger-than-life heroes as individuals, occasionally the emphasis shifted to the larger-than-life fleets of space battleships they commanded.
Space Friction: When you're totally inertialess, running into a hydrogen atom in the almost-perfect vacuum of space actually does qualify as friction. Friction from the interstellar medium, in fact, is the only limiting factor on the acceleration of an inertialess drive.
Space Is Cold: During Virgil Samms's visit to a sub-zero planet, Smith takes pains to explain that the vacuum of space is a very poor heat conductor. The metallic ground, on the other hand...
Space Pirates: The Boskonian empire before they turn out to be a Greater-Scope Villain. Not a hard mistake to make, when it's the only face the enemy shows you.
Space Police: The Galactic Patrol serves as Civilization's peacekeeping force, though they're a lot more overtly military than a lot of other examples of the trope. Standard Lensmen serve as special agents and have broad authority to deputize whoever they think is necessary to help them with whatever their mission is; the Grey Lensmen have even more extraordinary powers, both legally and (usually) in terms of abilities, as they have free rein to investigate just about anything that catches their attention with minimal oversight.
The Spartan Way: Present, though somewhat downplayed. In Galactic Patrol, it's mentioned that out of an initial selection pool of one million per planet per year, only about one hundred are deemed worthy of receiving a Lens. Given that a typical Lensman is among the most physically, mentally, and morally tough people in the galaxy, it's to be expected that the selection process must be quite demanding.
Stalker with a Test Tube: The Arisians have been interfering with most of human history, conducting a breeding program to produce humans with mental powers exceeding their own. The Kinnisons become the end result.
State Sec: The Galactic Patrol in First Lensman is a heroic example. They function as Secret Police and spy on Boskone's organization, but also quickly absorb the Triplanetary Service (a regular military outfit) and other military forces of Civilization, as well as building their own fleet. By the time of Galactic Patrol, they have completely subsumed Civilization's government.
Starfish Aliens: The Nevians, Palainians and Rigellians, among others. Thoroughly inhuman and occasionally monstrous aliens who (at least insofar as the named examples are concerned) are either humanity's allies from the start or become so.
Subspace Ansible: The Lens grants this functionality. If they're advanced enough, Lensmen in different galaxies can communicate with each other with no more difficulty or inconvenience than an online chat room.
Sufficiently Advanced Aliens: Arisians and Eddorians. Arguably the Ploorans. All three races appear to be

naturally evolved Level Three telepaths.

Super Breeding Program: The Lensmen are the product of an Arisian breeding program to create a race of ultra-powerful telepathic beings to defeat the Eddorian menace.
Superior Twin Teamwork: In Children of the Lens, the titular children are two pairs of twin sisters plus their older brother. Once grown, they can form a Mental Fusion called the Unit, at one point described by Mentor of Arisia as "the most powerful and the most nearly perfect creation this universe has ever seen." Unusually for twin tropes, the twin sisters are non-identical.
Super Prototype: Numerous Cool Ships, from the Brittania to the Chicago.
Supporting Leader: Kinnison's controller, Port Admiral Haynes, doesn't get himself directly involved much unless there's a space battle of stupendous scale to coordinate. Nevertheless, his leadership and support often prove invaluable whenever Kinnison finds himself in a tight spot.
Taking You with Me: When fighting a losing battle, Boskonian gun crews purposely overload their weapons. This burns out the gun and kills the gun crews, but the resulting high powered beam is enough to break through the shields of the Patrol's defensive cruisers. It backfires when Patrol scientists figure out a way to safely use the method, creating the devastating primary beam.
Technobabble: Mixed liberally with actual science, and Smith was reportedly delighted by fans who could spot the difference.
Technicolor Eyes: The non-Kinnison breeding line is characterized by auburn hair and "gold-flecked, tawny eyes".
Telepathic Spacemen: The point of the story.
Terror Hero: Nadreck of Palain's M.O. is to play on his foes' fears and paranoia from the sidelines until they go insane and destroy one another. He's used this technique to wipe out entire bases. In fact, Nadreck prides himself on this technique so much that the one time it doesn't quite get to 100% (forcing him to invade the base and personally kill the last three Boskonian personnel who didn't crack), he is humiliated, treating the matter as My Greatest Failure.
Too Awesome to Use: Invoked and discussed within the context of the perpetual game of one-upmanship that is the Lensman Arms Race. Every so often, the scientists of either Civilization or Boskone will come up with something leaps and bounds ahead of what the other side can deal with. However, they'll intentionally hold off on using it until a decisive moment or unless they can guarantee no enemy survivors will report back to headquarters, because they know that their enemy will be able to analyze, reverse-engineer, and develop their own countermeasures for anything wielded against them.
Touched by Vorlons: Several characters are touched by the Arisians to varying degrees, particularly the second-stage Lensmen in the later books. Generally speaking, this is when said humans are in direct opposition to an Eddorian,

specifically Gharlane,

and require protection.
Tractor Beam: They appear here first, as an offshoot of research into anti-inertia forcefields. Interestingly, against negamatter bodies, they behave in the exact opposite fashion, repelling them instead of capturing them. The inverse of the tractor, the pressor, also exists - although it has never enjoyed the same percolation into popular culture as its attractive brother.
Trademark Favorite Food: Kinnison and his big, thick, rare beefsteaks.
Transhuman: The end goal of the Arisians' great eons-long plan, realized by Kim and Clarissa Kinnison's offspring, is the creation of a species of superbeings to whom the powers of even a Second-Stage Lensman are second nature from birth.
Translator Microbes: The Lens of Civilization allows its wearer to communicate with anyone as if in their native language; the wearer doesn't hear the original sounds at all.
Tsundere: Clarissa Kinnison (nee MacDougall) may be one of the prototypes for the "feisty, temperamental redhead that ultimately falls for the hero" archetype that's so prevalent in science fiction.
Twin Switch: First Lensman Samms does a variation on this so he can infiltrate a drug cartel while under Patrol protection. The reason he can switch with his cousin is carefully explained.
Types of Naval Ships: Played with. Speeders are smallest (room for one or two people) and fastest. Covettes, frigates, and destroyers aren't used at all. Cruisers are generally designed for specialized tasks, such as prevent hostile ships from going "free", scouting, or launching negabombs. Battlecruisers are used for commerce raiding (by the Boskonians), or for fighting commerce raiders (by the Patrol). Battleships and super-dreadnoughts are front-line combat units although we see far more of the latter then former. Finally, the slow maulers and super-maulers were designed for planetary bombardment, although thanks to the strength of theater shields they proved more successful in ship to ship combat.
The Unfettered: Gray Lensmen, officially called Unattached Lensmen, are free to pursue whatever avenues they desire in pursuit of their moral duty to protect Civilisation, and are given pretty much a blank check to use Civilization's resources as they see fit in that pursuit. Technically they are answerable to the Galactic Council and the Port Admiral of the Galactic Patrol, but in the field they answer only to their own conscience.

Kimball Kinnison: On this job I can recognize nothing of good taste, of courtesy, of chivalry, or even of ordinary common decency.

Unobtainium: Dureum, a "super-dense" metal which allows it to be used inside of Hypertubes.
Unscrupulous Hero: Nadreck of Palain. All Gray Lensmen are expected to be somewhat pragmatic and utilitarian. But Nadreck takes it up to eleven, in part because Palainian culture considers deceit and cowardice to be virtues. Make no mistake, if Nadreck is after you, he will absolutely arrange your death in any of the ways that his cunning, his resources, and his powers allow... but he'll only personally assault you as a desperate last resort.
Unstoppable Force Meets Immovable Object: Invoked by the narrative when

Helmuth's base self-destruct system

triggers a tremendous duodec explosion, with the planet being the immovable object. The result is

the planet temporarily breaking apart, before crashing back together, deformed beyond recognition

.
Unusual Euphemism: By Klono's Carballoy Claws! Also a Future Slang version of Curse of The Ancients. Klono seems to have whatever alliterative attributes the person swearing by him wants him to have: iridium intestines, gadolinium guts, und so weiter. Lampshaded as being why he's such a popular space-god. "He's got so much stuff - teeth and horns, claws and whiskers, tail and everything - that he's much more satisfactory to swear by than any other space-god I know of."
Unwilling Roboticisation: What happened to Clio's guide - and possibly others - in Triplanetary.
Wall of Text: It seems Talking and Talking and Talking is a free action... It's mentioned that telepathic communication is vastly faster than speech.
We Didn't Start the Führer: Or the Kaiser, or Nero, or the Tyrant of Asia... Many of history's most famous tyrants were actually Eddorian sleeper agents.
We Have Reserves: When Patrol marines storm a Boskonian battlecruiser, the defending officers have no reservations about tossing armour-piercing grenades into the melee, which kill almost as many of their own forces as they do of the Patrol attackers.
Weird World, Weird Food: The planet Trenco, where anything has to be willing to eat anything in order to survive, and usually does - to the point where a creature will take pains to finish its lunch even while being lunched upon itself.
We Will Spend Credits in the Future: Possibly the Trope Codifier. The credit is the base currency of Civilization.
What Measure Is a Mook?:

As the series goes on, we learn much of Boskone is Obliviously Evil and honestly thinks Civilization are the bad guys who'll do horrible things to captured Boskonians (lampshaded in First Lensman, where the surviving Petrinos switch sides upon realizing how badly they've been lied to and used). Kinnison occasionally feels really bad about committing what amounts to mass murder of people who present about as much of a threat to him as an ant does do a boot.
Kinnison is deeply disturbed when the bad guys capture and murder some of his crew in a mission gone wrong. His boss Haynes tries to tell him these things happen, and says any man in the Patrol would still give his eyeteeth to ride out with Kinnison, but it doesn't take. Kinnison even tries to "fix" the qualifications of a volunteer Suicide Mission so he's the one who goes, but his friends beat him to the punch and prove they're better qualified. They also remind him his life is worth a lot more than just about anyone else's. This is probably why Kinnison likes working alone whenever he can.

Worthless Yellow Rocks:

Iron, the basis of the Nevians' technology and economy: five pounds is a king's ransom, but to humans it's so common we build our ships' hulls out of it!
The "super-atomic motor" in the stories works by converting the total mass of the fuel into energy. "Allotropic Iron" is an artificially produced allotrope that packs a lot of mass into a very dense liquid, and as such, makes a very efficient and easy to handle fuel for their ship's atomic motors.
Illona goes around wearing shedloads of credits in jewels, but they're not considered a big deal on her home planet of Lonabar. She's wearing so much jewellery, in fact, they let Kinnison set up a cover identity as a shady jewel dealer.

Worthy Opponent: Kinnison and Helmuth deeply respect each other's capabilities, which is part of why they try so hard to kill each other. Two books later, Helmuth is still Kinnison's gold standard for a careful and skilled opponent, to the point where the latter expresses honest dismay when he catches Boskone's minions making mistakes that would have never happened on Helmuth's watch.
Wouldn't Hit a Girl: Kinnison can mow down male thugs left and right without batting a lash, but he never harms a woman, end of discussion. Not even when they try to kill him or when he thinks they're literally waving thionite in his face. This causes him no small headache when he is forced to deal with the genocidally misandric matriarchs of Lyrane II.
You Are Number 6: In Boskonia proper, the inhabitants have "registry numbers" rather than family names. It's unclear whether this is only true for some of its sub-divisions, or true only for the lower classes; it doesn't seem to apply to the elites.
Your Princess Is in Another Castle!: Except for the two prequels that he is not in, all of the novels end with Kim thinking that THIS time he's finally obliterated Boskone's leadership for sure... Although in Children... he begins to think that "there IS no top". (Thankfully for Civilization, he's wrong, even if the final layer is above his paygrade.)
You Have Failed Me: Helmuth loves this trope, mostly because it encourages his minions to be thorough in their work, but he's not above sparing underlings who defy him (Gildersleeve's crew).
The Lensman anime contains the following tropes:
Anime Tropes
---