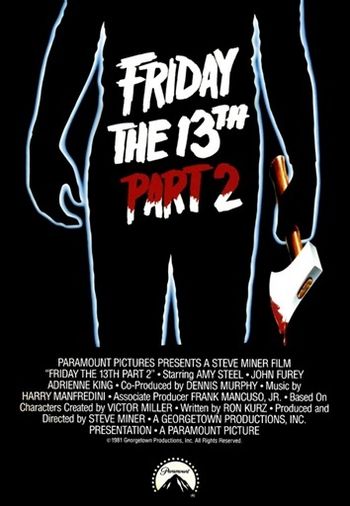 "I told the others, they didn't believe me. You're all doomed. You're all doomed."
— Crazy Ralph
When the first Friday the 13th film proved to be a hit, the studio naturally made plans for a new one, to be released the year after.
There was only one problem: there wasn't any room in the story for a sequel. The killer in the first film died in way that is very difficult to come back from, even for antagonists of slasher films, and there was no one left to take up the machete. Logically, there was just no way to continue.
The answer? To hell with logic, just pump out another one and make something up. God knows, it's not like these things are known for their deep continuity and nuanced characterizations, anyway.
The movie starts shortly after the events of the first film, where Mrs. Voorhees stopped the reopening of Camp Crystal Lake by murdering the camp counselors, in revenge for her son, Jason, who 20 years ago drowned while his guardians were having sex.
However, it turns out Jason didn't drown after all! He survived — somehow — and has actually been living in seclusion for the past two decades. For some reason. Since he was 8 years old. Look, just go with it, okay?
After avenging his mother's death by killing the last movie's Final Girl, Alice, in the first 15 minutes of the movie, he resurfaces five years later, when another entrepreneur is preparing to open a new summer camp in the woods next to Crystal Lake.
Jason begins stalking and murdering the counselors at this new camp, because, uh... it's what his mother would have wanted?
Blatant retcons and plot contrivances aside, this film was still a success due to the magic combination of nudity and gore, opening the way to a massive franchise and introducing a character that would eventually become one of the most iconic in horror fiction.
---
This film has examples of:
---