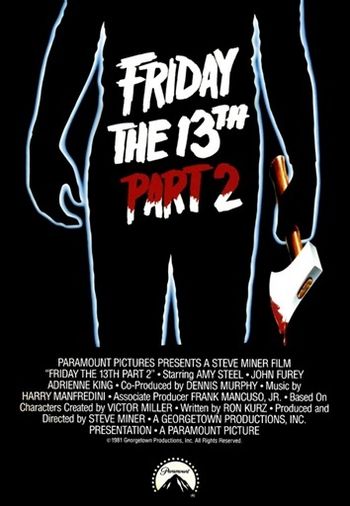 "I told the others, they didn't believe me. You're all doomed. You're all doomed."
— Crazy Ralph
When the first Friday the 13th film proved to be a hit in 1980, the studio naturally made plans for a new one, to be released the year after in 1981, dead main villain be damned.
The movie starts shortly after the events of the first film, where Mrs. Voorhees got her head chopped off by her own machete, but not before stopping the reopening of Camp Crystal Lake by murdering the camp counselors, in revenge for her son, Jason, who 20 years ago drowned while his guardians were having sex.
However, it turns out Jason didn't drown after all. He survived (somehow), and has actually been living in seclusion for the past two decades. After avenging his mother's death by killing the last movie's Final Girl, Alice, in the first 15 minutes of the movie, he resurfaces five years later, when another entrepreneur is preparing to open a new summer camp in the woods next to Crystal Lake...
The film was a success, opening the way to a massive franchise and introducing a character that would eventually become one of the most iconic in horror fiction.
---
This film has examples of:
---