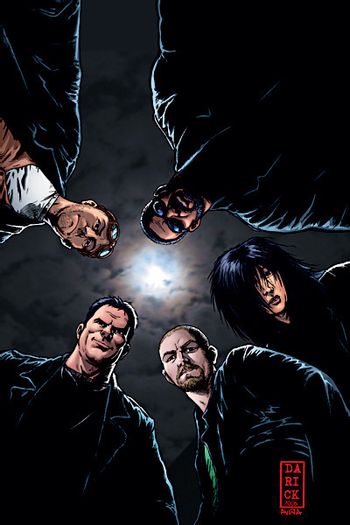 The Boys is a series by Garth Ennis, with art by Darick Robertson and others. It concerns a CIA-sponsored team of Empowered Badass Normals which monitors, polices and (often) terminates corrupt superhumans. Gritty, violent, and darkly humorous, the series frequently veers into Author Tract territory regarding its gleeful depiction of the majority of costumed supers as sociopaths, narcissists, perverts and child molesters, while dropping some anvils on a lot of ugly tropes that have been plaguing superhero comics. Much like Watchmen by Alan Moore, this series is a Deconstructor Fleet. However, instead of attacking the mythos of the superhero, it goes after the sleazy corporate underbelly that grew up around it.
As with Preacher, a few different limited series have been published. Herogasm is, for whatever reason, a six-issue limited series that's essentially an extra arc in the main plot, as Butcher's squad investigates the superheroes' annual island getaway. Highland Laddie follows Hughie during his absence from the main book, as he returns to his foster parents' home in Scotland. Butcher, Baker, Candlestickmaker is a six-issue miniseries featuring Butcher, reminiscing about his life after returning to England for his father's funeral.
The team consists of:
Now has a character page that needs Wiki Magic.
In 2016, four years after the series's conclusion, it was announced that the comic would be adapted into a TV show on Cinemax. Eventually, it was announced that the TV adaptation would instead be aired on Amazon Prime Video in 2019, under Seth Rogen and Evan Goldberg, the same production duo as the Preacher TV series. The first teaser trailer
was shown at New York Comic-Con.See The Boys (2019) for tropes related to the adaptation.
A sequel series set 12 years after original comic titled The Boys: Dear Becky began June 3, 2020.
---
Tropes:
Ambiguously Brown: A-Train. His complexion is noticeably darker than Hughie (a Scot), Billy (English), or The Frenchman (guess), but not as dark as any of the characters who are definitely intended to be black, and his hair is brown rather than black. Possibly he's supposed to be Latino, but maybe he just spends a lot of time working on his tan. (In the TV series, they just went ahead and cast a black actor for the role.)
Anything That Moves:

Tek Knight. He has sex with a male telepathic android, a cup of hot coffee, his Jarvis-Expy butler's ear, a watermelon, and (presumably)

his Nightwing-expy's mouth

. It turns out this is because of a fist-sized brain tumor. Then again, many of the other supers have sex with anyone or anything and they don't have tumors.
Terror, should his beloved Billy command it.

Apathetic Citizens: The East Enders' lack of reaction towards Billy's mother collapsing on the sidewalk (due to his father's beatings) prompts him to think the Luftwaffe missed a few spots.
---
And there was nothing on the marker to explain to Mrs. Feathers why her only daughter had married a known thief and murderer, a man of notoriously violent and intemperate disposition.
—
Unforgiven
, screenplay by
David Webb Peoples