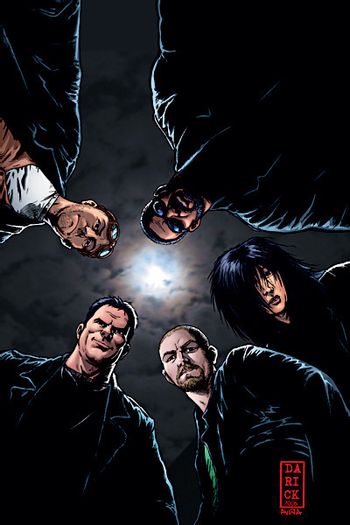 The Boys
is a series by
Garth Ennis
, with art by Darick Robertson and others. It concerns a CIA sponsored team of
Empowered Badass Normals
which monitors, polices and (often) terminates corrupt superhumans. Gritty, violent, and
darkly humorous
, the series frequently veers into
Author Tract
territory regarding its gleeful depiction of the majority of costumed supers as sociopaths, narcissists, perverts and child molesters, while attacking a lot of tropes that have long been a significant part of superhero comics. Much like
Watchmen
by
Alan Moore
, this series is a
Deconstructor Fleet
. However, instead of attacking the the superhero genre itself, it goes after the sleazy corporate mentality that allowed it to flourish at the expense of other comic genres.
As with Preacher, a few different limited series have been published. Herogasm is, for whatever reason, a six-issue limited series that's essentially an extra arc in the main plot, as Butcher's squad investigates the superheroes' annual island getaway. Highland Laddie follows Hughie during his absence from the main book, as he returns to his foster parents' home in Scotland. Butcher, Baker, Candlestickmaker is a six-issue miniseries featuring Butcher, reminiscing about his life after returning to England for his father's funeral.
The team consists of:
In 2016, four years after the series' conclusion, it was announced that the comic would be adapted into a TV show on Cinemax. Eventually, it was announced that the TV adaptation would instead be aired on Amazon's Prime Video in 2019, under Seth Rogen and Evan Goldberg, the same production duo as the Preacher TV series. The first teaser trailer
was shown at New York Comic-Con.
See The Boys (2019) for tropes related to the adaptation.
A sequel series set 12 years after original comic titled The Boys: Dear Becky began June 3, 2020.
In late 2020, 1First Games held a Kickstarter campaign to fund
The Boys: This Is Going To Hurt The Board Game.
Compare with Marshal Law, another anti-superhero comic published in 1987 which also touches upon similar themes and contains tons of violence and sexual content. See also Supreme Power which is a 2000s Author Tract that uses Corrupted Character Copy versions of DC superheroes as political commentary on Bush-era American politics.
---
Tropes:
Original Series
On the other hand, he has a soft spot for the Big Three Justice Leaguers, and as a result;
The cover for the 48th issue is a parody of the iconic cover of Batman: The Dark Knight Returns where Batman's silhouette jumps off of something as a lightning bolt flashes in the background. Except on this version, the silhouettes are of Butcher kicking some super off a cliff.
From the brief looks we get of it, Vought-American's M-20 assault rifle actually resembles a Enfield SA80, specifically the L85A1 variant that first saw action in the Gulf War, which had a wide range of serious problems and proved to be ultimately very poorly designed. Ennis simply takes it Up to Eleven by implying that the M-20 couldn't even get through five rounds before jamming and was best used for impaling the heads of dead GIs.
When

The Legend dies

in issue 67, one of the comics covers his body falls near is of a parody of Sweet Tooth called Shit Foot.
Dear Becky
---
And there was nothing on the marker to explain to Mrs. Feathers why her only daughter had married a known thief and murderer, a man of notoriously violent and intemperate disposition.
—
Unforgiven
, screenplay by
David Webb Peoples