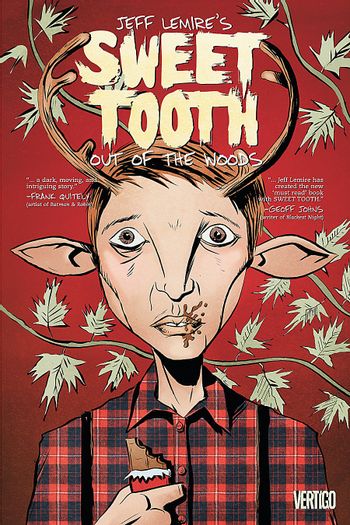 Sweet Tooth is a Vertigo Comics series created by Jeff Lemire. Several years ago, a plague known as the Affliction decimated the entire human population; since then, the only children born are human-animal hybrids, who are being hunted down. Gus, a human-deer hybrid, was isolated from society by his religious father and longs to escape his home to explore the land beyond the woods.
After Gus' father dies from the Affliction, strange men come to capture him. Gus is rescued by a mysterious and violent man named Jepperd, who promises to take him to the Preserve, a safe haven for hybrids.
It was followed by a six issue series, Sweet Tooth: The Return that was published under the DC Black Label.
A Sweet Tooth adaptation for Netflix has been announced.
---
Sweet Tooth provides examples of:
---