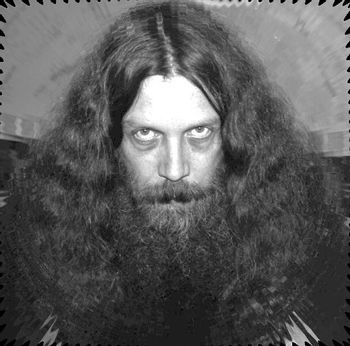 "Life isn't divided into genres. It's a horrifying, romantic, tragic, comical, science-fiction cowboy detective novel. You know, with a bit of pornography if you're lucky."
— Alan Moore
Novelist, artist, occultist, performing artist, musician, and public intellectual, Alan Moore (born November 18, 1953 in Northampton, England) is perhaps the most Crazy Is Cool Comic Book writer of all time, one of the most widely recognized in the medium overall, and one of the most influential artists from The '80s, whose work has decisively influenced artists from multiple mediums for nearly three decades.
He got his start drawing comics and writing for magazines such as The NME and Sounds. He went on to regular work at Marvel UK, where he wrote scripts for Doctor Who Magazine, Captain Britain comic and 2000 AD, as well as a series of essays on the comics medium in The Daredevils (one of which was a critique of Stan Lee in a Marvel branded 'zine) where he wrote a series of acclaimed stories, including D.R. & Quinch and The Ballad of Halo Jones. This period included V for Vendetta, about an anarchist planning to take down a future fascist UK Government, and Marvelman (later Miracleman), a reinvention of a 1950s British superhero. The latter attracted attention from DC, which led to the start of the period of his biggest influence (even if it would ultimately turn out to be among the briefest).
Moore was encouraged by DC Comics editor Len Wein to start work on Swamp Thing, Wein's classic horror comic. Much as he did for Captain Britain and Miracleman, Moore proposed a radical revision that changed the comic from the ground-up, and leading the story into a Genre Shift that gradually deepened the character and his setting. Moore took the Swamp Thing through a number of unusual adventures, that involved many run-ins with the regular DC Universe, which also saw the introduction of characters, such as John Constantine, who have since gone on to become major icons. Swamp Thing proved to be a massive success, and Moore was gradually encouraged by the editors, to take on other projects: including landmark stories for Superman ("Whatever Happened to the Man of Tomorrow?", "The Jungle Line" and, with Dave Gibbons, "For the Man Who Has Everything"), Green Lantern ("Mogo Doesn't Socialize", with Dave Gibbons and "Tygers", his first collaboration with Kevin O'Neill) and Batman (The Killing Joke). Yet the best was still to come.
Moore had a huge knowledge of comics history and a canny instinct for reconfiguring and resurrecting forgotten and little known or weakly selling titles. He had planned to do a story about superheroes that involved a murder mystery around one of their numbers, with his initial concept involving the MLJ run published by Archie Comics which he had assumed, wrongly, that DC had rights to. What DC did have was rights to the properties of Charlton Comics and Moore made his pitch using them, but his publishers, while impressed by the pitch, pointed out that Moore's premise would render a number of the characters unusable by the end of the story and so invited him to create an entirely new series. So Watchmen was born, with Moore using characters who can be recognized as Alternate Company Equivalent of the Charlton characters, but who gradually differed sharply from their inspiration and from most superhero comics of their time. Collaborating with Dave Gibbons, the comic was sophisticated on a level that mainstream comics had not known at the time, having a character and plot that rivaled the most highbrow books (and continues to rival the best that many writers can come up with), Watchmen proved to be a massive sensation, and with Frank Miller's Batman: The Dark Knight Returns is credited with launching The Dark Age of Comic Books, and starting a new market for graphic novels, along with other comics such as Art Spiegelman's Maus and Gilbert and Jaime Hernandez's Love and Rockets. Ironically, the popularity of Watchmen was the first nail in the coffin for Moore's relationship with DC. The contract that he and artist David Gibbons had signed promised them that full rights to the comic would be returned to them if the book fell out of print for more than two years. At this point in time, paperback collections of comic books were virtually unheard of and the idea that Watchmen would remain in print that long was absurd. However, the book's popularity has kept it in print from 1987 through the present day, and neither Moore nor Gibbons ever received the rights. Moore's relationship with Marvel Comics was also strained, mainly for what he perceived as its Network Decay and drop in quality, and the lawsuit pushed by the company to rebrand Marvelman into Miracleman even if the former existed before Timely renamed itself as Marvel. That said, when Moore worked for Captain Britain, he did coin the term Earth 616 in one story. This is the name of the Marvel Universe and it's his one major lasting contribution.
In either case, Moore began his career in independent comics and was happy about working in creator-owned independent titles again. Other notable works include Brought To Light, a history of the CIAnote Which led to the persistent rumour for years that he was banned from entering the USA; in fact, he'd simply not bothered renewing his passport.; A Small Killing, the story of a graphic designer who finds himself stalked by a strange little boy, the abandoned Big Numbers (which fell apart with only the first issue published), and a graphic novel collaboration with Eddie Campbell (From Hell) that would take years to finish but which he properly began work on in the late '80s. He also began work on Lost Girls, a piece of highbrow erotica (though he insists it be called porn), his first collaboration with artist Melinda Gebbie (who he later married). Moore cut himself off DC and Marvel, but in the '90s, he was willing to work-for-hire on a number of titles for mainstream-but-alternative companies such as Wild Storm Comics and Image Comics. For Image, Moore worked on a number of titles but found most success with Supreme, a Homage to Silver-Age Superman via Alternate Company Equivalent that surprised readers for its change in tone from his dark work of the '80s, as well as 1963, a parody and Reconstruction of the Silver Age Marvel era.
Through Wildstorm, he published his own imprint, America's Best Comics (ABC), which included Promethea, a 32-issue treatise on magic (Moore has been a practicing magus since his 40th birthday); Top 10, a pastiche of Police Procedural TV series set in a superhero-populated city; and Tom Strong, a call back to a more innocent era of comic writing. The best-known ABC comic, and the only major title that Moore has continued to serially publish for three-decades (the longest he has worked on any series) is The League of Extraordinary Gentlemen, co-created with Kevin O'Neill. During his run on the League, Wildstorm was bought out by DC Comics, and while Moore was initially still willing to work with the Wildstorm imprint so long as he didn't have to work on any DC titles, shenanigans over the publication of The Black Dossier, led Moore to leave America's Best Comics for good, with the later volumes being published by Top Shelf (currently owned by IDW Publishing). DC and Warner Bros. own the rights and story for the first two parts of the League, but not the later parts. Since then, Moore has contributed regularly for Avatar Press, including a trilogy on H. P. Lovecraft, one of his favorite writers.
In 2016, Moore announced his retirement from comics. He said that he planned to finish the series he was working at the time, Providence (which finished in 2017), then announced another anthology title called Cinema Purgatorio (finished in 2019) then do the last volume of The League of Extraordinary Gentlemen, which ended in 2019. He plans to focus on novels for the foreseeable future, as well as films and other mediums. Of course other work that Moore wrote before will be published after this, including a new epilogue for the colorized version of From Hell overseen by co-creator Eddie Campbell.
Moore has also become known in the '90s-onwards as a performing artist in a variety of mediums. One of his performing art pieces, "The Birth Caul" was later adapted by Eddie Campbell as a graphic novel. He has also written works of fiction, such as Voices in the Fire, and in October 2016, he released his second novel, the 1,300-page Jerusalem. He has also collaborated on a number of films with Mitch Jenkins, a series of shorts that form the anthology Show Pieces. As a writer for comics, Moore is known for his famously dense and detailed scripts, packed with detail that describes the comic panels and everything that happens inside it. Apparently, his amazing talent comes from Satan. Not by selling his soul for it, mind you, but because he used to beat Satan up for his lunch money until the Devil bribed Moore with genius to leave him alone. Additionally, Death is afraid of him. He is known, with a particularly vivid description of From Hell, to have driven Neil "Scary Trousers" Gaiman to leave a restaurant to go outside and get some fresh air so he wouldn't vomit.
Twice. Gaiman also wrote this
short comic about him, which pretty much sums up how many people view him.
Did we mention he's also a polyamorous, vegetarian anarchist and an accomplished ceremonial magician? He's the quintessential modern Mad Artist, and he sometimes goes by the name of Translucia Baboon to warn us all about ducks
.
---
Selected Bibliography:
---
Common Themes and Elements:
Disinterest in movie adaptations of his work and Hollywood in general. Moore has persistently held that his works are made specifically to be comic books, and to transition them into other mediums would result in significant decay. Aside from the few exceptions (such as an adaptation of the Superman story "For the Man Who Has Everything" in Justice League Unlimited, likely because the characters weren't his own and the producers bothered to ask him for permission first), Moore has been quick to disown virtually every adaptation made of his works on principle. His title strip of Cinema Purgatorio shows that he's quite the cynic on typical Hollywood genre conventions, which he spends time dissecting as being in some form or another harmful, exploitative, founded on lies and injustices, and are just generally bad. With that being said, don't think this means he writes off film in its entirety — especially in his early works, he's shown lots of appreciation for works of classic cinema, with League: Century fondly referencing the likes of Francis Ford Coppola, Orson Welles (whose characters often appear in League of Extraordinary Gentlemen) and Robert Altman (whose hyperlinked, cast-heavy deconstructions of Film Noir and The Western greatly inspired Watchmen), and especially given his foray into filmmaking himself following his retirement from comic books, it should be noted that he doesn't think the art is strictly invalid.
Freemasonry, often with ominous undertones.
And, of course, Doing It for the Art. During The '90s, he was forced to do things by the book in order to make ends meet, but generally he never does it for anything else besides for its own sake.
Along with this, Black-and-Gray Morality is pretty much a given.
---
Tropes common throughout Moore's comics include:
---