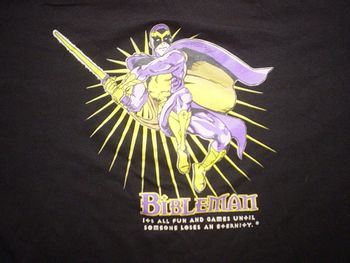 Bibleman, as he's known to his friends, is a live-action show originally starring Willie Aames of Charles in Charge and Dungeons & Dragons as a superhero who teaches our kids about the Good Book without sacrificing the excitement of pulse-pounding lightsabre battles. In its original incarnation, the series lasted from 1996 to 2004.
Aames played Miles Peterson, "who had everything: money, power, fame, until he lost it!" Throwing himself to the ground during a thunderstorm, he found a Holy Bible lying in the mud and was inspired to become Bibleman, an approachable superhero garbed in a suit of armor based on the one from the book of Ephesians. (Although the look of the suit seems to have been inspired by Batman Forever.) Over several years he pitted his faith against costumed losers who had nothing better to do than pick on middle school kids... uh... we mean the legions of Hell, and surrounded himself with a group of sidekicks.
In 2004 Willie left the show to spend more time with his family (though there are a few who think someone higher on the food chain decided he had too much control over the show) and was replaced by Robert Schlipp playing Josh Carpenter, a Younger and Hipper Bibleman for a new generation in the reinvented Power Source series. While less unabashedly silly than Willie's time on the show, its attempts to make Bibleman appear "cool" to the kids at home have become more transparent, like the episodes where he learns to drive a race car or fly a jet.
In 2016 B&H kids released an animated Bibleman series that appears to be mostly influenced by the Powersource series (Josh Carpenter is Bibleman, the color schemes for their costumes, Melody, etc.).
---
Tropes in the original and Power Source series:
LUCI: Are you going to create a Bibleman lookalike to rampage on the city and blame the real Bibleman for it?
Primordious Drool: No. That's been done to death.
---
Tropes in the animated series:
---