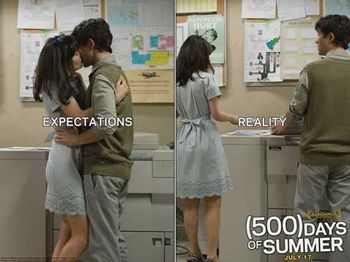 "
This is a story of boy meets girl, but you should know up front, this is not a love story.
"
— Narrator
(500) Days of Summer is a 2009 independent romantic comedy film starring Joseph Gordon-Levitt and Zooey Deschanel, directed by Marc Webb from a script by Scott Neustadter and Michael H. Weber.
Tom Hansen (Levitt) works as a writer for a greeting-card company; Summer Finn (Deschanel) is a quirky young woman hired as his boss's assistant. Tom, a hopeless romantic, immediately falls for her; Summer doesn't believe in true love, and isn't looking for a relationship. They quickly become more than just friends, but while Summer doesn't consider their affair to be serious, Tom believes she's "the one", and wants something more. The film takes a look at their quasi-relationship from Tom's perspective, numbering the days and events that lead to its buildup and eventual downfall.
The film is now looked back on as a standout romance film of its time primarily through being an outright Genre Deconstruction, taking the genre's conventions and juxtaposing them with the realistic highs and lows (mostly lows) of a modern relationship, as well as the fractured way in which we remember them.
---
This film provides examples of:
Loving a Shadow: It's made very clear in the movie and by Word of God that Tom is more fixated on an idealized version of Summer as his desired Manic Pixie Dream Girl and doesn't see the actual flawed human being in front of him. Naturally, this blows up badly in his face when his inability to let it go leads to some painful heartbreak for him.
Lucky Charms Title: The brackets for the number (500).
Manic Pixie Dream Girl: Subverted/deconstructed; Tom initially thinks of Summer as one, and pursues a relationship with her even though she flip-flops between being clear that she's not interested in anything serious and leading him on, which leads to getting his heart broken when

she dumps him and marries someone else

. Thus are explored the very true-to-life hazards of treating a woman as a romantic ideal rather than a human being. Arguably, Tom may have been a Manic Pixie Dream Guy to Summer, who tells him at the end that he taught her that love is real. Word of God on the subject:

"Yes, Summer has elements of the

Manic Pixie Dream Girl

— she is an immature view of a woman. She's Tom's view of a woman. He doesn't see her complexity and the consequence for him is heartbreak. In Tom's eyes, Summer is perfection, but perfection has no depth. Summer's not a girl, she's a phase."

Master of the Mixed Message: From Tom's point of view, Summer. It seems like every time she tells Tom she's not interested in something serious (and despite it being obvious that he is), she immediately throws a curve ball in the form of hand-holding, kisses or sex. Just before she breaks up with him, she impulsively kisses Tom in the street. The worst example is when they have a huge fight, Summer tries to tell him they are Just Friends, he storms out, and Summer goes over to his place in the morning, in the rain, and has sex with him, which he interprets to mean she wants to stay in the relationship. However, from her perspective she is very clear with what she wants, not putting labels on their relationship and holding the understanding that things might change overnight.
Match Cut: In one transition, a happy, just-got-laid Tom enters an elevator...and on a later day, a depressed Tom walks out.
Maybe Ever After:

Tom and Autumn. Interaction starts between them at the end, but what becomes of it is up in the air.

Meaningful Name: Summer

and her possible successor, Autumn

. Also, the names Tom Hansen and Summer Finn are a Shout-Out to Tom Sawyer and Huckleberry Finn.
Meet Cute: On (Day 4), in the elevator, between Tom and Summer. Also, on (Day 500) / Autumn: (Day 1), another more standard Meet Cute, between Tom and Autumn, as they wait to interview for a job they're competing for. The two Meet Cutes have something in common: one party was already interested beforehand while the other was oblivious to that person's existence. The first time, it's Tom who's already interested and Summer who's been oblivious; the second time it's Tom who's been oblivious (too caught up angsting over Summer) and Autumn who's already interested.
Mood Whiplash:

Between romantic elation and romantic disappointment. Repeatedly.
Tom's reactions to breaking up with Summer is both funny and heartbreaking.
Never Trust a Trailer: The title and trailer imply that the movie is about the 500 days in the relationship between Summer and Tom.

In fact, Summer breaks up with Tom on Day 288, and the remaining days document his attempts to get over her.

Furthermore, most viewers of the trailer expected Summer to be a straight portrayal of a Manic Pixie Dream Girl instead of a Deconstruction of the trope.
Nice Jewish Boy: Tom was originally written to be explicitly Jewish, speaking fluent Yiddish and attending Rachel's bat mitzvah.
Obliviously Beautiful: Summer attracts many male admirers while simply going about her day, and she never seems to notice any of them.
---