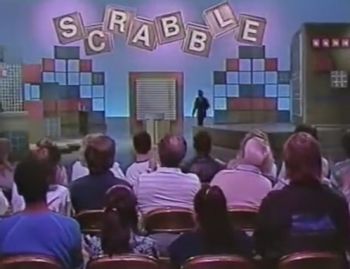 Charlie Tuna:

A nine-letter word, the clue is, they hang them on TV Tropes.

Studio Audience:

LAMPSHADE!

Charlie:

It's the crossword game you've played all your life, but never quite like this!

Audience: SCRABBLE

!
Based on the board game of the same name, this NBC Game Show hosted by Chuck Woolery, famous for Wheel of Fortune and Love Connection, featured contestants trying to navigate a crossword puzzle-like board, forming words and winning cash.
Unlike the board game, however, the contestants did not form words themselves; instead, the words were pre-generated and as on Wheel the contestants had to provide the correct letters and guess the word. To do this, players were given a vague, punny clue (see above quote for example), then they would draw from a rack of "tiles", each representing a letter from the word (along with three "Stoppers", which didn't appear in the word), choose one of two letters to place within the word, and try to guess the word once the letter's position was revealed. A Stopper would end the player's turn.
Another difference from the board game was that letters had no value in themselves. The pink and blue Bonus Spaces on the board could be worth bonus cash to a player who correctly solved the word immediately after placing a letter on a colored square. The first player to solve three words...all together now...won the game...
...and would go on to the Sprint round, where they tried to solve four words quicker than their opponent (the returning champion in later years) by picking one of two letters in the word at a time (no Stoppers in this half of the game). Beginning in 1986, whoever won the Scrabble Sprint would attempt then a Bonus Sprint, where they had to guess two words in 10 seconds to win $5,000, increasing by $1,000 each time it wasn't won.
The series originally ran from 1984 to 1990, then returned briefly in 1993 as part of an hour-long block with Scattergories.
---
Building on the letter "O", six letters in the word, and the clue is: You'll spend hours with them.
Who Writes This Crap?!: Whenever he read a really silly or suggestive clue, Chuck had no reservations in chastising the writing staff.
---