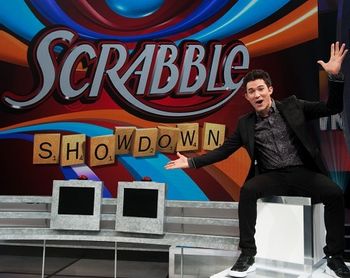 Another original game show on The Hub, following in the footsteps of Family Game Night. This time, it's the crossword game you've played all your life, but never quite like this.... or quite like that, either. Scrabble Showdown features two teams of two competing in various Scrabble-themed minigames for a chance at a trip anywhere in the world. Multiple games were used, much like Family Game Night (in fact, one of their rounds, Scrabble Flash, was brought in for this show), so things were varied. The games in Round 1 and 2 included:
Scrabble Knockout: The inverse of the 80s Scrabble Sprint- instead of solving words as they fill in before time runs out, teams instead have to get rid of the letters that shouldn't be there. Much like the Sprint, whichever team solves the words faster wins.
Scrabble Babble: Kinda like Pyramid and the "Turnabout" bonus round from Child's Play, in that a parent has to describe a word to the kid without saying the word; here they have to fill in a missing letter in a word and the child says the word. Once they get the word, they move on until they hit seven letter words. Whichever team gets five words faster or the most in a minute wins.
Scrabble Scream: One team member unscrambles part of a word, and the other has to unscramble the rest to make a complete word- all while screaming. Again, whichever team solves their puzzles faster wins.
Scrabble Slam: One player hits a button to set the clock. Five letters- four and a spare- appear on a screen, and each team member uses the button to "slam" the extra letter to make a new word. This gradually eliminates players and the last one standing wins for their team.
Speedword: Used only in one episode, it bears no relation to the 80s Speedword (which was just a generic Speed Round). Instead, there are 5 letters displayed on screens installed on some tracks (with three screens on top and bottom, with 2 screens in the middle). 30 seconds are provided as the parent tries to get the child to make as many 3-letter words as they can and get that to the bottom of the tracks. The score depends on how many words they got to the bottom and the opponents then try to beat that.
For each game won, one of the teams then gets a prize. They then move on to round 3: Scrabble Flash, where one team is isolated while the other uses five oversized Scrabble Flash cubes to make three letter words.
For the final round, Scrabble Lightning, it plays vaguely similar to the 80s main game. First, 16 Scrabble tiles are placed onscreen and are randomly flashing; this is the amount of Bonus Tiles the team had a chance at (depending on how many mini-games they won); they hit their buzzers to stop the randomizer and get tiles (and hence points for a head-start). A scrambled word appears on an oversized Scrabble gameboard and a punny clue is given- the first team to buzz in correctly gets the board's value of that word (which can be doubled or tripled if a letter is on a double or triple word score space). The first team to reach 100 points wins the game and a trip.
The show had big names working on it behind the scenes; Pat Finn co-produced through his "Rubicon" production company; serving as producers were game show Ascended Fanboys Mandel Ilagan (who created the pricing game "1/2 Off" for The Price Is Right), and John Ricci Jr. (who created his own pilot, Combination Lock, and frequently works with Wink Martindale), plus Cindy Clark (daughter of Dick Clark); Sande Stewart, son of the legendary Bob Stewart, and Steve Ryan, creator of Blockbusters and the rebuses for Classic Concentration, served as creative consultants. The show ran for 30 episodes, from September 2011 to April 2012.
---
---
This show provides examples of: