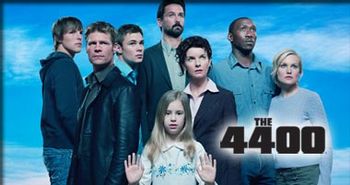 "
The world will have to deal with us.
"
— Jordan Collier
The 4400 (pronounced "The Forty-Four Hundred") began as a Mini Series created for the USA Network. The Mini Series aired as five episodes in the summer of 2004, and the show was brought back as a series with three full seasons each consisting of thirteen episodes. After that, between the writers' strike and the very evident signs of The Chris Carter Effect, the series was not picked up for a new season.
The basic premise is that four thousand, four hundred people from the past century have been abducted, then Touched by Vorlons, and returned to the present day. They have not aged and they do not remember their abductions.
Many of the returnees discover that they have new abilities, such as telekinesis, mind control, clairvoyance, or unnatural control of phlebotinum.
The main characters are Homeland Security agents investigating the 4400. A small group of 4400s are regular characters. Episodes combine the Myth Arc with a "Freak of the Week".
In 2021, a reboot was ordered straight-to-series by The CW.
---
The 4400 provides examples of the following tropes:
---