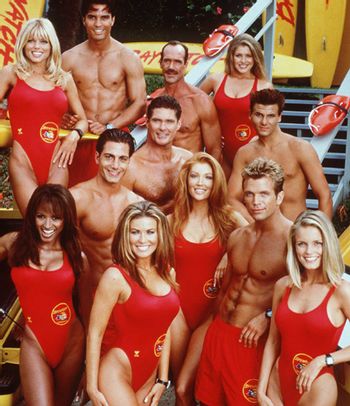 "
(I'll be ready!) I'll be ready!
(Whenever you fear) No, don't you fear!
(I'll be ready!)
Forever and always, I'm always here!
"
- I'm Always Here, sung by Jimi Jamison
Oh yes, this is an article about
Baywatch
.
Baywatch was a long-running (1989-2001) American television series about a group of fictional ocean lifeguards note Baywatch is actually the name of the red and white rescue boat class that have been used by LA County lifeguards for many years. In the show, they were replaced with the yellow Scarab speedboats in the second season. But in real-life, the Baywatch rescue boats are still the primary rescue boats. A Rescue show with soap-operatic elements, mixed with action, romance, domestic drama, occasionally crime, and the ever-present PG-rated Fanservice into an hour of "wish you were here" beautiful Southern California (for the first 9 seasons) and Hawaiʻi (last 2 seasons) locales. The show was created by Douglas Schwartz, Michael Berk and Gregory Bonann, the latter of whom was a real-life Los Angeles County lifeguard: the basic premise and the storylines of many episodes were often based on rescues he and his colleagues had made.
On 23 April 1989, the Pilot Movie Baywatch: Panic at Malibu Pier aired on NBC. However, Baywatch was cancelled by NBC after its initial season (1989-90) on network television. The co-creators and lead actor David Hasselhoff bought back the rights to make more episodes for a mere $100. Hasselhoff's stardom in Germany at the time (due to Knight Rider, as well as his singing career) brought the producers $300,000 in advance for every episode. The show's setting also provided ample opportunity for Product Placement of swimwear, sportswear and motor vehicles. Independently financed, the show went into its second season (1991-92) in first-run syndication and proved to be insanely popular, particularly overseas: and as America's top television export in the 1990s, Baywatch was seen in 140 countries by over one billion viewers each week, as estimated by Guinness Book of World Records. The show's amazing international popularity led Entertainment Weekly to proclaim Baywatch as "The Most Popular Television Series in the History of the Planet" in an October 1993 cover story.
And to count the number of Playboy Playmates of the Month it either launched or had cast would take more time than it's worth. The most notable cast alumnus (apart from Hasselhoff) is Pamela Anderson, who starred as lifeguard C.J. Parker from the start of the third season to the end of the seventh season. In 1995, at the height of its popularity, it got a far less successful spinoff, Baywatch Nights. By the ninth season, as Baywatch had begun to wane in popularity, the show moved to Hawaiʻi, much due to lower costs and favorable tax breaks for the production company. The series was also renamed Baywatch: Hawaii. In 2003, a Made-for-TV Movie, Baywatch: Hawaiian Wedding was released which was essentially a Reunion Movie with many former cast alumni returning as their characters.
An action-comedy movie adaptation was released in 2017 starring Dwayne Johnson as Mitch Buchannon, Alexandra Daddario as Summer Quinn, Kelly Rohrbach as C.J. Parker, and Zac Efron as Matt Brody. Hasselhoff and Pamela Anderson have Remake Cameos.
Although some people may argue that the show was already a parody of itself, Baywatch has been parodied quite a lot. Most of its parodies boiled down to the slow motion scenes, the bounce, and the inconsistent acting. While most parodies were one-shots in other series, one series was a dedicated parody: Son of the Beach.
Allison Pregler has taken on the, in her own words, "Largely thankless task" of recapping and riffing on every episode of the show with her series Baywatching.
The entire series was remastered and released in 2019, bouncing between Amazon Prime and Hulu.
---
"Tropes'll be ready, they'll be ready, never you fear, no don't you fear" ♪:
Aborted Arc:

"Stakeout at Surfrider Beach" ends with Guido's mom moving to California to live with him, presumably setting her up as a recurring character. This never went anywhere, as the episode ended up being the last one to feature Guido.
Season 4 ended with a suggestion that Matt and Summer might be getting married. The Season 5 premier nixed this with a throwaway line saying that Summer had broken up with Matt and moved to Pittsburgh to attend college.
Season 7 brought in a new lieutenant, Samantha "Sam" Thomas, ostensibly to replace the long-running character of Lt. Stephanie Holden, played by Alexandra Paul. That particular season ended with Sam in bed with none other than Mitch Buchannon himself, with the two of them discussing how to break the news of their relationship to Mitch's son, Hobie. So everything seemed set for her to return the next year with an expanded role as Mitch Buchannon's girlfriend and partner in command. Alas, that didn't happen. Baywatch instead returned with even more former Playboy Playmates, including Carmen Electra and Angelica Bridges as the newer lieutenant, and Samantha disappeared with no explanation.

Abusive Parents:

Summer and Jimmy's fathers.
Tanner, a recurring character during season 9, also had an abusive father.

The Ace: Mitch Buchannon. He's an expert lifeguard, a former Navy SEAL, a skilled architect, the winner of multiple Ironman competitions, and, on Baywatch Nights, he was a private detective who regularly battled the supernatural.
Actor Allusion:

In "Nevermore", C.J. tells Cody, "Don't call me babe.", which Pamela Anderson frequently said in the previous year's Barb Wire.
Listen carefully to the dialog that ends "Rescue Bay". The group starts talking about syndication, and someone mentions Knight Rider, another David Hasselhoff production.
There's another one in "Game of Chance," where Harvey claims the amphibious jeep he's in is so advanced, the only thing it can't do is talk. Mitch sarcastically responds with "Doesn't talk? Forget it."
Mitch also mentions Knight Rider in "Sweet Dreams"; he asks a baby that he's babysitting if he wants to watch it.
There are multiple references to Hasselhoff's singing career in Europe, including an Imagine Spot in "Second Time Around" that uses actual footage from some of his concerts.

Adrenaline Time: Used far too often in "Baywatch: Hawaii".
An Aesop: Mitch delivers these on a pretty regular basis, often to his son, Hobie. In fact, even the show's most virulent critics praised the almost consistently positive portrayal of Mitch as a single father caring for his son. Examples:

(on winning) "It's not whether you win or lose; it's how you play the game."
(on popularity) "You have to ask yourself what's more important: Being liked by everyone else, or being able to like yourself."

Affectionate Parody: The tongue-in-cheek episode "Rescue Bay".
Alien Episode:
Alpha Bitch: Neely was the "bad girl" of the cast in season 6. She calmed down considerably in season 7 and got along better with the other characters, though at the start of season 9 she broke up with Mitch and returned to her conniving ways.
Angels Pose: Done, naturally, in the Charlie's Angels parody episode "Baywatch Angels".
Anyone Can Die: Al in the Pilot Movie,

Jill

in "Shark Derby" and

Stephanie

in "Chance of a Lifetime".
As Himself: Michael "Newmie" Newman, the only real lifeguard on the show (and likely one of the few actors who could actually swim like a pro.)
As You Know: The Season 9 premiere has Craig detailing Neely's wicked past behavior to Mitch who, of course, knows all about it. This is actually foreshadowing to how Neely really hasn't changed much from the selfish person she was.
Ascended Extra: Neely Capshaw was originally a one-shot guest character played by Heather Campbell before becoming a series regular played by Gena Lee Nolin.

Yasmine Bleeth appeared once in the second half of Season 4's Tentacle Bay, then was seemingly forgotten about by the writers as she's never mentioned throughout the rest of Season 4 even when she should be and a flashback in "Trading Places" even showed Stephanie as an only child. Cue Season 5, when Nicole Eggert had quit the cast, and Bleeth was brought back to fill the role of the younger, naive life guard with a pretty boy love interest.

Awesome Aussie: Subverted with a few characters; multiple lifeguards are Australian immigrants who are arrogant but incompetent; the closest the show gets to actually playing this trope straight is Trevor Cole.
Awful Truth: Averted in "Race Against Time Part 2". Hobie, his mom, and her fiance, were in a plane crash and all three were rescued. However, Hobie was disappointed that the fiance was more concerned about his own safety than of his soon-to-be wife's. Mitch finds out about this and almost spills the beans to his wife and the fiance, but at the last minute decides he'd rather lie and say the fiance acted heroically. Although the fiancé knows Mitch knows the truth, and privately vows to do better in the future.
Back Door Pilot:

"Showdown at Malibu Beach High" seemed like it was setting up a high school Spin-Off starring Matt and Summer, with C.J. as their coach. What makes it especially blatant is that the episode introduced a whole bunch of new teen characters (including one played by Elizabeth Berkley of Saved by the Bell fame) who were never seen again.
"Search and Rescue" looked to set up a spin-off about a special rescue team with some new characters and ending with Cody seemingly choosing between this new team and Baywatch.
The ninth season has a two-part story set in Australia and clearly meant as a possible continuation of the series there. Instead, they went with Baywatch Hawaii although the character of Allie introduced here would join that show.

The Bad Guy Wins: Neely does some morally repugnant things but still comes out on top.

When she first appeared in the series, she attempted to frame Matt for sexual assault in order to cover up her alcoholism and to try and sue the county for a large sum of money. Matt and C.J. manage to trick her into admitting that she was lying on tape but it gets deemed inadmissible in court and Matt still gets fired. To add insult to injury, the county manages to settle the lawsuit with Neely by letting her keep her job as a lifeguard, meaning the Baywatch crew are forced to work with her.
In "Beauty and the Beast". She fixed it so that Caroline couldn't compete against her in the swimsuit competition by lying that she already had the chicken pox and would expose herself to C.J.'s chicken pox.

Beach Bury: Played for drama in "The Reunion" when two guys bury a man who bullied them in high school as revenge. The prank gets out of hand, however, when the waves start hitting harder and they can't dig him out.
Beach Episode: Due to its premise, every episode is this.
The Beard:

In "Point Doom", Guido convinces C.J. to pretend to be his fiance so that a tough beach go-er won't beat him up for flirting with his girlfriend.
"Dead Reckoning" has Jenna giving Leigh a kiss to get an annoying guy off her back.

Bigger on the Inside: Lampshaded in "Now Sit Right Back and You'll Hear a Tale" when the group finishes setting up the hut: It looks small and Gilligan says it's bigger on the inside.
Bottle Episode: A few . One particularly realistic one had no definite plotline, just showing all the chaos that a lifeguard might have to deal with within one day—rescues, vomiting kids, frisky couples, a woman in labor, etc.
The Boxing Episode: Kickboxing, specifically. Appropriately, the title of the episode is "Kicks".
Breaking the Fourth Wall: The Cold Open to the first episode of Baywatch Nights featured Mitch describing the premise of the show to the camera.

The final line of "Rescue Bay" is the upset television director complaining that a show about lifeguards already exists.

Breather Episode: Following the dramatic "Chance of a Lifetime", we get "Talk Show", which is much more light-hearted.
Buccaneer Broadcaster: Real Life example: When David Hasselhoff was a guest on Late Night With Conan O'Brien, he told an anecdote about how he went to a Middle Eastern country and a group of people was pirating a U.S. TV station solely to watch Baywatch. Pre-internet, this was the only way to watch the show, which was ordinarily banned in their country.
The Bus Came Back:

Craig Pomeroy disappeared from the show after the first season, and was said to have moved to New York to be a lawyer. He returned in season 8 to resume his old career after a messy divorce.
C.J., Caroline Holden, Eddie Kramer, John D. Cort, and Summer Quinn all returned in the Reunion Show "Hawaiian Wedding".

Busman's Holiday: Many of the vacation-based episodes tend to fall into this: The lifeguards end up having to use their lifeguarding skills even away from the beach.
CPR: Clean, Pretty, Reliable: Nobody ever vomits or suffer injuries from CPR.
Call-Back: In one episode, Mitch has to deliver a baby and is petrified. Several seasons later, he has to do it again and handles it like a pro.
The Cameo: Shawn Michaels got an uncredited role as Vinnie the bodyguard in the Season 7 episode "Guess Who's Coming to Dinner.
Cassandra Truth: In "Beauty and the Beast", a homeless man warned Cody that he saw a creature in the storm drains. Cody thought the man was merely drunk and doesn't believe him. Oh, if only he did, because the creature was real, all right: A rare salt-water alligator.

In Hawaiian Wedding, Neely warned Mitch that the woman he was about to marry (who was a spitting image of Stephanie) was a con artist. But Mitch initially didn't believe her because of Neely's conniving past.

Catapult Nightmare: C.J. in "Dead of Summer".

Mitch in "Talk Show" after he has an incompetence nightmare of being tongue-tied on the talk show.

Celebrity Is Overrated: In "Talk Show," Mitch helps to rescue Jay Leno, and becomes a celebrity as a result. He hates it.
Censor Box: To a little nude boy in "Baywatch Angels".
Chase Scene: Whenever there's a criminal on the beach, you get this.

A car example occurred in "Desperate Encounter" between Mitch and Damon, a man who wanted Mitch dead after Mitch witnessed Damon killing his wife.

Chick Magnet: Mitch.
Christmas Episode: "Silent Night, Baywatch Night".
Chuck Cunningham Syndrome:

Skylar Bergman (played by Marliece Andrada), despite being featured in the opening credits, was only featured in the first four episodes of season 8 and was never featured again, without any in-universe explanation.
Due to the show's infamously high cast turnover, this happens a lot. For instance, characters like Trevor, Harvey and Guido had sizable roles, but all ended up disappearing without any mention of what happened to them.

Citizenship Marriage: The crux of Logan's situation during seasons 5 and 6; he's from Australia and wants to remain in America but his visa's expired. He wants to get a citizenship marriage with an unrelated woman instead of Caroline, which causes a lot of tension between the two.
Clear My Name: "The Falcon Manifesto" has Mitch a suspect in the death of someone he knew for only a day.

In "The Trophy", where Eddie is accused of statutory rape.

Cliffhanger: There were quite a few two-parters in the show's run:

"The Trophy"
"Nightmare Bay"
"River of No Return"
"Vacation"
"Shattered"
"Race Against Time"
"Tentacles"
"Coronado del Soul"
"Living on the Fault Line"
"Silent Night, Baywatch Night"
"Trapped Beneath the Sea"
"Forbidden Paradise" (later re-packaged as a direct-to-video film)
"Rookie Summer / Next Generation"
"To the Max / Night of the Dolphin"
"The Wedding"
"Crash"
"Baywatch Down Under"
"Aloha Hawaii / Mahalo, Hawaii"

Clip Show: "The Chamber".

"The Life You Save". The plot concerned the Baywatch staff fighting budget cutbacks by telling the execs past stories about how they saved lives on the beach.

Clumsy Copyright Censorship: The American DVD releases by Alchemy removed many of the licensed songs and replaced them with other songs, including the iconic theme song "I'm Always Here" (the DVD sets used "Strong Enough" instead).

The streaming releases and Blu-ray/DVD series sets by Visual Entertainment Group also replace the montage songs with soundalikes. Currently, the only ways to get the original soundtracks is the Australian complete series DVD release by Shock Entertainment or the German DVD releases by Kinowelt.

Compressed Vice: Extremely common due to the show's writing. Characters will have traits or backstories that will show up once without any foreshadowing, and then never be mentioned again. A common example is a character suddenly having severe PTSD from a previously-unmentioned past trauma.
Confession Cam: Done in "Rookie Summer".
Cover Version: Some of the montage songs were cover versions.
Curse Cut Short: In "Castles in the Sand": "Son of a bi-! (cue theme song)"
Darker and Edgier: Baywatch Nights. See Later Installment Weirdness below.
Decision Darts: In "Kicks", C.J. throws darts when she's unsure whether to try out for a modeling job or not. In an amusing subversion of the Trope, C.J. completely misses the dart board and her dart lands on a huge Nike sign that says "Just DO IT."
Dedication: "Charlie", which is dedicated to real life boy Charlie Hays, who died of cancer.
Demoted to Extra: John Cort was a main character in the second half of season 1, but only appeared four times after that.

Mitch got far less focus in the first season of Baywatch Hawaii, and was absent from the last season entirely.

Denser and Wackier: The 2017 Baywatch feature film is very much this.
Descent into Addiction: When she returns after time away in season 8, Neely is said to have been recovering from a bad skiing accident (really an excuse for Geena Lee Nolin's pregnancy). Donna learns Neely is abusing painkillers which drives her to quit the team (as the physical would reveal it) and nearly causes a disaster at her new job at a beach club. Confronted, Nely confesses it wasn't just the accident but also giving birth to her child and accepts she needs to clean herself up to become a mother.
Deserted Island: Mitch and Stephanie make it to one in "Vacation Part 2" after falling off the cruise ship.

Mitch and his date are also stranded on one in "Windswept".

Didn't See That Coming: A literal version when Cort refuses to accept he's having vision problems. In response, Mitch smacks him with a flotation device to knock Cort down and tells him "if your sight was fine, you'd have seen that coming."
Diegetic Soundtrack Usage: "I'm Always Here" makes an appearance in "Baywatch at Sea World" during the Baywatch water show.
"Die Hard" on an X: The episode "The Tower" has it on the beach and in a lifeguard tower. Naturally, it is Mitch who saves the day.
Distinguishing Mark: In "Mirror Image," Mitch is attracted to Gwen, a plain girl put upon by her more outgoing identical twin sister Mattie. When he's nearly drowning and confronted by Mattie, Mitch sees she has the exact same leg scars as Gwen and realizes they're not twins but one woman with a very troubling Split Personality.
Distinction Without a Difference: In "The Incident", during the lifeguard qualifying event, Mitch assures the newbies that the event is not a race, but merely a way to make sure one is up to snuff to be a lifeguard. Stephanie adds that, for those who have done this before, it pretty much is a race.
Does Not Like Shoes: A show about lifeguards on the beach. Even flip flops were overdressing.
"Do It Yourself" Theme Tune: For a couple of seasons, the closing theme was "Current of Love" as sung by David Hasselhoff.

The first ending theme to Baywatch Nights, "Into the Night", was sung by Hasselhoff as well.

Dirty Cop: "River of No Return Part 2".
Dramatic Shattering: In "Rookie Summer", an upset Manny causes this by kicking a rolling chair into the side door, causing the door glass to break.

In "Missing", Mitch threw some shoes through his office's window in a fit of rage.

Dreaming of Things to Come: Seen in "Dead of Summer". C.J. has a nightmare where she's on an out-of-control boat and hits the pier. Later in the episode, she experiences this in real life (due to some terrorists), though thankfully the outcome is better this time.
Drone of Dread: Used all the time in Baywatch Nights season 2.
Dropped a Bridge on Him: The death of

Stephanie

in Season 7.

She gets crushed by the collapsing mast of a ship on her honeymoon.

Early-Installment Weirdness: The first season (that is, the one on NBC) didn't feature "I'm Always Here" as the theme song, but "Save Me" (and on some DVD releases, "Above the Waterline").

Hobie was played by Brandon Call instead of Jeremy Jackson. For those more familiar with the syndicated seasons, this is jarring to say the least.
For the pilot film, "Panic at Malibu Pier", the composer was Arthur B. Rubinstein, as opposed to Cory Lerios and John D'Andrea, who took over for the TV series. As a result, the music was more orchestral than rock and synthesizer-flavored.
Garner doesn't appear in the pilot.
The Buchannon house has a different layout in the first season.
The first season, having an actual budget, looks more professionally produced and edited. Once the show went into syndication, the show was produced on a much smaller budget and thus had to show everything they shot whether there were obvious mistakes or not.
The swimsuits on the female lifeguards start showing more and more skin as the show continues on and the show needed to rely more on sex appeal to stay relevant.

Easy Amnesia: Happens to Thuy in "Lost and Found".
'80s Hair: Hobie's mullet in the first season.
Empty Nest: A story arc during season 9. With Neely and her baby out of the picture, and an 18-year old Hobie wanting his own place, Mitch is suddenly alone.
Engineered Heroics: Alex pops up in season 9 as the head of a competing private-owned lifeguard operation who gets publicity off some big rescues. Mitch accuses her of faking this, Alex denying it but eventually discovers Mitch is right; the "rescued" people are really stunt actors and the "emergencies" were staged by the bosses. After the company goes out of business, Alex joins Baywatch for real.
Ensemble Cast: Baywatch was even described by David Hasselhoff as being this.
Episode Title Card: It's just the episode title superimposed over the action.
"Eureka!" Moment: Samantha runs into a promising water skiing/stunt group who talks of how they need a sponsor for their show. At the same time, Samantha wishes they could do something to help increase Baywatch's budget. On a visit to San Diego Sea World, Samantha hears a park manager complaining about losing their water ski show crew and hits upon the inspired idea of having that crew do a Baywatch-themed show for publicity (which was a real-world tie-in to the actual Sea World show).
"Everybody Laughs" Ending: "Lost and Found", which concludes with Jess Fortuna's sit-down stand-up.
Evolving Credits: Each new season had a slightly different opening, due to cast members coming and leaving. Cast members that stayed for more than one season often had different clips replacing old ones; for instance, pre-teen Hobie's clip was replaced with a teenaged Hobie as the actor aged with the character.
Fanservice: A major reason for the show's popularity, so much so that it was nicknamed "Babewatch" in the media, as well as being credited for popularizing the term "Poor Man's Porn".
Fanservice Extra: Being a series set at the beach means that there's tons of shots of attractive people in swimwear, even though the main characters are already attractive people in swimwear.
False Rape Accusation: Several, and all handled fairly seriously for such a fluffy show:

In the first season of the show, Craig rescued a troubled girl who promptly became obsessed with him, alternating between telling people that they'd had consensual sex (which would have still made him guilty of statutory rape), or that he'd raped her outright.
A similar storyline had a teenage girl lying to her friends about sleeping with Eddie in hopes of making them jealous and/or making herself popular. When her father confronted her, she panicked and lied even more, now claiming that Eddie got her drunk and took advantage of her. The result is that he was charged with statutory rape. A senior lifeguard attempting to comfort Eddie's girlfriend implied that this often happens to lifeguards and that he went through a similar experience.
In "Wet n' Wild", after Matt rebuffed new lifeguard Neely's advances and went to Mitch about her drinking on the job, Neely sought revenge on Matt by falsely claiming that he was the one who'd sexually harassed her.

Finger-Twitching Revival: Bobby, at the end of "Submersion".
Flashback Cut: There's one in "Shattered" Part 2, which features a clip from "Rookie of the Year".

"Free Fall" features a flurry of clips from previous episodes as Mitch sees his life flash before his eyes. What's amusing is that Mitch wasn't even in many of the clips.

Flashback with the Other Darrin:

Season 2 has Mitch's brother Buzzy, played by Tim Thomason, dropping in to talk about now having a son. In season 4, Buzzy was now played by John Beck, who did a new version of the talk about his son.
Season 8 ends with Mitch proposing to Neely. The season 9 premiere redoes the proposal with Jennifer Campbell taking over for Geena Lee Nolin.

Follow in My Footsteps: Mitch's father wants him to take over the family architecture business in "A Matter of Life and Death", as he's dying.
Foreshadowing: In "Blindside", Cort not shaking Newmie's hand. Also Cort not catching the basketball Mitch tossed at him.
Forgotten Theme Tune Lyrics: The theme for Baywatch Hawaii is a Hawaiian-flavored remix of "I'm Always Here", minus lyrics.
Friend to All Children: Most of the lifeguards exhibit this trait once or twice. Special mention, however, goes to Mitch Buchannon (David Hasselhoff) who is often shown to be both respectful of and able get along well with just about any kid.
Funny Background Event:

In "Rookie of the Year", during the final montage of the episode, a man in the water can be seen mooning the camera as all the lifeguards run by him.
Similarly, at the end of "Seize the Day", a naked man can be seen skinny dipping in the ocean as the camera pans out on the beach.

The Gambling Addict: C.J. in "Vacation" Parts 1 and 2.
Genre Shift: The television series was a drama (albeit a campy one with lots of fan service), but the 2017 Baywatch film is going to be an R-rated comedy.
Gentle Giant: Manny from the episode "Blindside". He's a tall guy who puts on fake muscles and growls menacingly for his sideshow act, but outside of work, he wouldn't hurt a fly (and even rescues pelicans from six-pack rings!).
Gilligan Cut: "Trapped Beneath the Sea Part 1": Caroline says, "I'm in love with Logan." The next cut is Logan making out with another woman.

In "Friends Forever", an orangutan is rescued and brought to headquarters. Everyone suggests the orangutan stay at Mitch's place for the night; he says "Absolutely not." Then there's an establishing shot of Mitch's house, followed by Mitch putting the orangutan to bed.

Good Smoking, Evil Smoking: The villain in "Heal the Bay" smokes a cigar. Subtle.
Gyaru Girl: C.J. Worth mentioning as it's often been rumored that C.J.'s sunkissed looks were the prime inspiration for the overall style.
A Handful for an Eye: Hobie uses this trick to escape from a bully in "Pier Pressure".
Handshake Refusal: A returning lifeguard refuses Mitch (David Hasselhoff's) handshake. However rather than being rude it's the first clue that an eye-disease is destroying his peripheral vision.
Happy Ending Override:

The last episode of Season 5 has Neely frame Matt for sexual harassment only for her to be outsmarted when he and C.J. trick her into admitting her lies on tape. However, due to David Charvet leaving the show, the Season 6 opener reveals that the tape was deemed inadmissable by the courts and Matt gets fired and returns to France while Neely is allowed to keep her job at Baywatch.
Season 8 ends with Mitch and Neely getting married and ready to live together. In season 9, after Geena Lee Nolin left and Jennifer Campbell took on the role, it turns out Neely was lying about things (like her ex even knowing she had his child) and Mitch realizes he can't trust her for marriage.

Hard-Work Montage: C.J. and Cody making a custom, ocean-accessible wheelchair for the handicapped comedian in "Lost and Found".

Also the renovation of Jackie's beach-side restaurant in "Race Against Time, Part 2".

He Knows Too Much: In "Desperate Encounter", a man named Damon tries to kill Mitch because he witnessed him trying to murder his wife.
Head-Turning Beauty: In Hawaiian Wedding there's a rather funny scene where C.J. is sunbathing in a very skimpy bikini, and the camera then pans over to a group of several men openly ogling her as though they've never seen anything more sexy in their lives.
Heat Wave: "Scorcher".
Heel–Face Turn: Neely, who was originally portrayed as a villain but around season 7 lost her nasty traits. However, once Jennifer Campbell took over the role, she reverted to her "bad girl" roots.
Hell Hotel: "Coronado del Sol" Parts 1 & 2 feature the ghost of a dead man haunting Summer's room because she reminds him of his old flame.
Heroic BSoD: A common trait for the characters, usually when they failed to rescue someone and dealing with the aftermath.

Caroline was shaken when she realized she missed one of the occupants on a boat of drunken kids who drowned. She seemed to have recovered but when the boy's grieving mother sued her the next season, it was obvious she still blamed herself. It takes the attorney using a live test to prove to both women that there was no way Caroline could have seen the boy on the boat (especially at night when it was on fire) for Caroline to come to grips with it and forgive herself as the mother also forgave her for doing her best.

I Don't Want to Ruin Our Friendship: Summer says this to Matt as they're debating turning their platonic relationship into a romantic one. He responds by kissing her and declaring, "I'm ruining our friendship."
I Have This Friend: Used in a season 1 episode.
Instant Sedation: C.J. is chloroform'd in "Dead of Summer".
Instant Seduction: Matt tries to flirt with C.J. during lifeguard training in "Rookie of the Year" . He asks if he'll be able to pick partners for CPR practice. His flirting backfires when Stephanie reprimands him, saying that lifeguards have to give CPR to anybody that needs help, not just beautiful people.
Instantly Proven Wrong: Told the FBI want to have a lifeguard go undercover for an investigation, Mitch scoffs as he rants that agents are so straightlaced that "you can spot one of them coming from a mile away!" He sees a gorgeous blonde in the red suit uniform and starts to give her a tower assignment.

Mitch: You must be new, where are you from?

FBI Agent: A mile away.

Interclass Romance: Shauni's wealthy father disapproves of her relationship with Eddie.
Intercontinuity Crossover: Caroline, Newmie, Eddie, and Stephanie have all made guest appearances on Baywatch Nights.

An inverse example: Donna made her debut in Nights but became a series regular on Baywatch in season 7.

I Owe You My Life: Destiny, after Mitch saves her life in "Ironman Buchannon".

Likewise, Matt is hounded by a woman he saved in "Someone to Baywatch Over You".

Ironic Episode Title: "Vacation" is anything but for Mitch and Stephanie.
It's All My Fault: Mitch in "Submersion", for Bobby going into a coma after not rescuing him quickly enough. Of course, all the lifeguards said he was being too hard on himself.

Also demonstrated in "The Incident" when Caroline blamed herself for not being aware of an extra victim who drowned.

It's Personal: An Australian lifeguard comes to Baywatch in the episode "Fatal Exchange". Mitch doesn't care for him, and it turns out he had a reason to be suspicious:

When Mitch was temporarily lifeguarding in Australia years ago, he was unable to save woman during a rescue. It turns out the woman was the Australian lifeguard's wife, and he's now out to kill Mitch in revenge.

Jiggle Show: Quite literally. The show was famous for showing well-endowed women running in not very supportive swim suits.
Jumped at the Call: When Craig returns in season 8 (after six years away) he felt stifled by his life as an attorney feeling "there has to be something more." When a little boy fell off the pier before him, Craig didn't hesitate to jump into the water (in suit and tie) to rescue him. He realized being a lifeguard was always his calling and quit his lawyer life.
Kicked Upstairs: Ben Edwards was promoted to lieutenant instead of being fired.
King Incognito: In "Princess of Tides," Catherine, the princess of a small island nation, wants to have a "normal day" before she goes ahead with a politically-planned marriage. She and Mitch hit it off nicely with him thinking she's just a tourist in some trouble. Hobie realizes the truth when he sees a story about her in the newspaper but keeps it quiet. It's not until the very end, when Mitch meets her at a function, that he learns who she is and stunned he was about to fall for royalty.
Lampshade Hanging: Numerous things in the 2017 movie- one of the big ones is when Matt Brody questions why a bunch of lifeguards are doing things that should be reserved for police and other agencies.

Matt: Everything that you guys are talking about sounds like a really, like, entertaining, but far-fetched TV show.

Later-Installment Weirdness: Baywatch Nights started as a Spin-Off of the original Baywatch with a Genre Shift towards detective stories, with Mitch and other characters opening a detective agency and solving mysteries. Soon afterwards it did a Retool following the then-leader that was The X-Files and had the characters (veteran lifeguards and police officers before becoming P.Is.) battling supernatural Monsters Of The Week. It was cancelled shortly after.
Laugh Track: Used repeatedly in "Now Sit Right Back and You'll Hear a Tale". Lampshaded by Gilligan himself when asked by Eddie if he hears laughter: "You get used to that, too."
Law of Chromatic Superiority: The swimwears are all red, so... Although in "Hawaii", the uniform color changed to yellow.
Leaning on the Fourth Wall: In the season nine premiere, Neely has been recast from Geena Lee Nolin to Jennifer Campbell. Going over Neely's actions of his wicked conniving past, Craig remarks "It's like she's a completely different person." (and this is before Neely is reverted to her early wicked ways).
Leitmotif: Not character-based, but event-based: There's a recurring music theme during the lifeguard re-qualifying montages.
Licensed Pinball Tables: One was released by Sega Pinball in 1995. Click here.
Littlest Cancer Patient:

Lauren in "Lover's Cove"

has aplastic anemia and only has a year to live. Too bad Hobie has taken a liking to her.
April's little brother Charlie has leukemia and the lifeguards give him a great time at the beach before he dies.

Lockdown: "Quarantine".
Long-Runner Cast Turnover: The biggest one was at the end of season 8, which has unofficially been dubbed the "Baywatch Bloodbath": Only David Hasselhoff, Jeremy Jackson, Michael Newman, Michael Bergin, and Kelly Packard survived. Everyone else was let go or quit (though certain actors like Parker Stevenson still did guest spots).
Loose Canon: The events of Baywatch Nights, especially it's supernatural focused second season, is so wildly different and detached from the original Baywatch that it's difficult to believe the shows take place alongside each other. Despite this, Nights was regularly given small references on the main show during its run, with many characters bringing up Mitch's new career as a private eye, Donna joining the lifeguard team and Ryan making a brief cameo in one episode.
Love at First Sight: C.J. to the dolphin trainer in "Coronado del Soul"; so much so that she thinks about quitting lifeguarding and moving to San Diego despite that she hasn't been on ONE DATE with the guy.
Love Confession: Neely and Mitch both confess this for each other in "White Thunder at Glacier Bay, Part 2".
Love Triangle:

Matt, Slade, and Summer.
C.J., Cort, and Matt in "Deep Trouble". Matt suspects that C.J. still loves Cort, though she's insistent that she's just helping him out of a tough period in his life.

Magic Brakes: Mitch's brakes are cut by the villain in "Fatal Exchange".
---
In a moment of crisis you have to believe in yourself
♪
---