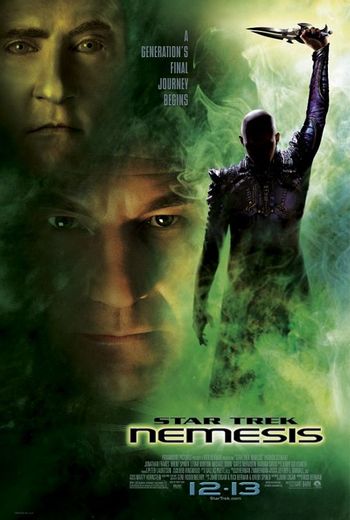 Janeway:
Jean-Luc, how would you like a trip to Romulus?
Picard:
With or without the rest of the fleet?
The One With… Picard's younger evil clone.
Star Trek Nemesis is the tenth movie in the Star Trek film series, released in 2002, and serves as the big-screen Grand Finale for the Next Generation crew. It is directed by Stuart Baird, with the screenplay by John Logan and the story by Logan, Rick Berman and Brent Spiner, who also played Data.
After a coup, the new leader of the ever-secretive Romulan government makes an offer of peace to The Federation. Our heroes find out that this new leader, Shinzon (Tom Hardy), is a younger clone of Jean-Luc Picard (Patrick Stewart), the by-product of a botched Romulan plot. At first, Shinzon's intentions seem honest, but they quickly turn malicious for convoluted medical reasons. There's also a subplot about a prototype of Data, B-4 (Spiner), which serves as a counterpoint to Picard's identity struggles. See here for a more detailed recap.
The film also stars TNG series regulars Jonathan Frakes as William T. Riker, LeVar Burton as Geordi La Forge, Michael Dorn as Worf, Gates McFadden as Beverly Crusher and Marina Sirtis as Deanna Troi. Ron Perlman appears as Shinzon's Evil Chancellor. Cameos include Wil Wheaton as Wesley Crusher, Whoopi Goldberg as shipboard bartender Guinan, and Kate Mulgrew as Admiral Kathryn Janeway, the only one of the three to have lines.
The film was released on December 13, 2002 in North America. It did poorly at the box office, due to a combination of stiff competition (Harry Potter and the Chamber of Secrets, James Bond's Die Another Day and The Lord of the Rings: The Two Towers were all released within a few weeks of this film's debut) and the film, despite having the Star Trek Movie Curse in its favor, not being very good. As of 2023, it is the only Star Trek film not to open at #1 at the box office, losing to Maid in Manhattan, and its profit margins were poor.
Nemesis provided a bookend in several ways. It is the final feature film to take place in the franchise's Prime Timeline. For several years, it was also the franchise's last feature film whatsoever, until J. J. Abrams's Alternate Timeline hit theatres in 2009. Likewise, it was the final entry in the Prime Timeline for almost 20 years, until Star Trek: Picard, and to a lesser extent Star Trek: Lower Decks and Star Trek: Discovery, continued on past it in 2020. And finally, its its status as the TNG finale stood until Star Trek: Picard's third season in 2023, which re-united the TNG cast for one last hurrah.
---
Nemesis provides examples of:
open/close all folders
Tropes A-I
Tropes J-Z
---
"I am a mirror for you as well..."