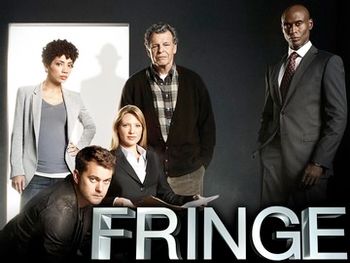 "We create technology. How it is used is not our concern."
— Nina Sharp
Fringe is a FOX Science Fiction TV series created by J. J. Abrams and his compatriots Alex Kurtzman and Roberto Orci. Other Abrams coworkers from Lost and Alias are involved as well.
Conceptually, Fringe is not unlike The X-Files, with the primary threat being Mad Scientist terrorists instead of an Alien Invasion. In practice, it is like The X-Files meets CSI. Like Abrams' other shows, it has a slowly developing Myth Arc involving an Alternate Universe, mysterious "Observers," an Action Girl, and crazy, off-the-wall happenings right from the get-go. It's quite a Mind Screw.
Tie-in media includes:
Fringe (2008-2009)
Fringe: Tales from the Fringe (2010-2011)
Beyond The Fringe (2011-2012)
Fringe: September's Notebook (2013)
Fringe: The Zodiac Paradox (2013)
Fringe: The Burning Man (2013)
Fringe: Sins of the Father (2013)
WARNING: This page contains a large number of unmarked spoilers. Tropers new to Fringe, proceed at your own risk. note Seriously, don't spoil yourself.
---
Tropes include:
open/close all folders
Tropes A-E
Tropes F-J
A God Am I:

In "Peter", we see past Walter invoke this about his decision to

cross into the parallel universe.

Walter: There is only room for one God in this lab and it's not yours!

William Bell

and David Robert Jones both have God complexes.

Bell:

*to Walter* Even if you deny it now, you've always been playing God.

I am.

"Groundhog Day" Loop: "White Tulip" has the Fringe team investigating time traveler Walter Peck over and over as he jumps back to the same event that puts them on his trail in the first place.

Walter breaks the loop by telling Peck how to jump back to his desired destination.

Gut Punch: The Bullet That Saved The World.

Etta's death.

Hallucinations: After sharing consciousness with him shortly before he died, Olivia saw visions of John Scott for much of the first season.

During the third season, Olivia's subconsciousness generates visions of Peter to combat her False Memories.

Happier Home Movie: The end of "An Origin Story."
Happily Married:

Peter and Olivia, until Etta was taken, and then restored in the finale.

Also, as of the penultimate hour,

this is apparently what happened to Lincoln and Alt-Livia.

He Didn't Make It:

How Lincoln is told that his Alternate died.

Healing Factor: One of the possible abilities granted to children treated with Cortexiphan.

It even allows Olivia to survive a gunshot to the head.

Here There Were Dragons: Walter and Bell theorized that the abilities that developed in the children they experimented on were once a part of normal physiology until they disappeared at some point. Walter suspects aliens.

Further hinted at in the "First People" theory which appears among the phrases in the alt-intro and in "6995 kHz".

Heroes Unlimited: The alternate Fringe Division.
Heroic Sacrifice:

Walter's backup plan

for stopping the hybrid monster? Poisoning himself so it would die if it ate him.

Nicholas Boone, who

had his spinal fluid drained just to make sure his wife would be able to be cured, even though he knew it would give him a stroke

.
While helping Olivia escape from Walternate,

Colonel Broyles is killed and chopped up by his own colleagues.

William Bell

using his unstable atoms to power Our Heroes' trip back to the prime universe.

Joshua Rose setting it up so that he would be trapped in Amber, getting Fringe Division to close the case so that his identical twin brother that he'd previously rescued from the Amber could go back to his life.

Etta Bishop.

Nina Sharp's

Heroic Suicide.
In the finale,

Walter does this without actually dying onscreen - he goes to 2067 with Michael, ensuring the Observer invasion never happens, but he can never return to 2015.

Hollywood Cyborg: Nina Sharp.
Hollywood Science: And deliberately so.
Homicide Machines: One episode involved a guy who created powerful EM fields when he was under stress. For some reason this caused a printer to turn malevolent just long enough to kill his boss.
Hope Spot: There's this one glorious moment in the Series Finale when you think that

Donald can take Walter's place in the year 2167

and maybe, just this once, the Bishop family will all live together happily ever after.

Donald gets shot and Walter still has to go.

Hospitality for Heroes: A bartender in the alternate universe refuses to let Agent Broyles pay for his drink. This is because he recognizes Broyles as one of the law enforcement officials who helped deal with a major disaster (a gigantic vortex) years before; he tells Broyles that his money is no good there, because the world needs more heroes like him.
Hostage for MacGuffin: Thomas Henry Newton secures his escape in "Grey Matters" by

poisoning Walter and letting Olivia choose between capturing Newton and saving Walter

.
Humanity Is Infectious:

Despite only having vestigial limbic systems, the Observer research team and Windmark start to feel emotion.

Windmark more or less mentions this trope word for word.
Hurting Hero: Walter has helped solve every case the Fringe team comes across.

His son also died, causing him to go to the Other Side and kidnap that Peter. As such he is responsible for the war with the Other Side and knows it, just as he is partially responsible for his late wife's suicide. He has also spent 17 years in a mental institution with little to no outside contact, and he has had pieces of his brain removed, leaving him with severely compromised mental faculties.

Though he spends most of his time munching on candy and dancing around dead bodies, it's hard to watch his scenes

with Bell

and think he's happy. Then we have Olivia, whose life has been described by another character as "something of a nightmare."

And that's before she gets trapped in a parallel universe, tortured by light deprivation, brainwashed into thinking she's another Olivia, narrowly escapes having her brain cut out, and finally manages to get herself back home... only to find out that the other Olivia has been living her life and even dating Peter, the man she loves.

Her life sucks.
I Choose to Stay:

When the bridge between both universes is being closed, our side's Lincoln Lee chooses to stay in the alternate universe.

Peter decides to stay in his adopted universe rather than the one he was born in.

I Did What I Had to Do

Appears to be William Bell's justification for experimenting on children who ended up, in some cases, exploding, becoming suicidally depressed over their condition, and having their lives ruined by a ceaseless array of nightmarish visions. As of "Over There" part 1, this was key to getting to the alternate universe as part of the attempt to save Peter and prevent The End of the World as We Know It.
Also the justification the colonel gave for detonating the subjects of Project Tin Man in "Fracture" (S2 E03).

I Know You Know I Know:

The bad guy in "The Plateau" can use math to predict and manipulate the future. When Charlie and Olivia realize what it means for their investigation, they call Astrid and ask her if it's possible to compute whether he'll predict between their two choices. She says it's a mathematical impossibility, an infinite loop, and basically gives this trope. He can predict what they'll do since he knows that they know that he'll know he can predict them knowing that he can predict them, etc. Olivia just says "screw it" and decides to go to the hotel. Answer Cut to the bad guy standing in front of a window with a hotel sign visible next to it.
Subverted in the same episode in a rather clever way - the bad guy relies on Olivia following a particular protocol to keep the dominos of his plan falling - he thinks he knows she knows he knows. She of course DOESN'T know - being from the other universe, she's unfamiliar with the protocol.

Idiot Ball:

Peter, third season.

He's known Olivia for over two years now, he's realized Olivia is acting differently, he's surrounded by body-double-imposters from the Other Side, and yet he doesn't realize that the woman he's now sleeping with is Fauxlivia.

This is made even worse by the fact that Peter was once a conman and claims to have a knack for reading people. Pull yourself together, Bishop. Peter did notice a lot of details being very off, but he kept rationalizing over them because of his love for Olivia

(the one he knew)

. Peter notes in the pilot that he can't really read Olivia, meaning it'd be harder for him to figure out that it wasn't actually her.
The fact that the Fringe group repeatedly gets tricked by alternates is just sad. Almost as bad is

Charlie being replaced by his double, when they KNEW that Charlie was fighting a shapeshifter hand-to-hand no one ever bothered to check and make sure he's the correct person. The fact they repeat it with Fauxlivia is just painful.

And they fell for the shapeshifter switch yet again!
In the second season episode Reciprocity,

Shapeshifters are being taken out by Walternate, and their names are showing up on files in Fauxlivia's computer files. Once this happened the first time, they didn't think to simply search those files for names of highly placed people, instead doing random blood screening while more and more potential sources of information are being wiped out.

Peter (and later Olivia) in Season 4,

if they knew that there were differences in the altered timeline, why didn't they immediately cross-reference all their alternate case-files? Especially with Olivia's photographic memory, they may have been able solve any number of cases that only one timeline had accomplished. This even bites them in the ass, when their knowledge of the cortexiphan children may have helped them catch Jones

.

If I Do Not Return:

Peter to Astrid when he decides to enter the Machine.

Astrid: Are you sure you don't want me to call Olivia?

Peter: If it doesn't work, she's going to find out soon enough. Just tell her that-

Astrid: Whatever it is? You'll tell her yourself.

I Just Want to Be Normal: "Baby Boy Brian" AKA Eugene underwent experiments that made him invisible and also put off a fatal condition. He spent his episode stealing other people's pigment to make himself visible again,

never mind the fact that it would kill him

Inappropriate Hunger: Walter brings up a sudden appetite at almost every grisly crime scene or autopsy.
I'm Not Afraid of You: Olivia does this during the Journey to the Center of the Mind.
Impostor-Exposing Test: The cyborg shapeshifters have mercury for blood. Blood screening is standard procedure when shapeshifters are at large.
Improbable Aiming Skills: Fauxlivia has an incredible knack for shooting people right between the eyes. Becomes a plot point in the Season 3 premiere, when Olivia pulls off an absolutely insane shot to a gas gauge with a handgun from a car moving at full speed.

It means the brainwashing is working.

Olivia

seems to have retained her newfound marksmanship skills even though the brainwashing isn't permanent.

What this means is unclear. Later episodes have shown that she remembers all her time over there (she gives frequent guidance on how Fringe Division does things as events warrant it), she's just clear now that

she's not Fauxlivia, although she remembers being her

. So that's okay, then. Probably.
Although Olivia was frequently capable of pulling of Pretty Little Headshots before, so it's not like she wasn't a decent marksman already? Not at Olympic level like Fauxlivia, but still pretty good!

Incredibly Lame Pun:

The title of the episode with the melting brains? "No-Brainer".
The one about rapid aging? "The Same Old Story".
People getting turned to dust? "Earthling".
Most titles on the soundtracks are amazingly awful. This is standard procedure for Michael Giacchino.

Incurable Cough of Death: Young Peter's mysterious terminal ailment. See also Soap Opera Disease.
Informed Ability: Peter's genius-level intelligence, most of the time. It doesn't help that he's often standing next to Walter, who makes pretty much everyone else seem stupid by comparison.

Then again, Peter is able to keep up with Walter and understand what he's saying, which is no small feat. We also get to see him stretching his intellectual muscles in Northwest Passage (when he's on his own) and in early season 4, when Walter refuses to help.

Inn Between the Worlds: Building where the machine is stored. From one end it is our universe, from other - it is alternate. From window you see clear sky, from another - clouds and zeppelins.
Insane Equals Violent: Averted in Walter's case. He was much more morally dubious when he was fully sane, but after his mental breakdown he becomes a harmless old man.

Further exemplified in how Walternate is sane, yet is much more willing to take violent, drastic measures.

In-Series Nickname:

Walternate. And now... Fauxlivia

Insistent Terminology: Alternate Charlie has arachnids under his skin. They're NOT worms.
In Spite of a Nail: In season 4

Peter's death in the 1980s

has resulted in almost the same present day for the

remaining

main characters,

with minor backstory changes and Alt!Broyles still alive

.
In the Future, Humans Will Be One Race: The Observers all share a very distinctive appearance. They also appear to be a One-Gender Race; we have to see any female Observers (that we know of).
Interdimensional Travel Device: Several different versions, including: Walter's portal, which causes both universes to begin collapsing; William Bell's technique by which he pulled Olivia into the AU (usually only works on hybrid Super Soldiers who are designed to survive the crossing; it worked on Olivia because of her Cortexiphan-enhanced physiology); and the natural way, which is achieved by groups of Cortexiphan Kids being guided by Walter (and of the three, is clearly the least dangerous, to dimensions and dimension-crossers, but not without its kinks).

The Alternate Universe might also possesses rod-like interdimensional travel devices invented by Walternate, but they were part of a deception that fooled Alt!livia. It's not established for certain if the devices actually work or not; or if the one that Alt!livia forced Brandonate to give her just happened to be a dud.

Interrogating the Dead: Mentioned in the pilot. Done in "In Which We Meet Mr. Jones" (1x7), and again in "Brave New World: Part 2" (4x22).
Interservice Rivalry: Fringe Division with the CIA.
Intoxication Ensues: Walter (frequently).

Hilariously, Walter's fine during "Lysergic Acid Diethylamide". It's Peter and

Broyles

(!) who are as high as kites.

In Which a Trope Is Described: "In Which We Meet Mr. Jones" (1x7).
Ironic Echo: Naturally, in a show about parallel universes, this trope pops up a lot. Examples include:

When Broyles is trying to convince Walter to help them deal with the machine in "The Box," he says that the government made similar arguments to Robert Oppenheimer (the scientist who led the Manhattan Project), and asks "how do you think he slept after his little invention had killed hundreds of thousands in a fraction of a second?" In "6:02 AM,"

just before turning on the machine,

Walternate also compares himself to Oppenheimer - and talks about the nightmares he had after Hiroshima and Nagasaki.

Jack Bauer Interrogation Technique: In the pilot, Peter uses a coffee mug to repeatedly smash the fingers of a suspect in order to get information.
Journey to the Center of the Mind: The pilot and "Lysergic Acid Diethylemide".
Just Think of the Potential!: Massive Dynamic employees are guilty of this more often than not.
Just Before the End: Bad Future from episode "The Day We Died". If "Hope" is listed among mad science topics, you know it's bad.
Tropes K-O
Karma Houdini:

Tyler Carson in "Of Human Action". He murders several cops, injures multiple innocent people and displays all the hallmarks of a budding sociopath, but since he's only 15, he won't face any jail time. Ultimately subverted . They all think he gets away but at the end of the episode, he ends up being drugged unconscious and hidden somewhere in the depths of Massive Dynamic with the other seven Tylers.

Peter: Kid goes on a killing-spree and all they're gonna do is make him talk it out with a bunch of shrinks...

Nick Lane works with David Robert Jones in his efforts to destroy the universe, Jones having tricked him into thinking he is defending the world from the alternate universe. Even after learning the truth behind Jones's intentions, he betrays the Fringe team and forces them to close the bridge between worlds, at great cost to the other side. He's never seen again after using his power to escape captivity.

William Bell ultimately gets away with trying to destroy two universes, since his fate of being trapped eternally in amber is undone in the Grand Finale. Unless Fringe Division catch up with him later.

Karmic Death: In the first season finale,

David Robert Jones

repeatedly attempts to open a portal to a parallel universe, at one point resulting in a young soccer player being Portal Cut. At the end of the episode, Peter uses one of his father's gizmos to plug the dimensional hole as Jones is trying to escape through it—Splinch!
Kick The Son Of A Bitch: No one was really upset when one of the people treated with Cortexiphan

roasted Sanford Harris like a Christmas ham.

Or when Walter

verbally castrated Olivia's stepfather.

Or when Fauxlivia floored alternate Brandon during her Heel–Face Turn.
Killer Rabbit: Killer butterflies that cut! (Cutterflies?) A different kind of Butterfly of Doom...
Lampshade Hanging: Amongst others:

Walter: That makes as much sense as anything else we've done.

Astrid: That makes no sense at all!

Walter: My point exactly.

Larynx Dissonance: Anna Torv mimics the voice of

William Bell when he possesses Olivia.

Laser Cutter: Walter and Astrid use one to excise videotapes containing

a plan to defeat the Observers

from amber.
Laser-Guided Amnesia: An apparent side-effect of surviving the memory-transfer process used by the antagonist in "One Night In October" to take people's happy memories.
Late-Arrival Spoiler: No advertisements, reviews, or discussions of Fringe bother to hide that there's an alternate universe involved. Mostly because it'd be impossible to explain otherwise by Season 3.
Law of Inverse Fertility:

Peter and Fauxlivia.

Sort of subverted at the end of season 4 when Olivia is revealed to be pregnant shortly after expressing a desire for a house with a nursery.

Leitmotif: An ominous flute-theme usually plays when The Observers are featured.
Limited Wardrobe:

Olivia wears almost entirely grey, white, and black.

Turns out she, and others, were trained to.

Nina wears black (unless she's riding).

Her alternate wears red.

Linked List Clue Methodology: Season 5.
Literal Change of Heart: In the "Brown Betty" episode.
Little "No":

Peter's response when

Etta dies.

Nina's reaction to finding out that, despite everything that he had done,

William Bell still loved her.

Living Emotional Crutch: Peter to Walter.

This is made even more poignant in series 4, where we get to see how reclusive and afraid Walter is without Peter in his life.

Living Memory: After Olivia enters John Scott's subconscious via a Mental Fusion. In season 3,

brainwashed Olivia has Peter show up towards the end of "The Plateau" and introduce himself as one of these

.

This happens again in season 4,

when Walter keeps catching glimpses of Peter after he has been erased from the timeline.

Lobotomy: Walter Bishop tries to self-lobotomize because he believes his visions of Peter mean that he's losing his mind.
Loss of Identity: What Walternate forces on

our universe's Olivia

in the third season premiere.
Lost Superweapon: Newton seems to be tracking down the pieces of one.
Love Dodecahedron: Well...

Peter is in love with Olivia who liked John at first but he died and she liked Peter back but she doesn't remember him as of season 4 and now has a thing for Lincoln who is quite smitten back but is friends with Peter who seems to ship them as well for some reason but Olivia remembered Peter again and now Lincoln is broken hearted and in the alternate time line Peter thought that Fauxlivia was Olivia and spent seven episodes enamoured with her but she was dating Frank but Alternate Lincoln liked her too and seemed to be fond of our Olivia as well when Walternate mind raped her into thinking she was Fauxlivia but in the amber timeline Fauxlivia has broken up with Frank and Lincoln was her "shoulder to cry on" but then he died but the other Lincoln said he'd stay and help and Seth Gabel ships them and

... I think that's it.
Love Transcends Spacetime:

Peter and Olivia.

They've been separated by universes.

Peter

has been erased from existence.

Olivia has been shot in the future.

They've crossed between universes, rewritten time lines and changed the future. Damn straight it transcends spacetime.

blue!Lincoln crosses into a dying universe for Fauxlivia.

Most of the other examples in the series are Deconstructed, the elderly couple from "6B" who miss their other halves so much that they nearly break the universes, Alistair Peck and his time travel device and the man from "And Those We've Left Behind" who tries to make a bubble in time so that he can stay with his wife in the past before she can get early onset Alzheimer's and accidentally ends up creating dangerous time loops.

Love Is a Weakness: In one episode, Newton poisons

Walter

and when cornered by Olivia, looking to bring Newton into custody, he reveals a three-step antidote process to counteract the poison, but he'll only agree to give Olivia the correct order for administering the antidote if she lets him go. Having to choose between arresting her target or saving her colleague and friend, she chooses to save

Walter

. As promised, Newton upholds his end of the bargain and

Walter

is saved, but before he makes his break, he tells Olivia, "Now I know how weak you are."
Love Makes You Crazy:

August's love for Christine leads to him performing some very un-Observerish behavior, namely, deciding to forgo just watching and actually interfering with the course of history by saving Christine's life.

Luke, I Am Your Father:

September/Donald reveals that he is Michael's father in The Boy Must Live.

Mad Mathematician: One of Walter's fellow patients at the St. Clair's asylum.

The poor guy was made that way and ended up killing his wife.

Mad Scientist:

Walter Bishop, who's moved towards the 'endearingly confused and absent-minded' end of the spectrum rather than the 'really insane' side after leaving the asylum. He's also The Worm Guy and the Omnidisciplinary Scientist.

Dr. Bishop: The only thing better than a cow is a human. Unless you need milk, then you really need a cow.

Walter tends to shift from one end of the spectrum to another many times per episode. Rather than being inconsistent writing, this tends to make most anything involving Walter absolutely terrifying and remind you that the guy who spent 20 minutes talking about French toast is probably the most dangerous person in the whole show.

The audience is reminded forcibly in Letters of Transit where he has the excised parts of his brain restored, and promptly starts outwitting Observers.

William Bell, his ex-partner, might be on the 'take over the world' side after he parlayed his research with Bishop into a massive company with a nebulously-defined "specialty" (a billboard for the company says "What do we do? What don't we do?"). Turns out Bell isn't really so mad after all. In fact, he's one of the good guys (as far as we know).

Played damn straight in Season 4.

Many, many minor characters.
Walternate is perfectly sane. But he is quite pissed off with Walter.

Mad Scientist Laboratory: The Harvard laboratory is the most prominent one but you've got dozens of others.
Mad Scientist's Beautiful Daughter: An uncommon male example in Peter Bishop. While he's far from the naïf, it's an interesting play on the trope.
Made of Iron:

Olivia takes a lot of punishment in "Bound" and keeps on fighting.
To a lesser extent, the shapeshifters.

Magic from Technology: In 2x12 ("Johari Window"), wherein a whole town of mutants appear normal

via a sustained elctromagnetic pulse

, Walter claims that an old friend once said that any sufficiently advanced technology is indistinguishable from magic.
Manly Tears: Both Peter and Walter have done this a few times.
Married in the Future:

Peter Bishop spends a week in the future, where he is married to his long-time Love Interest Olivia Dunham.

It does not end well for Olivia, unfortunately. Come to think of it, it doesn't end well for anyone.

In the penultimate hour, when Olivia makes one last trip to the red-verse after being ambered for over 20 years and not aging, she reunites with Bolivia and Lincoln, who have aged normally and are now middle-aged, married, and have a son, going by their wedding rings and the family picture glimpsed on Bolivia's desk.

Mass "Oh, Crap!": "6:02 am" has a few of these casually strewn about the place. It's that kind of episode.
Maybe Ever After:

It's left ambiguous whether or not Lincoln and Fauxlivia get together but he's smitten and she doesn't seem opposed to him permanently crossing into her universe.

When Olivia crosses over in the series finale, they're shown to be married with a son.

Mechanistic Alien Culture: The Observers

who are future descendants of humanity

hint at this with their uniformity, odd behavior, Creepy Monotone speech, and severely dulled sense of taste in contrast to their subtle perceptions of the flow of time, play this and most of the original MIB Mythos, see above pretty straight (that is, up until the episode "Letters of Transit"). It's possible the Scientific Team September, August, et al were a part of was some kind of "scientific caste" in Observer society; the behavior of the "Overseer" Observers in

the possible version of the year 2036 in

the episode "Letters of Transit" were much more carnal and human-like, and did not seem to use the same Creepy Monotone (though one or more of those traits might be due to prolonged exposure to modern/20 Minutes into the Future human behavior).

There appear to be no female Observers (at least none have been seen so far), and how or if they reproduce has never been addressed. They are also Ditto Posthumans, being extremely uniform, even when they appear in large numbers. They all seem to wear variations on a suit and a decades-out-of-style hat; this also includes when they appear in large numbers; the episodes set in the future make it clear that all Observers dress like this, not just the members of September's Scientific Team.

In The Boy Must Live, we are shown that Observers are grown in tanks (making them all test tube babies and possibly clones) and are released upon reaching physical maturity. Michael was discovered as an anomaly while still in the pre-adolescent stage of physical development, hence why his physical appearance is that of a child.

Medium Blending: When Walter and Peter go into Olivia's mind, the world switches from live action to a rotoscoped, cel-shaded cartoon as soon as they meet William Bell. Apparently they couldn't get Leonard Nimoy to appear in person so they had to come up with something to use him in the episode. He was unwilling to go back on his retirement (announced following completion of the Fringe S2 finale), but he was prepared to do the voicework, hence the animation.
Mega-Corp: Massive Dynamic: What don't we do?
Memory Gambit: Walter pulls one in season 5 to prevent

the Observers from finding out the plan to defeat them.

The Men in Black: The Observer seems to play this very close to the classic understanding of the MIB image.
Mental Time Travel: In the 3rd season finale, the mind of Peter's younger self is pulled into the Bad Future to prevent it by showing what will happen if he uses the machine to destroy the alternate universe.
Mind over Matter: It's said that Olivia has this from being experimented on as a child.

And she does have telekinesis as proven in last two episodes of season 3.

Mind Rape: Walternate does this to Olivia. Even Alt!Broyles has a bit of a What the Hell, Hero? moment.

The Observers can do this (particularly the Invaders in the Bad Future shown in "Letters of Transit" and

Season 5

).

Mind Screw: '' "Death. I saw death. All of it. And it was '''me'''. And yes, there were drugs involved.
Mirror Match: Olivia vs. Olivia in "Over There, Part 2".
Mix-and-Match Critters: The freakish beast from "Unleashed". Some of the iconic images used to promote the show also have features of this trope.
The Mole:

John Scott, who was working with Steigman prior to the events of the pilot

. And not to mention

Agent Loeb

. And as it turns out

Sanford Harris

. And now

the alternate universe soldier posing as Charlie

. Again with

Alternate-Olivia sneaking into our universe

. And then

Amberverse Col. Broyles working for Amber-Jones

This show loves this trope.
Morality Chain:

Brought up in "One Night in October", when a forensic psychologist is brought to the other universe to profile his Serial Killer Evil Twin, and it turns out that the key difference between the two is that the psychologist, as a child, had met a woman who taught him to manage his destructive urges, while his counterpart never did. After

the evil twin steals his memories of the woman, there's concern as to whether he'll go evil without them. Broyles says that while they'll keep an eye on him, he believes some people make a mark on others that cannot be erased

.
Deconstructed in "Five Twenty Ten". Walter is adamant that Peter's love and support will prevent him from turning into his old self. Nina expresses her doubts and

tells Walter how her love for William Bell

wasn't enough to stop him from Playing God. Walter dismisses her (rather cruelly) but she turns out to be right.

In the end, Michael helps Walter by giving him his memories from the other timeline

and by giving him a little reality check.

Motherly Scientist

Killer: He... he should have let me die a long time ago. I was an experiment. Someone... someone paid him. The man I call my father. He should have let me die. That was his mistake. But he was blinded because he loved me. He loved me...

The Mountains of Illinois: The show tries to pass off Vancouver as Boston. They do not resemble each other.
Mundane Utility: Walter

becomes the sole owner of Massive Dynamic

in Season 3, and mostly uses the opportunity to steal things from their offices every time he visits since they are technically "his".
Murder by Cremation:

Charlie is killed off-screen by a shape-shifter and disposed of in a hospital incinerator.

Musical Episode: "Brown Betty" is a detective story Walter tells Ella while Olivia is

looking for a disappeared Peter

. In it, Olivia is a hard-boiled pulpish detective, Walter is a Mad Scientist Marty Stu though not so much, as it is revealed and the setting is an Anachronism Stew of 30's atmosphere and modern/future technology. This trope is played with when Rachel first starts singing, and Walter's voice comes out. This doesn't happen when other characters start singing however.
Mushroom Samba: "Lysergic Acid Diethylemide" and "Black Blotter".
My God, What Have I Done?: This, followed immediately by Driven to Suicide, is the reaction of a Serial Killer after he essentially acquires empathy/conscience from his alternate universe counterpart.
Mysterious Past: Much of Walter's life before he was admitted St. Claire's is still shrouded in mystery. This also applies to Peter, who has a pretty sketchy background.
Mythology Gag: Take a shot every time one shows up in "Brown Betty". You'll be dead in less than half an hour.
Mysterious Watcher: The Observer. Played with during his first featured episode when the camera pulls out at the end of the ep to reveal him watching, as per usual for the trope, then Peter comes out of nowhere with a haymaker to the Observer's jaw and demands to know who he is and what's going on. He's appeared in every ep so far, doubling as an Easter Egg. He has also appeared in other Fox programs, including NFL games, NBA games, and American Idol.
Mystical Pregnancy: Fauxlivia's pregnancy is accelerated via some terrifying medical experiments, courtesy of Walternate.
Naked People Are Funny: Walter. Walter, Walter, Walter. Examples include Olivia finding out about his "cooking naked on Tuesdays" habit in "6:02 AM" - the hilarious way.
A Nazi by Any Other Name: The Occupation in season five is a extreme case. Master Race who considers themselves above others? Check. Society divided between the "lower" humans and the humans who serve a Master Race, (

The Observers

)? Check. "lower" humans live in ghettos in subhuman living conditions without access to a proper education, food or medicine? Check. Heavy worshipping of the aforementioned Master Race? Check. La Résistance is formed? Check. Constant witch hunts and heavy militarism? Check.

The uniform of the Loyalists also heavily resembles the Wehrmacht.
The imagery is really taken up to eleven in "The Boy Must Live" (which, coincidentally, is the eleventh episode of the final season.)

In the final ten minutes, the Observers set up roadblock checkpoints, drive up and down the street in Humvees, and soldiers are marching through the train station in search of Michael.

Neck Snap:

David Robert Jones kills his lawyer this way as part of his escape plan.
Spinal fluid vampire lady, Valerie Boone, Valerie Boone. (She turned March into June).

Peter does this to an Observer in 5x06.

That's when we know that his abilities are kicking in.

The Needs of the Many:

Much of Walter's character development is centered around this trope.
The justification for using Amber. Hundreds of people trapped in a continue loop of fear... but the universe won't rip itself apart.

Nerdgasm: Brandon has one, with a combination of Properly Paranoid when researching Observer sightings.
Neutral Female: Played With in "Brave New World, part 1".

David Robert Jones

sneaks up on Peter, dislocates his shoulder and proceeds to beat the crap out of him with a crowbar. Olivia is on the roof of another building, watching helplessly until the cortexiphan kicks in. She possesses Peter and then goes all Xbox kinetic on his ass.
Never Recycle A Room: Walter the Mad Scientist returns to his lab in the basement of a Harvard building after 17 years and just has to just dust the place down before getting back to work; not only has the space been left unused, but all his equipment is still there. Considering what he was working on leaving it alone might be the smartest thing a university has ever done. Walternate's lab wasn't recycled either.

The site in Jacksonville where William Bell and Walter

conducted their experiments on Olivia

. Handwaved by Bell buying it and then keeping it shut down.
Alistair Peck's lab.

Never Trust a Trailer: "Brown Betty" was advertised as a quirky, lighthearted Musical Episode. It really isn't. There's also only one real musical number.
Next Sunday A.D.: Presumably, given several references to President Obama, it's this as opposed to 20 Minutes into the Future.

Given that the Fringe division and everything it does is kept a secret from the public, it's possible that it's happening right now and you just don't know about it.

Nice Job Breaking It, Hero:

Nice job saving Other Peter's life, Walter. Too bad that now we have two universes ready to collapse.

Also, the Bad Future in the season 3 finale.

Congratulations everyone for locking Walter away in prison! Sure, you want to punish him for accidentally causing the near-destruction of the world, but did it ever occur to you, that you might have just locked away the one person capable of potentially fixing the problem?

Nice job observing Walternate, Observer. You should be fired.

Though the Observer does admit he's prone to getting involved when he shouldn't and accidentally reveals too much.

"Subject 13" reveals that a young Olivia accidentally crossed over and alerted Walternate to the existence of the Primary Universe.

In "The Bishop Revival", Walter and Peter have a falling out when he reveals that about ten years earlier he had sold some of Walter's prized books. Turns out the books were smuggled out of Nazi Germany by Walter's father and contained a formula for a programmable bioweapon, which is now being used against people.

Then subverted, as it turns out the person who bought the books is just an artist, leaving them unsure who managed to perfectly replicate the formula? The ending implies that culprit was Older Than They Look and broke into Walter's lab, decades earlier.

The Nicknamer: Walter refers to William Bell as "Belly", his parallel universe doppleganger as "Walternate" and Astrid as... basically any name beginning with the letter A.

In the latter case, one interpretation is that he pretends to forget Astrid's name simply to screw with her, as he seems to consistently get it right when she's not around!

Nightmare Fetishist: Walter gets fired up rather than horrified by the grotesqueries they confront.

Ella is strangely nonplussed by the weird and freaky as well, which might foreshadow her

becoming a Fringe agent in the future

.
Also Doctor Mona Foster. Her response to being told that bugs ate their way out of a person is keen interest. She also has a crush on

Scarlie

because of the arachnids that live under his skin.

Nightmare Fuel Coloring Book: In Season 4, a girl named Emily has visions of how people die,she carries a drawing pad with her so she can quick draw them out before she forgets them.

In "The Ghost Network", Roy also would sketch down images of pattern-related events as they were happening in real-time.

90% of Your Brain: "Ability" averted this but replaced it with a similar concept. The trope was later invoked in the commercial for "Of Human Action", though not the episode itself. Further explained that at the special abilities that characterise the Cortexiphan patients

used to exist throughout humanity but faded out all a sudden

. Walter suspects it was aliens who caused the loss of abilities.
No-One Could Have Survived That: A woman falls from a building in episode 3x17 and walks away. Later we find out she was murdered eighteen months ago and escaped from the morgue.
No-Paper Future: The other universe is apparently like this, to the extent that the presence of a ballpoint pen at a crime scene is the most exotic thing about it. The clue leads them to a research center where mentally-handicapped patients have difficulty using computers and tend to write with pens instead.
Noir Episode: "Brown Betty" (2x20), also doubles as a Musical Episode.
Noodle Implements: Astrid does not want to know what Walter intends to do with a porn magazine and a portrait of George W. Bush.

It's Walter. Given his politics he probably wanted to make a collage.

Noodle Incident: Whatever case landed

Alt-Charlie

with arachnid eggs infesting his body.

Presumably the same case that left "our" version of the character with them, only they couldn't synthesise a cure, only a control measure.
Basically anything Walter says that he's worked on for the Government. They had him doing some weird stuff.
One from the Alternate Universe. In "Fractures" we see a homeless man on the street, who's apparently an "Arusa War" veteran.

No, You:

Olivia: I was hoping you'd have one of your weird connections.

Peter: Weird connections?

Olivia: They're always a little weird.

Also in "Enemy of My Enemy"

Fauxlivia: I've just got kinda a hunch that this other Lincoln is telling us the truth.

Fauxlivia: *laugh* See, I think he's kinda funny looking.

Lincoln: You're funny looking.

Oblivious Guilt Slinging:

Peter to Olivia and Walter towards the end of second season.
Olivia to Peter at the start of "Marionette."

Obstructive Bureaucrat: Sanford Harris deliberately uses his administrative leverage to hinder Olivia's work, as revenge for a past conviction on sexual harassment charges and especially because he's The Mole. "I have lots of red tape."
Oceanic Airlines: The show has an ad for Oceanic.
Offscreen Moment of Awesome: Olivia using one of Bell's phosphorous grenade prototypes in "Over There, Part 2".

And, presumably, her fight with Fauxlivia that immediately followed it where Fauxlivia managed to take her place.

Oh, Crap!:

Nina Sharp's expression in "Peter"

after her arm

starts flickering

screams this trope.
The Observer in "Letters of Transit." Causally observing the device Walter made... and then realising what it is.
Milo Stanfield in "The Plateau" when Olivia doesn't die as he had predicted.

Well that wasn't supposed to happen...

Ominous Hair Loss:

Peter starts to lose his hair, along with his humanity, when he puts Observer tech into his brain.

Ominous Visual Glitch: When Olivia sees something from "the other side", it flickers and shimmers visually. Usually it's indication of a serious problem. In this case, it is the audience seeing what Olivia sees.
Omnidisciplinary Scientist: Walter specializes in neurology, genetic manipulation, amateur surgery, and basement time/space machines. And pharmacology

Walter: Excellent! Let's make some LSD!

Once an Episode:

The Observer, the cow.
Played with in Brown Betty. Several Observers show up in that episode at the same time as generic Mooks, as well as a polka-dot cow in Bizarro!Walter's lab.
All episodes also contain a link to the next episode, for example the Beacon from "The Arrival" is shown on a sign in The Ghost Network.

Once a Season:
One Degree of Separation: It turns out that

Olivia was one of the children that Walter Bishop and William Bell experimented on

.
One-Steve Limit: Averted. There are several Josephs in the first season, and a minor character in season 4 is named Olivia.
Orbital Kiss:

Peter and Olivia at the end of "A Short Story About Love."

Orifice Evacuation: In "Bound" an immunologist is killed by a slug which escapes through his mouth.
Outliving One's Offspring: Most of the events of the series occur because scientist father Walter Bishop watched

his only son die of a childhood illness

and couldn't bring himself to let it happen again in the parallel universe.

And again in the 5th season, Peter and Olivia have to live through

their 3 year old daughter Etta disappearing right in front of their eyes. Peter reacts by searching for nonstop, scouring the country for her. Olivia on the other hand is so terrified that they will find her body that she absolves herself to the fact her child has died

.

After reuniting with Henrietta in the bad future, the family have a few days of togetherness, before Etta is shot and killed by Windmark. They find her just as she's dying

.

Our Vampires Are Different: They suck spinal fluid, not blood. And they go clubbing!
Out of Order: "Unearthed", which aired during the run of Season 2, was clearly supposed to be a Season 1 episode, as

Charlie Francis is still alive, which caused many fans to pause the episode and stare blankly at the screen for a few moments wondering what had happened

. On streaming services, the episode was moved to the end of Season 1 to avoid viewer confusion, which opens a whole new can of worms since

Olivia is supposed to be in the other universe at that point in the story.

Outlaw Couple: Olivia and Peter in Season 5.
Tropes P-T
Sacrificial Lion:

Etta Bishop.

That's when we realise how dangerous Windmark is.
Tropes U-Z
---