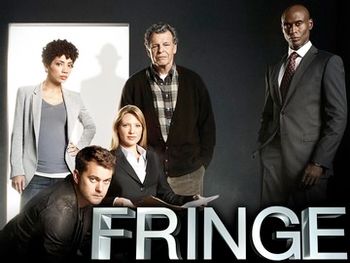 "We create technology. How it is used is not our concern."
— Nina Sharp
Fringe is a FOX Science Fiction TV series created by J. J. Abrams and his compatriots Alex Kurtzman and Roberto Orci. Other J.J. coworkers from Lost and Alias are involved as well. Conceptually, it is not unlike The X-Files, with the primary threat being Mad Scientist terrorists, instead of an Alien Invasion. In practice it is like The X-Files meets CSI. Like J.J.'s other shows, it has a slowly developing Myth Arc involving an Alternate Universe, mysterious "Observers," an Action Girl, and crazy, off-the-wall happenings right from the get-go. It's quite a Mind Screw.
Tie in media includes:
Fringe (2008-2009)
Fringe: Tales from the Fringe (2010-2011)
Beyond The Fringe (2011-2012)
Fringe: September's Notebook (2013)
Fringe: The Zodiac Paradox (2013)
Fringe: The Burning Man (2013)
Fringe: Sins of the Father (2013)
WARNING: This page contains a large number of unmarked spoilers. Tropers new to Fringe proceed at your own risk. note Seriously, don't spoil yourself.
---
Tropes include:
open/close all folders
Tropes A-E
Curse Cut Short

Walter

: Well, tell her what I said. Ask her why she destroyed files. Go on, ask her!

Nina: Maybe you can ask Walter if he remembers what group the boy was in. I mean, that may help.

Astrid: Of course. Walter, did you hear that?

Walter: Yes. Her voice goes right into my inner ear and rattled around like razor blades. Of course I heard it. Tell her to go-

Walter: I did not say that!

Cyberpunk: The series itself is not an example (barring the idea of technology run amok). However, Charlie Francis' monologue near the end of the first episode touches a lot of the themes of Cyberpunk.

Most of what happens in our universe is more correctly Biopunk than Cyberpunk, although they are closely related. It's more to do with doing weird crap to people and DNA and whatnot, rather than the more computer/machine-focused themes of Cyberpunk.
The alternative universe is genuinely very cyberpunk.

From the human/machine hybrids, to the repressive government, the world ripping itself apart, the plague killing all the plants and the utterly crazy technologies, it pretty much does tick all the boxes. Look at the drawing of the machine to cross universes powered by Peter... it's right out of Deus Ex for God's sake.

The setting and mood of Letters of Transit is very Cyberpunk, even if it doesn't follow the usual Cyberpunk tropes.
The setting of the entire 5th Season, so far, is pretty solidly cyberpunk, as have been the show's other forays into

the future

, such as the Season 3 Finale.

Cyberpunk Is Techno: Not techno per se but the music in the Observer Nightclub in Letters of Transit, which is brimming with Cyberpunk elements, has an Industrial and Electronic Body Music vibe to it.
Damsel in Distress:

In most episodes, Peter is either filling this or doing something badass. Sometimes both.
Olivia needs rescuing a few times but it never diminishes her Action Girl status. In 2x01 she (understandably) spent the entire episode completely freaked out in a hospital bed and was almost strangled by a shapeshifter. When asked if she was okay she lets everyone know that she's back by responding with "Go get that bitch". She needs rescuing again in "Entrada" when she's Strapped to an Operating Table and in "Lysergic Acid Diethylamide" when she's

trapped in her own mind.

Damsel out of Distress: Olivia Dunham. There are a few exceptions where someone else has to help rescue her, but in any case, anyone who kidnaps her is in for a lot more than they bargained for, and she usually escapes using nothing more than her wits and whatever tools and weapons she finds lying around. Specific examples:

"The End of All Things". Olivia is kidnapped by David Robert Jones, who's trying to activate her Cortexiphan superpowers as part of his Evil Plan. Meanwhile, Peter and rest of The Team try to find a way to get her back. She ends up manipulating Jones into kidnapping Peter so he can serve as the emotional "battery" for the activation, but instead of merely turning on some light bulbs as he wants she electrocutes one of his henchmen and frees them both.
Olivia finds herself trapped in her apartment with a killer and phones Peter for help...then proceeds to beat the killer near senseless with a heavy object, before yelling at him "You stay DOWN!", Wisely, the killer takes the advice and it's all over bar the shouting by the time Peter leads The Cavalry to the rescue.

Dark and Troubled Past:

Walter crossed several ethical boundaries in the name of Science before he was admitted St. Claire's Psychiatric Institution, including experimenting on children. Also,

stealing a parallel universe version of his own son.

When Olivia was just a toddler

William Bell and Walter performed psychologically scarring experiments on her during their trial of Cortexiphan

, and when she was 9, her stepfather would regularly beat her mother.

After one such occurrence, Olivia shot her stepfather twice and almost killed him. Ever since, he has sent her a birthday card just so that she knows he's still out there, and she regrets not killing him.

Then, when she was still a teenager, her mother died. Then we come to the show...
Peter himself.

Darker and Edgier: The fifth and final season gives us a really Bad Future overrun by vicious Observers, Jack Bauer Interrogation Technique and sinister biological weapons used by the heroes,

the brutal, unceremonious death of Etta Bishop

, Walter being terrified of turning back into the man he used to be (with hints of him showing through),

Observer!Peter

slowly losing his humanity, and Nina Sharp

shooting herself in the head

.
Darkest Hour: As of "The Day We Died",

Well...in 2026, at least.

Dark Reprise: "Henrietta", in "The Bullet That Saved The World"

when Windmark shoots Etta

and in "An Origin Story" while

the Observer that Peter killed drips blood on the floor.

Data Crystal: Data Cubes in "The Recordist" (5x03)
Daydream Surprise:

"The Same Old Story" gives us a pretty freaky daydream of Olivia's involving an Ambiguously Evil Broyles and horrific pregnancy.
Given Olivia's tendency to slip in and out of realities, this tends to happen to her a lot.

A Day in the Limelight: "Northwest Passage" (2x21) focuses mainly on Peter trying to solve a Fringe case on his own in Washington State. And "Everything in Its Right Place" (4x17) revolves around our universe's Lincoln Lee assisting the other side's Fringe team.
Dead All Along: Peter Bishop. See Replacement Goldfish.
Dead Alternate Counterpart: Inverted and arguably its most important plot point: it is in fact the "main" universe's Peter who dies as a kid. This sets the plot in motion as his father, Walter, goes on a journey to the alternate universe to steal back his sick yet not dead son from his alternate self and cure him like he should have done.
Deadly Nosebleed: Congratulations, you're on an episode of Fringe! (Which does nothing for your life expectancy in the first place.) You get a nose bleed. Option 1, you're a walking radioactive bomb about to explode the heads of everyone (including yourself) in the immediate vicinity. Option 2, you're a about to turn into a giant were-porcupine and brutally rip apart everyone in the immediate vicinity. Option 3, you're infected with a thousand year old disease that wiped out the Mammoths. It will first drive you insane and then kill you. Worst case scenario, you're the harbinger of the Apocalypse. Don't get a nose bleed on Fringe.
Deadpan Snarker: Peter.

Peter: Yeah, 'cause bootlegging smack in the basement is the picture of normalcy.

Death in the Clouds: The pilot episode has an airplane land with everyone on board dead from a biological weapon. They then have to figure out how the weapon got on board, why, where it came from, and is there more of it.
A Death in the Limelight:

The two Lincoln Lees finally get an episode. Red!Lincoln gets shot.

Nina Sharp plays a prominent role in "Anomaly XB-6783746". And shoots herself in the head.

Death Seeker: Dana Gray in "Stowaway"
Demoted to Extra: While they had fairly important roles in Season 1, Nina Sharp and Broyles have been featured less and less as the series has gone on.

In Nina's case, this gets reversed significantly in Season 4.

Different States of America: The alternate United States has quite a few differences from our own.

Texas is split into two states, the Dakotas and Carolinas are both merged, Virginia is still one entity and is called the District of Virginia, Oklahoma and Kansas are merged into a state called Midland, Michigan is missing its upper peninsula (implying it belongs to Canada), Washington is called Southern British Columbia, Louisiana is still a territory, Nevada is called Independent Nevada, and most strikingly, California is missing most of its coastline. Additionally, a brief shot of the American flag showed 48 stars, implying Hawaii and Alaska aren't states.
In New York City, Manhattan is spelled "Manhatan", Antoni Gaudi's Grand Hotel was built in 1908, the Twin Towers are still standing, Lady Liberty still has her original copper color, and the city is home to San Francisco's Transamerica Pyramid or at least a duplicate of it.
The Pentagon and the White House were the targets of the 9/11 attacks. A newspaper shows the Obamas preparing to move into the newly rebuilt White House, which now has a glass roof.
Martin Luther King Jr. is on the twenty dollar bill instead of Andrew Jackson, Richard Nixon is on 1983 Dollar Coin, and one conversation reveals Millard Fillmore appears on some banknote as well.
There are three major political parties, the FBI was dismantled over a decade before the series begins and Fringe Division is a branch of the Department of Defense, whose headquarters are located on Liberty Island.
John F. Kennedy was never assassinated and serves as the American ambassador to the U.N., though is planning to retire soon.
America apparently fought a war in Aruba at some point. A homeless veteran of the conflict is seen asking for money.

Different World, Different Movies: The alternate universe has many examples of this.
Disaster Dominoes: The villain of "The Plateau" can kill you with a pen. He doesn't have to use it as a weapon, either. He just leaves it on top of a mailbox and then you get hit by a bus.
Dissonant Serenity

Common with Walter since he's the Cloud Cuckoo Lander and Bunny-Ears Lawyer.
In the final scene of episode 3:20, after a Journey to the Center of the Mind allows Olivia to recover from a Grand Theft Me, Olivia's in a cheerful mood and having breakfast with Peter, when he asks her about the mysterious man who attacked her in her dream, she says "I don't know, but I think he's the man who's going to kill me." without breaking her smile. Then takes a bite of toast. Then roll credits.

Distant Finale: "Letters of Transit". Probably. Aired in a middle of storyline and ended with cliffhanger, to confuse you some more.

And so far, every episode of Season 5.

Does This Remind You of Anything?

Walter's conversation with his former patient/experimentee in "Momentum Deferred":

Walter: (regretfully)You were young and I took advantage of you.

In the same vein, Walter being asked if he can figure out the meaning of a complex formula in "Earthling":

Walter: (excitedly) Yes! I can dominate her!

Walter in "Jacksonville" talking about an experiment he and William Bell performed, and Peter makes a comment:

Peter: First times are always sloppy.
Walter: It wasn't our first time.

In "Marionette":

Olivia's slow breakdown over the course of the episode seems a lot like someone's reaction to being raped. She even describes how Fauxlivia has made her unable to live in her house, wear her clothes, or be with the man she loves.

Dodge the Bullet

Averted in one episode. A mook tries to shoot Peter from behind at point blank range. Peter spins around in what looks like a Krav Maga move, redirecting the barrel so the bullet misses him, and grabs the gun out of his hand.
Peter also just barely dodges

what would have been an accidental head shot from Olivia (she had... let's call it PTSD.)

Don't Tell Mama:

Walter to Olivia when she sees Peter is from the other side. "Please don't tell him."

Doomsday Device: Walternate is developing one.
Double Standard: Broyles and Olivia are both The Stoic, but for some reason a lot of critics and fans figured that Broyles was supposed to be that way (which he is), but Anna Torv was just a bad actress. Then we met Alternate Olivia and everyone realized no, she's not.

Not to mention in 3x17, when we see Anna Torv doing a damn-near perfect emulation of the voice (at least as much as a woman can) and mannerisms of

William Bell

.

Double Standard: Rape, Female on Male: Fauxlivia, pretending to be Olivia, seduces and keeps having sex with Peter for two months, until Olivia returns from the Alternate Universe. Peter thought he was having sex with Olivia, who he was just developing feelings for before the switch happened. This is called a Bed Trick in this wiki but legally is considered rape by fraud. Everyone, including Peter, at least initially acts like it's his fault and like Olivia is the one who's been violated in this situation, as if Fauxlivia "robbed" her of Peter. (In fact, Olivia herself, before she starts blaming Peter, is all "I understand - anything could have happened between me and her boyfriend, if he hadn't been out of town." Apparently nobody on the writing team realized that Olivia's situation would have been very different note , and that Olivia having sex with Fauxlivia's boyfriend without clueing him in would make her a rapist as well.)
Double Standard: Rape, Sci-Fi: In the episode "Do Shapeshifters Dream Of Electric Sheep?" the audience is clearly meant to be sympathetic with a shapeshifter who has been living undercover with a wife and son for the last 5 years, developing genuine feelings for them in the process. However, the son is 7 years old, so the implication is that the original man whom the shapeshifter murdered to steal his face and identity was already married to the wife, and the shapeshifter has just been committing rape by deception for years.
Dismantled MacGuffin: Walternate's Doomsday Device.
Did They or Didn't They?:

Completely out of the blue, Nina Sharp kisses Agent Broyles in the Season Two premier.

This is never explained or even referred to again...although some of their meetings suddenly take on a whole new light.
Disposable Sex Worker: A serial killer

who needs pineal gland extract to survive

targets prostitutes. Sounds familiar.
Drinking on Duty

Olivia: Yeah. Bottom draw in the cabinet behind you.

Peter: And here I was, halfway kidding.

Dropped a Bridge on Him:

Poor, poor Charlie Francis.

Also

Altlee. Considering that fact he survived nearly being blown up because the writers liked him, but gets fatally shot by a shapeshifter just so that his double can take his place in the altverse. No nanite bath for that?

Drowning My Sorrows:

Becoming a pretty standard evening for Olivia.

When Peter and Olivia are together and things are going good they at least move from hard liquor to wine.

In "A New Day in Old Town," Peter and Broyles do this when

they think Olivia is brain-dead and won't make it

.
In "The Day We Died", future Peter does this after

the death and funeral of his wife Olivia

.
Walternate is prone to this.
Elizabeth did this to deal

with the fact that they kidnapped Peter and have to lie to him

.

Drugs Are Good:

Various cases are solved with the assistance of narcotics, Olivia Dunham spends much of the pilot on homemade LSD in a sensory deprivation tank, Walter is constantly using psychotropics (on himself and others), and one of his former test subjects, while decidedly loopy as a result of her LSD-induced trances, is entirely happy and expresses her gratitude to Walter years later - with a kiss.
Which gives you Ad of Win situations when it cuts to the commercials... this show is brought to you by.. The Council for a Drug Free America.
Oddly, the only drug that's given any sort of negative implications is marijuana. Though that's not the drug's fault, it's just the only drug Walter uses a crutch when depressed. Drowning My Sorrows would be too normal for Walter.

Actually, given that Walter is usually on 15 times of psychotropics at any one time, one could argue that marijuana likely doesn't affect him anymore, being tame in comparison to what he's usually on! Walter smokes marijuana when he's too depressed to actually get high properly!

Which also leads to perhaps one of the very first scenes ever on Network television of someone using a bong—although we don't see the actual action, we hear the distinctive sound and see Walter put the bong down and exhale. In season 3, there's also a scene in which Walter and a security guard (played by Jorge Garcia) pass a bong back and forth while discussing such important subjects as Walter's newly invented cupcake flavor, baconberry.
Walter shares a joint with the usually serious COO of Massive Dynamic, Nina Sharp. It's okay. They've got prescriptions.
Episode 3x19 is called "Lysergic Acid Diethylamide". That's LSD, kids. And as of now, Astrid is the only member of the central cast who hasn't been under the influence of drugs onscreen at some point.
Walter's take:

Walter: Why can't we get into Harvard.

Etta:

It's been taken over by Observers, Walter.

Walter: Well, that's not a problem for someone who's done acid.

The Dulcinea Effect: A rare female example. Olivia gets pretty upset any time a woman is in danger. We see this from the get-go with the sexual assault cases in her backstory.
Dull Surprise: The security guard in Season 2 episode 'Earthling' looks and sounds rather nonplussed for having just seen video footage of a walking shadow-man.
Dysfunction Junction: There's Walter, a Mad Scientist (this isn't a hyperbole, he was previously locked up in a mental institution) with Dark and Troubled Past (he experimented on kids, okay). Then there's his estranged son Peter who despite having an IQ of 190 dropped out of high school and ended up living a nomadic life, which is still largely shrouded in mystery. And then there's Olivia whose FBI partner and lover is killed in the pilot, and to make matters worse she seems to have started to hallucinate him and even receive emails from him. And just when you thought it couldn't get any worse it turns out that

she was experimented on as a child by Walter Bishop and William Bell (although she has no memory of this). Then she's trapped in an alternate universe, tortured by what seems to be light deprivation before being brainwashed into thinking she's the other Olivia, before finally making it home... only to find out that Peter has been dating the other Olivia the whole time, apparently thinking it was her.

. Astrid seems to be pretty normal, though some fans think she's hiding something. Broyles is still pretty mysterious, although he is known to be divorced.

Astrid is so non-dysfunctional that

after her alternate self has her difficult to live with father die and takes an unscheduled trip to see Astrid Prime, A.P claims that her version was difficult to live with as well. She then goes home to a lovingly cooked meal from her pleasant father, exchanging hugs and "I love you."

Easter Egg:

The eye catches of each episode are a substitution cypher.
Every episode includes a visual clue to the next one. It may be a bit of graffiti, a sign on a shop, or a prop. Most are not recognizable before the subsequent episode is viewed, although some reference the upcoming episode's name.
An Observer can be seen in every episode, If they aren't already a plot element of the episode, they'll be walking past or standing still in the background of a scene.
"The Road Not Taken" (1x19): Walter was seen drinking a Slusho.
""Momentum Deferred" (2x04)":

The shape-changing soldier from another universe disguised as Charlie

is also seen with a Slusho.
As are two Observers in "Peter".
A set of alternate universe DC Comics covers adorn Peter's apartment in "Over There:Part II."

Empathic Healer: James Heath, though he initially used his power to transfer his illness to others.
Enigmatic Minion: Nina Sharp, in the first two seasons.
Enemy Mine: Episode 4x9 titled "Enemy of My Enemy," where

Fringe teams from both universes join forces to defeat David Robert Jones, with Peter and Walternate as key allies in the work.

Equivalent Exchange: Travel between the alternate universes works off this princple. Anything that travels from one world to the other has to be replaced by something of equal mass e.g. the car Walter and William send over is replaced by one from the other side. The only exception to this appears to be Olivia's ability to travel between the worlds via Cortexiphan.
Even Evil Has Standards:

When Alt-Brandon suggests to Walternate that they should administer Cortexiphan to children, Walternate refuses vehemently. "There are lines I simply cannot cross."
Captain Windmark, who in his spare time enjoys Mind Rape and crushing the resistance, finds the orifice sealing toxin that the Bishops use to raid Penn Station barbaric.

Everybody Must Get Stoned: "Lysergic Acid Diethylamide" with Astrid (as always) playing the role of Only Sane Man. Peter and

Broyles

are completely out of it, Walter is a little giddy but otherwise unaffected and

Bellivia

is totally fine.
Everyone Loves Blondes: Peter does. Though he thinks Olivia makes a very sexy redhead.
Evil Makeover: For Fringe Division's alternate universe counterparts i.e. darker hair, scars, form-fitting spandex and leather and /or suits.
Evilutionary Biologist: The Amber-verse ZFT cult contains many willing subjects thereof.
Evolving Credits: A subtle yet potent example. Episodes taking place in an earlier era have Retraux titles and examples of fringe science that actually became mainstream, ones in the alternate universe are red instead of blue, ones taking place in the future propose fringe science theories even more absurd than normal, and ones in the Bad Future swaps the theories for basic human rights.
Expendable Alternate Universe: Averted. People from the alternate universe aren't treated as less important than those from our universe, leading to major dilemmas when all the characters believe that only one of the two universes can survive. It's finally revealed that the reason the universes can be crossed at all is because they are linked - the destruction of one would cause the other to follow.

Peter links the universes together in a way that stabilizes them, and the characters from either side need to learn to work together and trust each other.

Expository Hairstyle Change:

Fauxlivia always wears bangs

, even when she's trying to impersonate Olivia

. Olivia only wears bangs when she

's been brainwashed into thinking she's Fauxlivia, which is also when she

is wearing her hair brown.

Bangs is the common name for the hairstyle Fringe

Astrid and Peter in "The Day We Died". Not only is Peter's hair longer

in the future

but it's exactly the same as his fathers'.

Extinct in the Future: In the Alternate Universe, sheep and wallabies died out sometime around 2001, along with presumably many other species.
Extra-Long Episode: Inverted version: the first-season episodes all lasted 50 minutes without commercials (rather than the standard 42-43 minutes), and the series switched to a standard episode run time from the second season onwards.
Eye Catch: They form a code, too.
Eye Remember: Episode 2 uses a photon camera to do this on a victim who was given a muscle paralyser before hand. This doesn't really make all that much sense if you know anything about neurotransmission.
Eye Scream:

In "Marionette"

the bad guy removes a man's eyes while he's awake. When the Fringe team finds the victim, he's wandering around with his eyelids pinned back so we can see the empty, gaping eye sockets.

Also in "Do Shapeshifters Dream of Electric Sheep?" where Walter spends quite a while poking around in the eyesocket of a disabled shapeshifter.
Walter tries to perform a lobotomy on himself, which of course includes him shoving a spike into his eye socket.
"Transilience Thought Unifier Model-11" features Walter being tortured by an Observer. Bleeding out the eyes is one of the side effects.
In "In Absentia," the team needs an ocular scan from a captured security guard, who they can't move. Walter uses a scalpel and a spoon, messes up the first eye, and demands another.

The guard is okay, though. Walter imprinted his retinal pattern on a pig's eye.
Tropes F-J
Tropes K-O
Karma Houdini:

Tyler Carson in "Of Human Action". He murders several cops, injures multiple innocent people and displays all the hallmarks of a budding sociopath, but since he's only 15, he won't face any jail time. Ultimately subverted . They all think he gets away but at the end of the episode, he ends up being drugged unconscious and hidden somewhere in the depths of Massive Dynamic with the other seven Tylers.

Peter: Kid goes on a killing-spree and all they're gonna do is make him talk it out with a bunch of shrinks...

William Bell ultimately gets away with trying to destroy two universes.

Unless Fringe Division catch up with him later.

Karmic Death: In the first season finale,

David Robert Jones

repeatedly attempts to open a portal to a parallel universe, at one point resulting in a young soccer player being Portal Cut. At the end of the episode, Peter uses one of his father's gizmos to plug the dimensional hole as Jones is trying to escape through it—Splinch!
Kick the Son of a Bitch: No one was really upset when one of the people treated with Cortexiphan

roasted Sanford Harris like a Christmas ham.

Or when Walter

verbally castrated Olivia's stepfather.

Or when Fauxlivia floored alternate Brandon during her Heel–Face Turn.
Killer Rabbit: Killer butterflies that cut! (Cutterflies?) A different kind of Butterfly of Doom...
Lampshade Hanging: Amongst others:

Walter: That makes as much sense as anything else we've done.

Astrid: That makes no sense at all!

Walter: My point exactly.

Larynx Dissonance: Anna Torv mimics the voice of

William Bell when he possesses Olivia.

Laser Cutter: Walter and Astrid use one to excise videotapes containing

a plan to defeat the Observers

from amber.
Laser-Guided Amnesia: An apparent side-effect of surviving the memory-transfer process used by the antagonist in "One Night In October" to take people's happy memories.
Late-Arrival Spoiler: No advertisements, reviews, or discussions of Fringe bother to hide that there's an alternate universe involved. Mostly because it'd be impossible to explain otherwise by Season 3.
Law of Inverse Fertility:

Peter and Fauxlivia.

Sort of subverted at the end of season 4 when Olivia is revealed to be pregnant shortly after expressing a desire for a house with a nursery.

Leitmotif: An ominous flute-theme usually plays when The Observers are featured.
Limited Wardrobe:

Olivia wears almost entirely grey, white, and black.

Turns out she, and others, were trained to.

Nina wears black (unless she's riding).

Her alternate wears red.

Linked List Clue Methodology: Season 5.
Literal Change of Heart: In the "Brown Betty" episode.
Little "No":

Peter's response when

Etta dies.

Nina's reaction to finding out that, despite everything that he had done,

William Bell still loved her.

Living Emotional Crutch: Peter to Walter.

This is made even more poignant in series 4, where we get to see how reclusive and afraid Walter is without Peter in his life.

Living Memory: After Olivia enters John Scott's subconscious via a Mental Fusion. In season 3,

brainwashed Olivia has Peter show up towards the end of "The Plateau" and introduce himself as one of these

.

This happens again in season 4,

when Walter keeps catching glimpses of Peter after he has been erased from the timeline.

Lobotomy: Walter Bishop tries to self-lobotomize because he believes his visions of Peter mean that he's losing his mind.
Loss of Identity: What Walternate forces on

our universe's Olivia

in the third season premiere.
Lost Superweapon: Newton seems to be tracking down the pieces of one.
Love Dodecahedron: Well...

Peter is in love with Olivia who liked John at first but he died and she liked Peter back but she doesn't remember him as of season 4 and now has a thing for Lincoln who is quite smitten back but is friends with Peter who seems to ship them as well for some reason but Olivia remembered Peter again and now Lincoln is broken hearted and in the alternate time line Peter thought that Fauxlivia was Olivia and spent seven episodes enamoured with her but she was dating Frank but Alternate Lincoln liked her too and seemed to be fond of our Olivia as well when Walternate mind raped her into thinking she was Fauxlivia but in the amber timeline Fauxlivia has broken up with Frank and Lincoln was her "shoulder to cry on" but then he died but the other Lincoln said he'd stay and help and Seth Gabel ships them and

... I think that's it.
Love Transcends Spacetime:

Peter and Olivia.

They've been separated by universes.

Peter

has been erased from existence.

Olivia has been shot in the future.

They've crossed between universes, rewritten time lines and changed the future. Damn straight it transcends spacetime.

blue!Lincoln crosses into a dying universe for Fauxlivia.

Most of the other examples in the series are Deconstructed, the elderly couple from "6B" who miss their other halves so much that they nearly break the universes, Alistair Peck and his time travel device and the man from "And Those We've Left Behind" who tries to make a bubble in time so that he can stay with his wife in the past before she can get early onset Alzheimer's and accidentally ends up creating dangerous time loops.

Love Is a Weakness: In one episode, Newton poisons

Walter

and when cornered by Olivia, looking to bring Newton into custody, he reveals a three-step antidote process to counteract the poison, but he'll only agree to give Olivia the correct order for administering the antidote if she lets him go. Having to choose between arresting her target or saving her colleague and friend, she chooses to save

Walter

. As promised, Newton upholds his end of the bargain and

Walter

is saved, but before he makes his break, he tells Olivia, "Now I know how weak you are."
Love Makes You Crazy:

August's love for Christine leads to him performing some very un-Observerish behavior, namely, deciding to forgo just watching and actually interfering with the course of history by saving Christine's life.

Luke, I Am Your Father:

September/Donald reveals that he is Michael's father in The Boy Must Live.

Mad Mathematician: One of Walter's fellow patients at the St. Clair's asylum.

The poor guy was made that way and ended up killing his wife.

Mad Scientist:

Walter Bishop, who's moved towards the 'endearingly confused and absent-minded' end of the spectrum rather than the 'really insane' side after leaving the asylum. He's also The Worm Guy and the Omnidisciplinary Scientist.

Dr. Bishop: The only thing better than a cow is a human. Unless you need milk, then you really need a cow.

Walter tends to shift from one end of the spectrum to another many times per episode. Rather than being inconsistent writing, this tends to make most anything involving Walter absolutely terrifying and remind you that the guy who spent 20 minutes talking about French toast is probably the most dangerous person in the whole show.

The audience is reminded forcibly in Letters of Transit where he has the excised parts of his brain restored, and promptly starts outwitting Observers.

William Bell, his ex-partner, might be on the 'take over the world' side after he parlayed his research with Bishop into a massive company with a nebulously-defined "specialty" (a billboard for the company says "What do we do? What don't we do?"). Turns out Bell isn't really so mad after all. In fact, he's one of the good guys (as far as we know).

Played damn straight in Season 4.

Many, many minor characters.
Walternate is perfectly sane. But he is quite pissed off with Walter.

Mad Scientist Laboratory: The Harvard laboratory is the most prominent one but you've got dozens of others.
Mad Scientist's Beautiful Daughter: An uncommon male example in Peter Bishop. While he's far from the naïf, it's an interesting play on the trope.
Made of Iron:

Olivia takes a lot of punishment in "Bound" and keeps on fighting.
To a lesser extent, the shapeshifters.

Magic from Technology: In 2x12 ("Johari Window"), wherein a whole town of mutants appear normal

via a sustained elctromagnetic pulse

, Walter claims that an old friend once said that any sufficiently advanced technology is indistinguishable from magic.
Manly Tears: Both Peter and Walter have done this a few times.
Married in the Future:

Peter Bishop spends a week in the future, where he is married to his long-time Love Interest Olivia Dunham.

It does not end well for Olivia, unfortunately. Come to think of it, it doesn't end well for anyone.

In the penultimate hour, when Olivia makes one last trip to the red-verse after being ambered for over 20 years and not aging, she reunites with Bolivia and Lincoln, who have aged normally and are now middle-aged, married, and have a son, going by their wedding rings and the family picture glimpsed on Bolivia's desk.

Mass "Oh, Crap!": "6:02 am" has a few of these casually strewn about the place. It's that kind of episode.
Maybe Ever After:

It's left ambiguous whether or not Lincoln and Fauxlivia get together but he's smitten and she doesn't seem opposed to him permanently crossing into her universe.

When Olivia crosses over in the series finale, they're shown to be married with a son.

Mechanistic Alien Culture: The Observers

who are future descendants of humanity

hint at this with their uniformity, odd behavior, Creepy Monotone speech, and severely dulled sense of taste in contrast to their subtle perceptions of the flow of time, play this and most of the original MIB Mythos, see above pretty straight (that is, up until the episode "Letters of Transit"). It's possible the Scientific Team September, August, et al were a part of was some kind of "scientific caste" in Observer society; the behavior of the "Overseer" Observers in

the possible version of the year 2036 in

the episode "Letters of Transit" were much more carnal and human-like, and did not seem to use the same Creepy Monotone (though one or more of those traits might be due to prolonged exposure to modern/20 Minutes into the Future human behavior).

There appear to be no female Observers (at least none have been seen so far), and how or if they reproduce has never been addressed. They are also Ditto Posthumans, being extremely uniform, even when they appear in large numbers. They all seem to wear variations on a suit and a decades-out-of-style hat; this also includes when they appear in large numbers; the episodes set in the future make it clear that all Observers dress like this, not just the members of September's Scientific Team.

In The Boy Must Live, we are shown that Observers are grown in tanks (making them all test tube babies and possibly clones) and are released upon reaching physical maturity. Michael was discovered as an anomaly while still in the pre-adolescent stage of physical development, hence why his physical appearance is that of a child.

Medium Blending: When Walter and Peter go into Olivia's mind, the world switches from live action to a rotoscoped, cel-shaded cartoon as soon as they meet William Bell. Apparently they couldn't get Leonard Nimoy to appear in person so they had to come up with something to use him in the episode. He was unwilling to go back on his retirement (announced following completion of the Fringe S2 finale), but he was prepared to do the voicework, hence the animation.
Mega-Corp: Massive Dynamic: What don't we do?
Memory Gambit: Walter pulls one in season 5 to prevent

the Observers from finding out the plan to defeat them.

The Men in Black: The Observer seems to play this very close to the classic understanding of the MIB image.
Mental Time Travel: In the 3rd season finale, the mind of Peter's younger self is pulled into the Bad Future to prevent it by showing what will happen if he uses the machine to destroy the alternate universe.
Mind over Matter: It's said that Olivia has this from being experimented on as a child.

And she does have telekinesis as proven in last two episodes of season 3.

Mind Rape: Walternate does this to Olivia. Even Alt!Broyles has a bit of a What the Hell, Hero? moment.

The Observers can do this (particularly the Invaders in the Bad Future shown in "Letters of Transit" and

Season 5

).

Mind Screw: '' "Death. I saw death. All of it. And it was '''me'''. And yes, there were drugs involved.
Mirror Match: Olivia vs. Olivia in "Over There, Part 2".
Mix-and-Match Critters: The freakish beast from "Unleashed". Some of the iconic images used to promote the show also have features of this trope.
The Mole:

John Scott, who was working with Steigman prior to the events of the pilot

. And not to mention

Agent Loeb

. And as it turns out

Sanford Harris

. And now

the alternate universe soldier posing as Charlie

. Again with

Alternate-Olivia sneaking into our universe

. And then

Amberverse Col. Broyles working for Amber-Jones

This show loves this trope.
Morality Chain:

Brought up in "One Night in October", when a forensic psychologist is brought to the other universe to profile his Serial Killer Evil Twin, and it turns out that the key difference between the two is that the psychologist, as a child, had met a woman who taught him to manage his destructive urges, while his counterpart never did. After

the evil twin steals his memories of the woman, there's concern as to whether he'll go evil without them. Broyles says that while they'll keep an eye on him, he believes some people make a mark on others that cannot be erased

.
Deconstructed in "Five Twenty Ten". Walter is adamant that Peter's love and support will prevent him from turning into his old self. Nina expresses her doubts and

tells Walter how her love for William Bell

wasn't enough to stop him from Playing God. Walter dismisses her (rather cruelly) but she turns out to be right.

In the end, Michael helps Walter by giving him his memories from the other timeline

and by giving him a little reality check.

Motherly Scientist

Killer: He... he should have let me die a long time ago. I was an experiment. Someone... someone paid him. The man I call my father. He should have let me die. That was his mistake. But he was blinded because he loved me. He loved me...

The Mountains of Illinois: The show tries to pass off Vancouver as Boston. They do not resemble each other.
Murder by Cremation:

Charlie is killed off-screen by a shape-shifter and disposed of in a hospital incinerator.

Musical Episode: "Brown Betty" is a detective story Walter tells Ella while Olivia is

looking for a disappeared Peter

. In it, Olivia is a hard-boiled pulpish detective, Walter is a Mad Scientist Marty Stu though not so much, as it is revealed and the setting is an Anachronism Stew of 30's atmosphere and modern/future technology. This trope is played with when Rachel first starts singing, and Walter's voice comes out. This doesn't happen when other characters start singing however.
Mushroom Samba: "Lysergic Acid Diethylemide" and "Black Blotter".
My God, What Have I Done?: This, followed immediately by Driven to Suicide, is the reaction of a Serial Killer after he essentially acquires empathy/conscience from his alternate universe counterpart.
Mysterious Past: Much of Walter's life before he was admitted St. Claire's is still shrouded in mystery. This also applies to Peter, who has a pretty sketchy background.
Mythology Gag: Take a shot every time one shows up in "Brown Betty". You'll be dead in less than half an hour.
Mysterious Watcher: The Observer. Played with during his first featured episode when the camera pulls out at the end of the ep to reveal him watching, as per usual for the trope, then Peter comes out of nowhere with a haymaker to the Observer's jaw and demands to know who he is and what's going on. He's appeared in every ep so far, doubling as an Easter Egg. He has also appeared in other Fox programs, including NFL games, NBA games, and American Idol.
Mystical Pregnancy: Fauxlivia's pregnancy is accelerated via some terrifying medical experiments, courtesy of Walternate.
Naked People Are Funny: Walter. Walter, Walter, Walter. Examples include Olivia finding out about his "cooking naked on Tuesdays" habit in "6:02 AM" - the hilarious way.
A Nazi by Any Other Name: The Occupation in season five is a extreme case. Master Race who considers themselves above others? Check. Society divided between the "lower" humans and the humans who serve a Master Race, (

The Observers

)? Check. "lower" humans live in ghettos in subhuman living conditions without access to a proper education, food or medicine? Check. Heavy worshipping of the aforementioned Master Race? Check. La Résistance is formed? Check. Constant witch hunts and heavy militarism? Check.

The uniform of the Loyalists also heavily resembles the Wehrmacht.
The imagery is really taken Up to Eleven in "The Boy Must Live" (which, coincidentally, is the eleventh episode of the final season.)

In the final ten minutes, the Observers set up roadblock checkpoints, drive up and down the street in Humvees, and soldiers are marching through the train station in search of Michael.

Neck Snap:

David Robert Jones kills his lawyer this way as part of his escape plan.
Spinal fluid vampire lady, Valerie Boone, Valerie Boone. (She turned March into June).

Peter does this to an Observer in 5x06.

That's when we know that his abilities are kicking in.

The Needs of the Many:

Much of Walter's character development is centered around this trope.
The justification for using Amber. Hundreds of people trapped in a continue loop of fear... but the universe won't rip itself apart.

Nerdgasm: Brandon has one, with a combination of Properly Paranoid when researching Observer sightings.
Neutral Female: Played With in "Brave New World, part 1".

David Robert Jones

sneaks up on Peter, dislocates his shoulder and proceeds to beat the crap out of him with a crowbar. Olivia is on the roof of another building, watching helplessly until the cortexiphan kicks in. She possesses Peter and then goes all Xbox kinetic on his ass.
Never Recycle A Room: Walter the Mad Scientist returns to his lab in the basement of a Harvard building after 17 years and just has to just dust the place down before getting back to work; not only has the space been left unused, but all his equipment is still there. Considering what he was working on leaving it alone might be the smartest thing a university has ever done. Walternate's lab wasn't recycled either.

The site in Jacksonville where William Bell and Walter

conducted their experiments on Olivia

. Handwaved by Bell buying it and then keeping it shut down.
Alistair Peck's lab.

Never Trust a Trailer: "Brown Betty" was advertised as a quirky, lighthearted Musical Episode. It really isn't. There's also only one real musical number.
Next Sunday A.D.: Presumably, given several references to President Obama, it's this as opposed to 20 Minutes into the Future.

Given that the Fringe division and everything it does is kept a secret from the public, it's possible that it's happening right now and you just don't know about it.

Nice Job Breaking It, Hero!:

Nice job saving Other Peter's life, Walter. Too bad that now we have two universes ready to collapse.

Also, the Bad Future in the season 3 finale.

Congratulations everyone for locking Walter away in prison! Sure, you want to punish him for accidentally causing the near-destruction of the world, but did it ever occur to you, that you might have just locked away the one person capable of potentially fixing the problem?

Nice job observing Walternate, Observer. You should be fired.

Though the Observer does admit he's prone to getting involved when he shouldn't and accidentally reveals too much.

"Subject 13" reveals that a young Olivia accidentally crossed over and alerted Walternate to the existence of the Primary Universe.

In "The Bishop Revival", Walter and Peter have a falling out when he reveals that about ten years earlier he had sold some of Walter's prized books. Turns out the books were smuggled out of Nazi Germany by Walter's father and contained a formula for a programmable bioweapon, which is now being used against people.

Then subverted, as it turns out the person who bought the books is just an artist, leaving them unsure who managed to perfectly replicate the formula? The ending implies that culprit was Older Than They Look and broke into Walter's lab, decades earlier.

The Nicknamer: Walter refers to William Bell as "Belly", his parallel universe doppleganger as "Walternate" and Astrid as... basically any name beginning with the letter A.

In the latter case, one interpretation is that he pretends to forget Astrid's name simply to screw with her, as he seems to consistently get it right when she's not around!

Nightmare Fetishist: Walter gets fired up rather than horrified by the grotesqueries they confront.

Ella is strangely nonplussed by the weird and freaky as well, which might foreshadow her

becoming a Fringe agent in the future

.
Also Doctor Mona Foster. Her response to being told that bugs ate their way out of a person is keen interest. She also has a crush on

Scarlie

because of the arachnids that live under his skin.

Nightmare Fuel Coloring Book: In Season 4, a girl named Emily has visions of how people die,she carries a drawing pad with her so she can quick draw them out before she forgets them.

In "The Ghost Network", Roy also would sketch down images of pattern-related events as they were happening in real-time.

90% of Your Brain: "Ability" averted this but replaced it with a similar concept. The trope was later invoked in the commercial for "Of Human Action", though not the episode itself. Further explained that at the special abilities that characterise the Cortexiphan patients

used to exist throughout humanity but faded out all a sudden

. Walter suspects it was aliens who caused the loss of abilities.
No-One Could Have Survived That: A woman falls from a building in episode 3x17 and walks away. Later we find out she was murdered eighteen months ago and escaped from the morgue.
No-Paper Future: The other universe is apparently like this, to the extent that the presence of a ballpoint pen at a crime scene is the most exotic thing about it. The clue leads them to a research center where mentally-handicapped patients have difficulty using computers and tend to write with pens instead.
Noir Episode: "Brown Betty" (2x20), also doubles as a Musical Episode.
Noodle Implements: Astrid does not want to know what Walter intends to do with a porn magazine and a portrait of George W. Bush.

It's Walter. Given his politics he probably wanted to make a collage.

Noodle Incident: Whatever case landed

Alt-Charlie

with arachnid eggs infesting his body.

Presumably the same case that left "our" version of the character with them, only they couldn't synthesise a cure, only a control measure.
Basically anything Walter says that he's worked on for the Government. They had him doing some weird stuff.
One from the Alternate Universe. In "Fractures" we see a homeless man on the street, who's apparently an "Arusa War" veteran.

No, You:

Olivia: I was hoping you'd have one of your weird connections.

Peter: Weird connections?

Olivia: They're always a little weird.

Also in "Enemy of My Enemy"

Fauxlivia: I've just got kinda a hunch that this other Lincoln is telling us the truth.

Fauxlivia: *laugh* See, I think he's kinda funny looking.

Lincoln: You're funny looking.

Not So Different: Walter and most of the Mad Scientist antagonists. In fact, most of the time, they are simply following his original work to it's obvious conclusion. This does not escape anyone's notice.
Orbital Kiss:

Peter and Olivia at the end of "A Short Story About Love."

Oblivious Guilt Slinging:

Peter to Olivia and Walter towards the end of second season.
Olivia to Peter at the start of "Marionette."

Obstructive Bureaucrat: Sanford Harris deliberately uses his administrative leverage to hinder Olivia's work, as revenge for a past conviction on sexual harassment charges and especially because he's The Mole. "I have lots of red tape."
Oceanic Airlines: The show has an ad for Oceanic.
Oh, Crap!:

Nina Sharp's expression in "Peter"

after her arm

starts flickering

screams this trope.
The Observer in "Letters of Transit." Causally observing the device Walter made... and then realising what it is.
Milo Stanfield in "The Plateau" when Olivia doesn't die as he had predicted.

Well that wasn't supposed to happen...

Ominous Visual Glitch: When Olivia sees something from "the other side", it flickers and shimmers visually. Usually it's indication of a serious problem. In this case, it is the audience seeing what Olivia sees.
Omnidisciplinary Scientist: Walter specializes in neurology, genetic manipulation, amateur surgery, and basement time/space machines. And pharmacology

Walter: Excellent! Let's make some LSD!

Once an Episode:

The Observer, the cow.
Played with in Brown Betty. Several Observers show up in that episode at the same time as generic Mooks, as well as a polka-dot cow in Bizarro!Walter's lab.
All episodes also contain a link to the next episode, for example the Beacon from "The Arrival" is shown on a sign in The Ghost Network.

Once a Season:
One Degree of Separation: It turns out that

Olivia was one of the children that Walter Bishop and William Bell experimented on

.
One Steve Limit: Averted. There are several Josephs in the first season, and a minor character in season 4 is named Olivia.
Orifice Evacuation: In "Bound" an immunologist is killed by a slug which escapes through his mouth.
Our Vampires Are Different: They suck spinal fluid, not blood. And they go clubbing!
Out of Order: "Unearthed", which aired during the run of Season 2, was clearly supposed to be a Season 1 episode, as

Charlie Francis is still alive, which caused many fans to pause the episode and stare blankly at the screen for a few moments wondering what had happened

.
Tropes P-T
Sacrificial Lion:

Etta Bishop.

That's when we realise how dangerous Windmark is.
Tropes U-Z
The Crowners:
Best Episode
\\
---