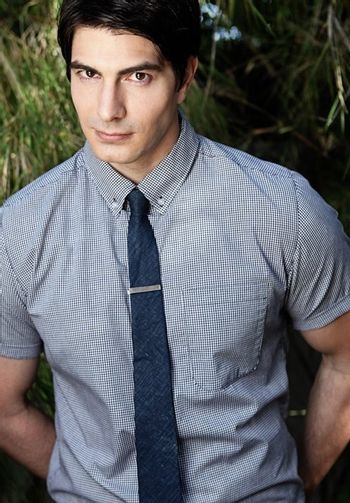 Brandon James Routh (born October 9, 1979 in Des Moines, Iowa) is an American actor and former fashion model. He grew up in Iowa before moving to Los Angeles to pursue an acting career, and subsequently appeared on multiple television series throughout the early Turn of the Millennium.
He's apparently got a thing for starring in live action adaptations of comic books; in 2006, he gained greater recognition for his role as the titular superhero of Superman Returns, and also provided his voice for Everywhere Man in The Batman. Following this, he starred in the 2010 films Scott Pilgrim vs. The World and the eponymous protagonist of Dylan Dog: Dead of Night. Some other notables credits in his filmography include a recurring role in the series Chuck, as well as a supporting part in Zack and Miri Make a Porno.
Since 2014, he's been appearing as Ray Palmer (The Atom) across the Arrowverse, first appearing on Arrow and then The Flash, ultimately joining the cast of their shared spinoff Legends of Tomorrow as a regular.
---
Filmography:
---
Tropes:
---