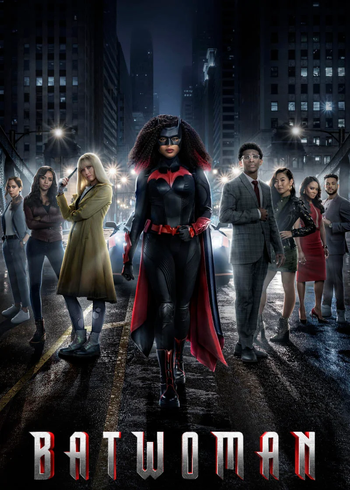 Batwoman
is a 2019
superhero
series on
The CW
, based on the
DC Comics
character
of the same name
, the fourth original live-action installment of the
Arrowverse
and the seventh live-action installment overall.
note
The series premiered on October 6, 2019.
The series initially focused on Kate Kane (Ruby Rose), who returns to her hometown of Gotham after several years living overseas, being welcomed by her father and head of the Crows Security firm, Jacob (Dougray Scott), stepmother, Catherine Hamilton (Elizabeth Anweis), and stepsister, Mary (Nicole Kang). By that point, Batman has disappeared from Gotham for three years, after an incident involving him having to break his strict moral code, and the city is being threatened by the anarchist Wonderland Gang, led by Alice (Rachel Skarsten). Although Kate dislikes Batman for not being able to save her mother and sister years ago, her position softens once she finds out that Batman is actually her cousin, Bruce Wayne. Realizing that the city will forever be unsafe so long as it has no protector, Kate carries on Bruce's legacy by becoming Batwoman. She is assisted by Luke Fox (Camrus Johnson), son of Batman's late ally Lucius Fox, and Sophie Moore (Meagan Tandy), her ex-girlfriend and member of the Crows Security, in her endeavor.
On May 19, 2020, Ruby Rose announced her departure from the series after the first season, forcing a mid-series Retool. The second season introduces Ryan Wilder (Javicia Leslie), a homeless ex-junkie who discovers Kate's Batwoman costume after she disappears in a plane crash. Ryan, who has a grudge against Alice for the death of her adoptive mother, temporarily dons the costume in her attempt to apprehend her, intending to return it to the Bat Team afterwards. However, as Kate remains missing in action, Ryan chooses to succeed her as Batwoman. To give her arc closure, Kate later returns for several episodes, with Wallis Day replacing Rose in this capacity. The rest of the cast remain, though their dynamics are altered as they are no longer anchored by Kate's presence. In the third season, the Bat Team receive a new ally in Renee Montoya (Victoria Cartagena) note Fun fact: Cartagena also played Renee Montoya in Gotham, but the creators have denied that they are the same character., who answers to Gotham's mayor, while also delving into Ryan's past, as she learns that not only her biological mother, Jada Jet (Robin Givens), is still alive and heads a famous tech company, she also has a half-brother, Marquis (Nick Creegan).
Batwoman is notable for finally introducing a member of the Bat Family to the Arrowverse after many Easter eggs and mythology gags, as well as being the sixth live-action television series (following Batman, Birds Of Prey, Gotham, Titans, and Pennyworth) based on elements of the Batman mythos. The first season's first arc, featuring Kate battling Alice and the Wonderland Gang, is heavily inspired by Greg Rucka & JH Williams III's Elegy story from the comics.
Before the series started, Kate appeared in the Elseworlds crossover, with the actual series pilot being set before and the rest set after it. The series also participated in Crisis on Infinite Earths, though since the series was relatively new only Kate and Luke were featured. Batwoman was originally announced
to head 2021's Arrowverse crossover event alongside Superman & Lois until the event was canceled
because of the difficulty coordinating the crews during the COVID-19 Pandemic.
On April 29, 2022, it was announced the series would not be renewed, becoming the fourth Arrowverse series to end, wrapping up three seasons and 51 episodes.
---
Batwoman contains examples of the following tropes:
---