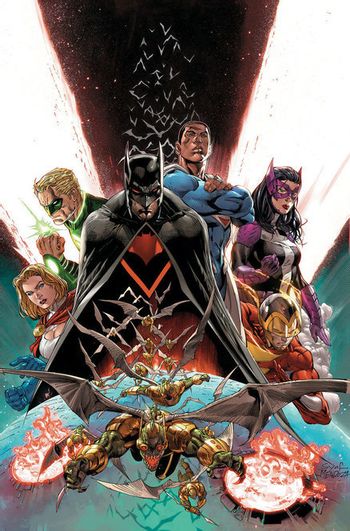 Mercury:
I am a dying god, and the task ahead needs living heroes.
Jay Garrick:
Wait! Heroes to fight something even greater than Apokolips? How... how can we? Mercury... sir. Earth simply doesn't have any. Back in the war, we had
Superman
,
Wonder Woman
, and
Batman
too, our "Trinity of Wonders". Now... the Age of Wonders is over.
Mercury:
Then let a new age begin.
Earth 2 is a series from DC Comics starting in 2012 as part of the New 52. It reboots the DC Multiverse's Earth-2 world, the one based on characters from The Golden Age of Comic Books. In the new version of this universe, the Power Trio of Superman, Batman, and Wonder Woman have died protecting the Earth from the Gods of Apokolips, while sidekicks Robin and Supergirl have vanished without a trace. Earth is left without costumed heroes, but Jay Garrick, Alan Scott, Kendra Munoz-Saunders (Hawkgirl), and Khalid Ben-Hassin (Dr. Fate), represent a new generation of heroes. A dimension-hopping Mister Terrific (Michael Holt) is also in the mix, tangling with an evil version of Terry Sloan, the Golden Age Mister Terrific.
The series began with scripts by James Robinson (Starman) and art by Nicola Scott (Birds of Prey). After finishing issue #16, James Robinson announced that he was leaving the comic. He was replaced by Tom Taylor of Injustice: Gods Among Us fame.
Earth 2: World's End began on October 8, 2014 as a weekly series running alongside Earth 2 that featured writers Tom Taylor, Paul Levitz, Daniel H. Wilson, Marguerite Bennet, and Mike Johnson, as well as artists Eddy Barrows, Jorge Jimenez, Stephen Segovia, Paulo Siqueira, and Tyler Kirkham. World's End focused on the second Apokoliptian Invasion as the World Army and the native Earth 2 heroes fought off Darkseid's forces from trying to reclaim the world.
Earth 2: Society reverted to a monthly schedule, and focused on the team rebuilding a broken world as a result of Convergence. Its final issue was, fittingly, #22. Interestingly, this was long after the announcement and foreshadowing of the return of the Justice Society of America in the mainstream DCU.
No relation to the TV series of the same name Earth 2.
---
Earth 2 provides examples of:
open/close all folders
Earth 2 and Earth 2: World's End
Earth 2: Society (spoilers for Earth 2 and World's End will be untagged)
---