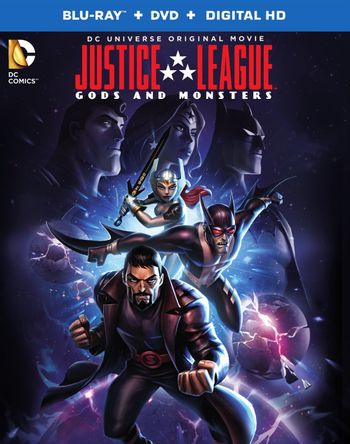 Justice League: Gods and Monsters is a 2015 movie of the DC Universe Animated Original Movies line. It is not based on the comic of a similar name, but features an original story by Bruce Timm of DC Animated Universe fame. While his art style makes a return compared to other recent DC animation, the movie is essentially an Elseworlds tale.
In this Alternate Universe, the Justice League is just the trio of Superman, Batman and Wonder Woman and they're not the same people we know and love. Superman is General Zod's son, not Jor-El's, and he was adopted by an illegal immigrant couple instead of the Kents; Batman is the vampiric Kirk Langstrom, normally the villain Man-Bat, instead of Bruce Wayne; and Wonder Woman is Bekka of the New Gods, not Diana of the Amazons.
The plot of the film revolves around the Justice League being framed for the murders of prominent scientists. They investigate these murders while dealing with mounting pressure from the US government to shut them down. The film also explores their origin stories in some depth.
The voice cast features Benjamin Bratt (Law & Order) as Superman, Michael C. Hall (Dexter) as Batman, Tamara Taylor (Bones) as Wonder Woman, Paget Brewster (Criminal Minds) as Lois Lane, Jason Isaacs (Harry Potter) as Lex Luthor and C. Thomas Howell (Southland) as Dr. Will Magnus.
A prequel series of shorts (listed under the subtitle of Chronicles) was released online on YouTube shortly before the movie came out. The series proved successful enough that a second season was announced to premiere in 2016, set to incorporate new takes on Mary Marvel, Steel, and Green Lantern. However, director Sam Liu confirmed that this was cancelled due to other projects.
The movie also has a digital-first four-issue comic serving as preludes to the story. Like Chronicles, the first three comics each focus on Batman, Superman, and then Wonder Woman individually, with the final comic detailing the three forming the Justice League.
Here's a first
and second
trailer. The movie was released on July 21, 2015.
Not to be confused with the "Gods and Monsters" phase of DC's cinematic universe.
---
open/close all folders
Tropes in the film
Tropes in Chronicles
Episode 01 — Twisted
Batman vs. Harley Quinn
---
Episode 02 — Bomb
Superman vs. Brainiac
---
Episode 03 — Big
Wonder Woman vs. Giganta
---
---