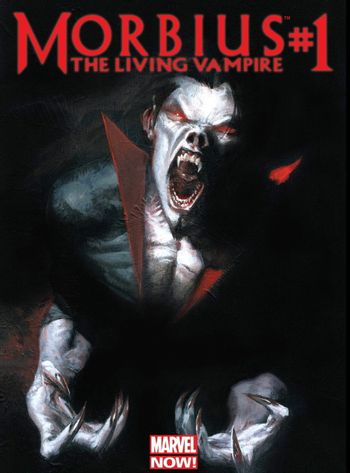 Morbius the Living Vampire is a series of comics by Marvel Comics starring the character of the same name.
Created by Roy Thomas and Gil Kane, Morbius has fought Spider-Man ever since his first appearance in The Amazing Spider-Man #101 (October 1971), occasionally working together or fighting against several other Marvel characters, perhaps most often with Blade. He was also seen as a character in Spider-Man: The Animated Series.
Dr. Michael Morbius, also known as "The Living Vampire", was a Nobel Prize-winning scientist suffering from a fatal blood disease. In the hopes of curing this illness, he treated himself with fluids distilled from vampire bats and, as a last resort, tried shock-treatment as a way to electrically create blood cells. This "cured" him by transforming him into a vampiric-human mutate who lusts for blood as a way to counter the disease. He also gained several other vampiric attributes, such as white skin, fangs, an allergy to sunlight (since he isn't undead, sunlight won't kill him outright, but his lack of melanin leads to quick burns), Super Strength, a Healing Factor, and hollow bones that give him the ability of flight. Later he gains more supernatural abilities, such as hypnosis.
Because of his need to drink blood from living victims (stored blood contains too many anticoagulants for his body to handle, or the need to kill stays even after the physical need is satisfied), Morbius wallows in guilt and tries to find both an alternative substance to blood and a way to cure himself — without much success. At best he has been able to change back into a human for short periods of time, but either soon reverts back or retains the need to drink blood.
Despite all this, he's generally willing to help or at least unwilling to harm people he sees as innocent or has a closer relationship with, and he has consistently tried his best to only target violent or incorrigible criminals. He also regularly uses his skill and knowledge as a scientist to give back to the community to the best of his ability.
He had a new series in January 2013 as part of Marvel NOW! that lasted nine issues. A new series, written by Vita Ayala and penciled by Marcelo Ferreira, debuted in 2019.
In 2018, it was announced that Sony was developing a film centering on the character for their shared film universe, with Jared Leto in the title role. It was released April 1, 2022.
Morbius: The Living Vampire has appeared in:
Comics
Live-Action Films
Video Games
Western Animation
---
Morbius: The Living Vampire provides examples of:
open/close all folders
Vol 1
Vol 2
Vol 3
---