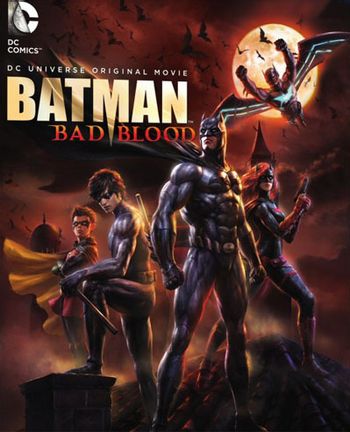 Batman: Bad Blood is a 2016 movie of the DC Universe Animated Original Movies and part of the DC Animated Movie Universe. Though an original film, Bad Blood takes elements of Batman (Grant Morrison), specifically Batman Reborn and the events of Batman Incorporated. This film marks the first official non-cameo appearance of the Kate Kane Batwoman and Batwing in any animated production. This movie picks up 6-12 months after the events of Batman vs. Robin.
When a mysterious figure known as Heretic appears in Gotham, Batman investigates and soon disappears, the last person to see him is a mysterious new vigilante known as Batwoman. When Batman is missing for too long, Alfred fears the worst and recalls Damian and Nightwing. To fill the power vacuum, Nightwing must do the one thing he's fought for so long not to - become the Batman. Now Dick has to solve the mystery of his former mentor's disappearance, his struggles with his past and trying to keep this expanding Bat-Family together.
The voice cast reunites the main voice cast of Son of Batman and Batman Vs. Robin and includes Yvonne Strahovski as Kate Kane/Batwoman, Gaius Charles as Luke Fox/Batwing and Ernie Hudson as Lucius Fox.
It has absolutely nothing to do with the Taylor Swift song.
Here is the character sheet.
---
Tropes in the Film:
---