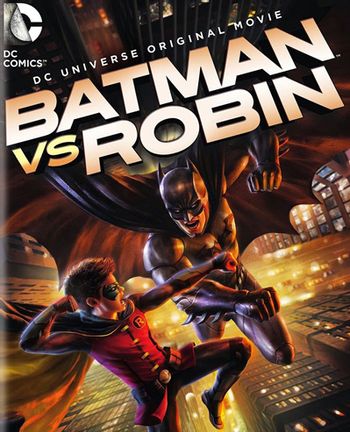 A 2015 movie in the DC Universe Animated Original Movies line and part of the DC Animated Movie Universe, Batman vs. Robin is a loose adaptation of Night of the Owls and a sequel to Son of Batman. Voice actors include Jason O'Mara, Stuart Allen, Sean Maher, and David McCallum reprising their respective roles from Son of Batman as Batman, Robin, Nightwing, and Alfred; Jeremy Sisto (Law & Order) as Talon; legendary Batman voice Kevin Conroy (Batman: The Animated Series) as Thomas Wayne, Grey DeLisle (Scooby-Doo! Mystery Incorporated ) as Samantha, and "Weird Al" Yankovic as the Dollmaker.
Not long after becoming Robin, Damian Wayne and his father, Batman, investigate a crime scene. While there, Robin encounters a mysterious figure, Talon, who offers him a chance to be free of Batman. Intrigued, Damian seeks out Talon, who proceeds to tempt him away from his father's guidance and lead him on a life-altering course through the depths of Gotham's most secret society, known as The Court of Owls.
This film also has a sequel, Batman: Bad Blood.
Here is the character sheet.
---
Tropes:
---