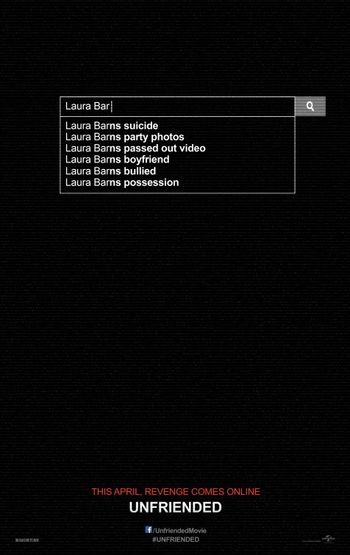 Unfriended, also known as Cybernatural, is a 2014 supernatural horror film directed by Levan Gabriadze, starring Shelley Hennig, Moses Jacob Storm, Renee Olstead, Will Peltz, Jacob Wysocki, Courtney Halverson, and Heather Sossaman. It's a unique take on the Found Footage genre, taking place on one of the characters' computer screens.
The entire film is set one to two years after the death of Laura Barns, where a video was posted of her passing out drunk at a party and soiling herself. Needless to say, a lot of people ridiculed her, driving her to commit suicide. Now six students - Blaire Lily, Jess Felton, Val Rommel, Ken Smith, Adam Sewell, and Mitch Roussel - get together on Skype, with a seventh anonymous user posing as Laura Barns.
At first, they think the user is a troll using a dead person's account. But they soon realize they're dealing with something worse. Something beyond the grave. If they ever log out or stop talking, they'll die. As the chat progresses, the truth about who posted the video begins to emerge and other secrets are revealed that test their friendship.
A sequel titled Unfriended: Dark Web was released in 2018.
Previews: Trailer
.
---
Unfriended contains the following tropes:
---