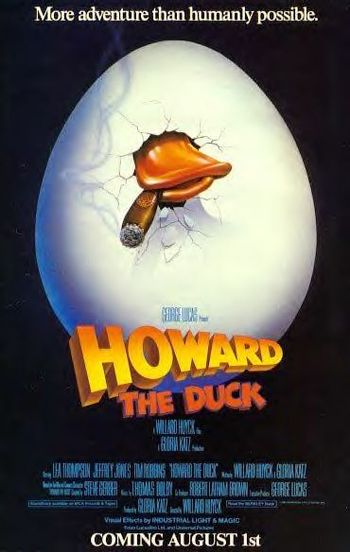 The cosmos... countless worlds upon worlds... worlds without end... in these galaxies, every possible reality exists. And what is reality on anyone world is mere fantasy on all others. Here, all is real, and all is illusion. What is, what was, and what will be start here, with the words: In the beginning, there was... HOWARD THE DUCK!
—Opening narrator
Based on a then-relatively obscure
Marvel Comics
character
,
Howard the Duck
is a 1986 live-action movie about Howard, an
anthropomorphic duck
who is accidentally zapped to Earth during
the test-firing of a laser
.
George Lucas was the executive producer of this. Yes, you saw that right.
During the course of the movie, Howard must get used to his surroundings in the human world, while trying to find his way back home. He must also avoid another alien being called the Dark Overlord, who has possessed Dr. Jenning (Jeffrey Jones, as himself), one of the scientists in charge of the original experiment.
Compare and contrast Theodore Rex, a serious film about a talking dinosaur, and Ted.
---
This movie contains examples of:
---