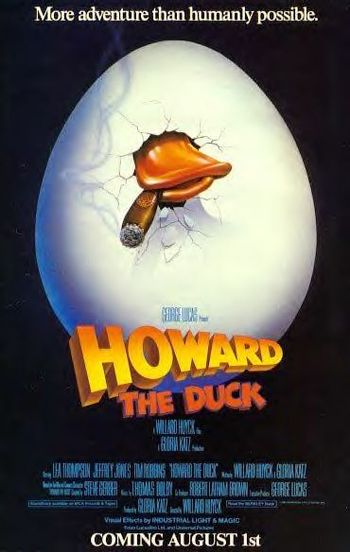 Based on a relatively obscure Marvel Comics character, Howard the Duck is a 1986 live-action movie about Howard, an anthropomorphic duck who is accidentally zapped to Earth during the test-firing of a laser.
George Lucas was the executive producer of this(?!).
During the course of the movie, Howard must get used to his surroundings in the human world, while trying to find his way back home. He must also avoid another alien being called the Dark Overlord, who has possessed Dr. Jenning (Jeffrey Jones, as himself), one of the scientists in charge of the original experiment.
Compare and contrast Theodore Rex, a serious film about a talking dinosaur, and Ted.
---
This movie contains examples of:
Non-Mammal Mammaries: Again, duck tits. Howard's reaction to a knife nearly striking his groin implies that the "males variant" is also applicable.
No Smoking: The cover of the recent DVD set is a composite of the two original movie covers (beak peeking out of cracked egg + feet up and starry sky), except it has now left out the cigar in Howard's beak.
Plot Armor: One of the Dark Overlord's energy blasts is enough to instantly vaporize a police officer and blow up cars, yet he zaps Beverly and Phil four times at the climax, only managing to cause them to turn partly transparent, and then they immediately recover when Howard destroys him. (The Dark Overlord had earlier said he needed Beverly and Phil's bodies for other Dark Overlords to inhabit, so it's possible that he was deliberately using non-lethal methods on them as opposed to his full power.)
Puny Earthlings: Parodied with Howard, but played largely straight with the Dark Overlords.
---