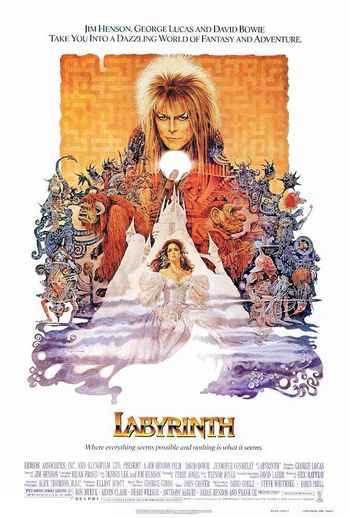 "You have 13 hours in which to solve the labyrinth, before your baby brother becomes one of us... forever."
— Jareth, the Goblin King
Labyrinth is a 1986 Jim Henson film, produced by George Lucas and written by Terry Jones, a musical fantasy starring David Bowie and Jennifer Connelly.
Sarah Williams (Connelly) is an unhappy teenager who hides from life in fantasy tales to the point of dressing up in a long flowing dress and acting out bits of script in the park. The cause of her unhappiness is her father's remarriage and the resulting half-brother, one year old Toby (played by concept artist Brian Froud's son Toby). One night, in a particularly big sulk, she wishes that the Jareth the Goblin King (Bowie) from the book she was acting out earlier would come and take Toby away — which, to her horror, he immediately does. When Sarah regrets her wish and demands Toby be returned, Jareth gives Sarah a chance to rescue Toby; he takes her to his realm, where she must find her way through the Labyrinth to Jareth's castle before thirteen hours have elapsed. In this quest, she is aided by various goblins and monsters whose allegiance to Jareth is highly conditional or non-existent. As the film progresses, Jareth seems to have ulterior motives in giving Sarah a chance to rescue her brother.
The film is mainly aimed at children, but has a cult following among adult audiences.
Tie-ins include
The film is a Spiritual Successor to The Dark Crystal, and was itself Spiritually Succeeded by MirrorMask. Although a critical and commercial flop upon release, it has since become a Cult Classic, especially among Bowie fans; alongside The Man Who Fell to Earth, it is generally considered Bowie's most iconic film.
It should not be confused with Pan's Labyrinth, which is not aimed at children, although they are similar films in many ways.
---
This film provides examples of:
---