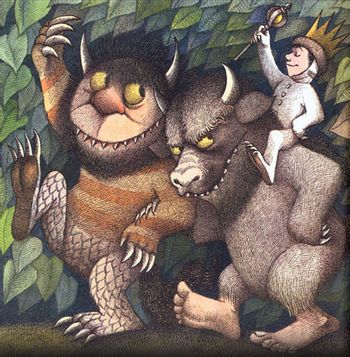 "Let the wild rumpus start!"
Where the Wild Things Are is a children's book by Maurice Sendak. It was originally panned by critics, but has since become a beloved classic.
In the book, Max is an angry little boy in a wolf costume who can't control his emotions and is sent to his room. There he is (depending on your interpretation) either transported to or imagines a world populated by semi-feral monsters, and is crowned their king because of his wild emotions. At first happy, he eventually grows tired of acting like a wild animal and goes back home.
There are two film adaptations, the more recent one directed by Spike Jonze of Being John Malkovich fame with a soundtrack by Karen O.
In the Spike Jonze film, Max is an angry little boy in a wolf costume who is very intelligent and resents that his sister feels too old to spend time with him and that his mother's life is too busy to give him the attention he desires. This causes a conflict that ends with him running away to an island populated by semi-feral monsters who crown him king out of a need for someone to take care of them and their emotional needs. Unlike in the book, the monsters all have their individual characteristics and personalities that are each in some way a reflection of Max's personality. Most of the following tropes will deal with the film version (see Adaptation Expansion).
The book also spawned a little-known operatic adaptation composed by Oliver Knussen, with libretto by Sendak (who also designed the sets and costumes). Max is traditionally a Cross-Cast Role played by a soprano, while the titular Wild Things are played by dancers in costumes with their voices being provided in the pit. While the libretto is mostly in English, the sounds of the Wild Things are mostly phonetic gibberish.
---
Provides Examples Of:
Specific to the book:
Ambiguous Gender: The Wild Things, although the name "Tzippy", implies one of the wild things to be female (assuming it's short for "Tzippora").
No Name Given: All of the monsters. Sendak had names that never appeared in the book for some of them — Tzippy, Aaron, Moishe, Bruno, Emile, Bernard — but never gave a name to the goat in the books or art (he's just referred to as "Goat Boy"). These names were created for the 1984 opera.
Specific to the film:
Wham Line: Alexander's line "Just don't ever let Carol find out"

when Max tells him that he was never a king

. At that moment, you just know what's going to happen next, considering how happy Carol was.
Year Inside, Hour Outside: Max spends a period of days (and possibly weeks) on the Island of the Wild Things, but when he returns to the "real world," it's the same night, and possibly only minutes, after he left.
---