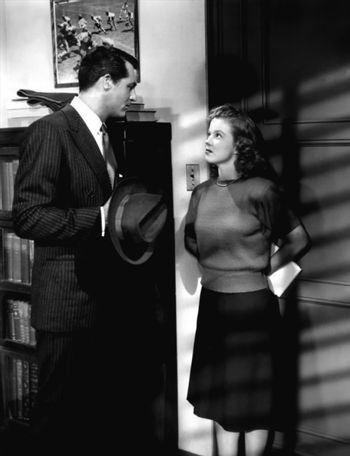 The Bachelor and the Bobby-Soxer is a 1947 comedy film directed by Irving Reis, starring Cary Grant, Myrna Loy and Shirley Temple.
The premise? Teenaged Susan Turner (Temple) falls head over heels for an older man, Richard Nugent (Grant), an artist who gives a lecture at her school. After she sneaks into Richard's apartment and is discovered there and he finds himself facing criminal charges, Susan's older sister and guardian, Judge Margaret Turner (Loy), and uncle, court psychiatrist Dr. Matt Beemish (Ray Collins), make a deal with Richard: charges will be dropped if he dates Susan until her crush subsides.
This results in a series of hilarious incidents as Richard attempts to adjust to the ways of '40s teenagers while simultaneously trying to convince Susan he's not right for her. Adding further complications are Tommy Chamberlain (Rudy Vallee), an assistant D.A. with designs on Margaret, and Jerry White (Johnny Sands), the teenage boyfriend Susan dumped for Richard. Of course, at the end of the day, there's a happy ending.
Won an Academy Award for best original screenplay, written by future romance novelist Sidney Sheldon.
---
This movie has examples of:
---