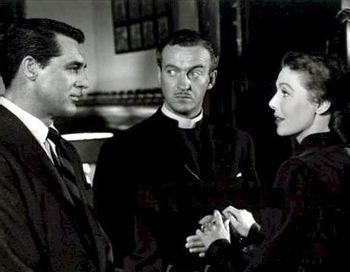 The Bishop's Wife is a 1947 comedy-fantasy directed by Henry Koster, starring Cary Grant, David Niven, and Loretta Young.
Bishop Henry Brougham (Niven), newly promoted to his position, is stressed out with the pressure from raising funds to build a new cathedral for his diocese. His work stress is putting pressure on his marriage to Julia (Young). A distraught Henry prays to God for guidance, and his prayer is answered with the appearance of Dudley (Grant), an angel sent to help Henry find his way. However, Dudley starts proving a little too helpful, especially with all the attention he pays to lovely Julia, causing Henry, the only person who knows what Dudley is, to become jealous.
This film was given a Race Lift in 1996 and remade as The Preacher's Wife, with Denzel Washington and Whitney Houston playing the parts originated by Grant and Young.
---
Tropes present in both versions:
Tropes exclusive to 'The Bishop's Wife':
Tropes exclusive to 'The Preacher's Wife':