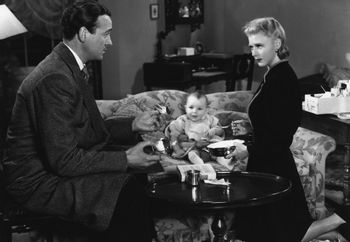 Bachelor Mother is a 1939 Screwball Comedy directed by Garson Kanin, starring Ginger Rogers, David Niven, and Charles Coburn.
Polly Parish (Rogers) is a young single woman working as a salesclerk for John B. Merlin and Son, a large department store in New York City. Unfortunately for Polly, she was hired as a seasonal employee, and on Christmas Eve she is laid off due to the holiday shopping season being over. After leaving Merlin's, she is walking home when she sees a woman dropping off a baby at the doorstop to an orphanage. Polly stops to catch the baby when it looks like he's about to roll off the step—which is exactly when the door opens.
The orphanage assumes that Polly is the baby's mother, despite her denials. They contact her last place of employment, and David Merlin (Niven), the "Son" of John B. Merlin and Son, assumes that Polly abandoned her baby because she lost her job. So David offers Polly her job back, but only if she takes back her baby. Hilarity Ensues, as well as romantic sparks between David and Polly.
Bachelor Mother was a big film for both its stars. Ginger Rogers was breaking out as a headliner after years spent in musicals and as Fred Astaire's partner in dance movies. It was one of the first starring roles period for David Niven, although his career as a leading man was soon put on hiatus by World War II.
Remade in 1956 as the musical film Bundle of Joy, with Debbie Reynolds and Eddie Fisher as the leads.
---
Tropes:
---