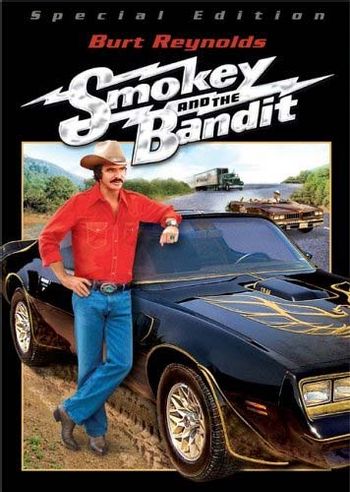 "East bound and down, loaded up and truckin'..."
Smokey and the Bandit is a 1977 action comedy film directed by Hal Needham, starring Burt Reynolds, Sally Field, Jackie Gleason, and country singer Jerry Reed (who also sang the franchise's theme song, "East Bound and Down"). It is the Trope Codifier of the "Moonshiner on the run from Corrupt Hick cops" movie (even though, technically, moonshine had nothing to do with the plot of the films).
The plot revolves around truck driver Bo "Bandit" Darville (Reynolds), who is offered $80,000 to bootleg four hundred cases of Coors beernote At the time the movie was made, it was illegal to ship Coors in bulk to the southeastern US because Coors hadn't gotten around to acquiring the relevant business licenses yet from Texarkana, Texas, to the Southern Classic truck rodeo in Georgia within 28 hours. The Bandit recruits fellow trucker Cledus "Snowman" Snow (Reed) to make the journey with him, with the Bandit's Pontiac Firebird Trans Am acting as a spotter for Snowman's rig. On the journey back, the Bandit picks up a Runaway Bride named Carrie (Field), making him the target of the jilted groom's father, Sheriff Buford T. Justice (Gleason). Hilarity and a chase across the South ensue.
Smokey was the second highest-grossing movie of 1977, beaten to the #1 spot by Star Wars: A New Hope, and established Burt Reynolds as one of the biggest stars in Hollywood in the late '70s and early '80s. Two sequels were made, Smokey and the Bandit II in 1980 and Smokey and the Bandit Part 3 in 1983, the latter with Gleason and Reed but sans Reynolds and Field (Reed's Snowman becoming a "new" Bandit), though Reynolds makes a cameo near the end. They did not end up doing as well in competition with the respective Star Wars films at the box office. In 1994, a grand total of four made-for-TV Bandit movies based upon the original trilogy were produced. They were subsequently released in a box set along with the original three, likely surprising many fans unaware of their existence.
Worth noting is that Alfred Hitchcock once named the first film as his favorite movie ever made.
---
Breaker, breaker, Bandit Lister, this is Trope Reader, what kinda tropes ya haulin'?
open/close all folders
Smokey and the Bandit
Smokey and the Bandit II
Smokey and the Bandit Part 3
---
That's a big 10-4!