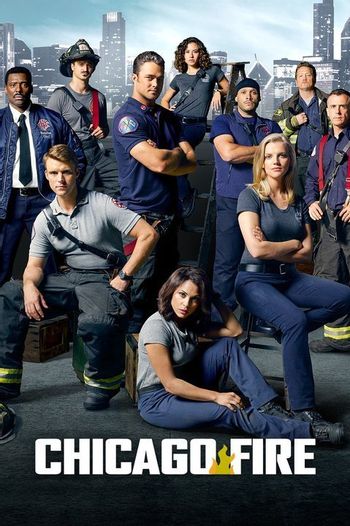 Otis: Hey, Lieutenant, why do we have a goat on our truck?
Casey: Years ago, Truck 81's first fire was at a goat farm in Little Italy.
Otis: Really?
Casey: Mm-hmm.
Mouch: They used to have a goat at the station so they didn't have to mow the grass.
Otis: Huh. I thought that's what candidates are for.
Chicago Fire is an NBC drama series, and the first show of Dick Wolf's One Chicago Franchise, that premiered in October 2012.
It focuses on the fictitious Firehouse 51 of the Chicago Fire Department, which houses Battalion 25, made up of Ladder Company 81, Rescue Squad 3, Ambulance 61, and Engine Company 51.
The head of the Firehouse is Chief Wallace Boden (Eamonn Walker), with Lt. Matt Casey (Jesse Spencer) heading up Company 81 and Lt. Kelly Severide (Taylor Kinney) in charge of Squad 3. Other members of 81 include Christopher Hermann (David Eigenberg), Brian "Otis" Zvonecek (Yuri Sardarov), Randall "Mouch" McHolland (Christian Stolte), Stella Kidd (Miranda Rae Mayo), Blake Gallo (Alberto Rosende), Darren Ritter (Daniel Kyri), and Sam Carver (Jake Lockett). Other members of Squad 3 include Joe Cruz (Joe Minoso), Harold Capp (Randy Flagler), and Tony Ferraris (Andy Ferraris). The paramedics often rotate, but are currently staffed by Sylvie Brett (Kara Killmer) and Violet Mikami (Hanako Greensmith).
Other firefighters and paramedics seen on the show include Gabrielle "Gabbie" Dawson (Monica Raymund), Leslie Shay (Lauren German), and Peter Mills (Charlie Barnett).
Not to be confused with the Major League Soccer club.
It quickly proved to be a solid show and, within the span of four years, had three spin-offs: Chicago P.D. (debuted in 2014), Chicago Med (debuted in 2015), and Chicago Justice (debuted and canceled in 2017).
---
This show provides examples of: