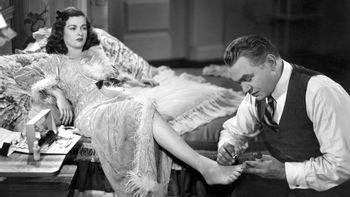 Scarlet Street is a 1945 Film Noir directed by Fritz Lang, starring Edward G. Robinson, Joan Bennett, and Dan Duryea.
Robinson plays Chris Cross, a mild-mannered bank clerk who is celebrating 25 years of service, but is unhappy with his dead end job, and his shrieking harpy of a wife. The only pleasure he finds in his life is painting, which he does as a hobby. On the way home from his 25th anniversary dinner, Chris sees Kitty March (Bennett) being slapped around by a man, her slimy boyfriend Johnny (Duryea). Chris chases Johnny off and begins to see Kitty socially.
Unfortunately for Chris, Kitty has no interest in him whatsoever, and egged on by Johnny, seeks to bleed him for money. Even more unfortunately for Chris, his comments about painting give Kitty and Johnny the mistaken impression that he is a rich and famous artist. They set out to squeeze as much money as they can out of Chris, who is now hopelessly in love with Kitty.
Scarlet Street was based on a French novel, La Chienne, ("The Bitch"), which had been previously adapted into a Jean Renoir movie under that same title in 1931. It reunited Lang, Robinson, Bennett, and Duryea, who had all worked together the year before on The Woman in the Window. It debuted to mixed reviews, but is now recognized as a highlight of Lang's Hollywood career.
The film is in the Public Domain and can be legally viewed for free on YouTube and most other streaming services.
---
This film provides examples of:
---