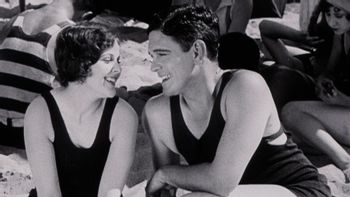 "It's funny how lonesome a fella can be, especially with a million people around him."
Lonesome is a 1928 silent film with some talking sequences, directed by Paul Fejos, starring Barbara Kent and Glenn Tryon.
Mary and Jim are two random young New York City working stiffs—she is a telephone switchboard operator, and he works a machine press. One day a truck with a marching band goes through their neighborhood advertising $1 round-trip tickets to the beach and Coney Island. Jim, who notices Mary on the bus to the park, is immediately taken with her, and she returns his interest, and they fall in love. They are enjoying themselves so much that they don't even think to get each others' names and addresses, which threatens to become a major problem when a quirk of fate separates them.
Lonesome is an example of the "part-talkie
", a convention that was briefly very common during the transition from silent to sound, between 1927 and 1929. It was originally shot as a silent film, but with the talkie craze in full swing by that point, three short dialogue scenes were inserted into the film. (The most famous part-talkie is The Jazz Singer, commonly remembered as the first talking film but actually mostly silent.)
---
Tropes: