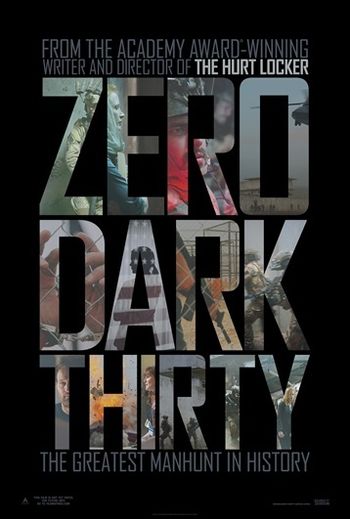 "I'm going to smoke everyone involved in this op and then I'm going to kill bin Laden."
—Maya
Zero Dark Thirty is a military thriller directed by Kathryn Bigelow based on the true story of the 10-year hunt for Osama bin Laden. It follows Maya (Jessica Chastain), a CIA operative whose single-minded dedication to and confidence in her mission to find Bin Laden helped propel the hunt forward, even when people started to give up. The film also stars Jason Clarke, Joel Edgerton, Mark Strong, Jennifer Ehle, Kyle Chandler, Édgar Ramírez, Harold Perrineau, Chris Pratt, Stephen Dillane, John Barrowman and James Gandolfini.
The film was originally intended to be about the failed attempt to apprehend Bin Laden in the mountains of Tora Bora. Following the announcement of Bin Laden's death at the hands of SEAL Team 6, Bigelow and screenwriter Mark Boal reworked the movie to cover the whole hunt. The film later faced controversy when it appeared as if Boal had been given access to secret information by the Obama administration.
---
This work provides examples of:
---