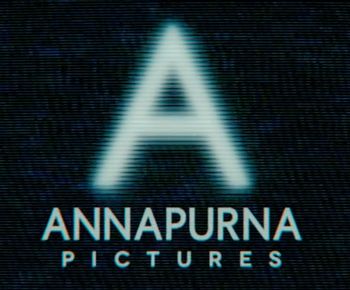 Annapurna Pictures
is a film and television production company and distributor that was founded by Megan Ellison in 2011.
Annapurna focuses on being the place for filmmakers, and are given Auteur License for their movies, with most of their output winning over critics. In 2017, they started distributing their own films, starting with Kathryn Bigelow's Detroit. They also initiated a joint venture called Mirror with Metro-Goldwyn-Mayer, where Annapurna would use their distribution and marketing resources for most of the latter's titles using MGM's banner (including the 25th James Bond film domestically). The joint venture was later expanded and renamed as United Artists Releasing, which will be used to distribute films from MGM, Orion Pictures,note whose films initially weren't part of the deal, but was later pulled in after MGM restructured their distribution team under the venture and Annapurna.
In 2016, Annapurna created a video game division, Annapurna Interactive.
In 2018, after a string of commercial flops, the company's finances were handled by Megan's father Larry Ellison; with a couple of their projects being put on hold, rumors were spreading that Annapurna was closing down soon. However, Ellison stated that her studio will stay in business. Indeed, the company remains in business and, as of 2022, opened an animation division. The first film from the label was Nimona, which was nearing completion at Blue Sky Studios prior to its closure; Annapurna bought the rights to the film and released the completed product in 2023. The animation divisionís next reported project
is an adaptation of Annapurna Interactiveís popular video game Stray, with projects from a number of Blue Sky veterans, including co-founder Chris Wedge, in the works.
Films produced by Annapurna Pictures:
<!—index—>
<!—/index—>
Films released by Annapurna:
<!—index—>
<!—/index—>