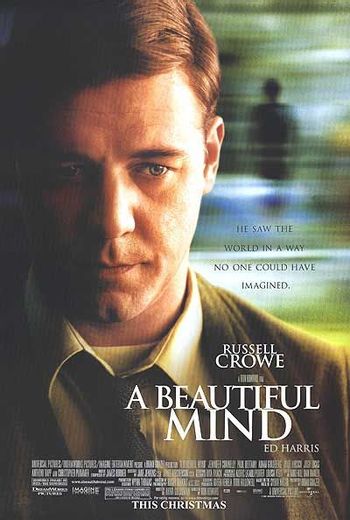 A Beautiful Mind is a 2001 American film based on the life of John Forbes Nash, a Nobel Laureate in Economics. The film was directed by Ron Howard and written by Akiva Goldsman. It was inspired by a bestselling, Pulitzer Prize-nominated 1998 book of the same name by Sylvia Nasar. The film stars Russell Crowe as Nash, along with Jennifer Connelly, Ed Harris and Paul Bettany.
The story begins in the early years of Nash's life at Princeton University as he develops his "original idea" that will revolutionize the world of mathematics.
---
This movie contains examples of:
Badass Boast: And he does it with one word...

General: You ever just know something, Doctor?

Nash: Constantly.
Broken Ace: Nash. He is a brilliant and successful graduate student and later mathematics professor but is a socially clumsy loner with

schizophrenia.

Bunny-Ears Lawyer: Gifted mathematician

who is also a paranoid schizophrenic.
"Terrified. Mortified. Petrified. Stupefied. By you."
Cutting Back to Reality: After

Nash stops taking his medication

, a very tense scene ensues where John's "handler" orders him to stop Alicia from calling the hospital; we then cut to Alicia's perspective as she turns to see what John is looking at - only to find there's nothing there. From then on, it becomes common to cut between John's perceptions and what is actually happening.
Meaningful Echo: Several.

Hansen: You scared?
Nash: Terrified. Mortified. Petrified. Stupefied ... by you.

"Gentlemen, the great John Nash."
Unreliable Narrator: Nash. To make it worse, the official film descriptions were written as if from his viewpoint.
Windmill Crusader: Nash was hired by the US government in their struggle against terrorism. What neither Nash nor his closest superiors know

is that Nash is not only brilliant but also a paranoid schizophrenic who take orders from two kinds of US officials: The real and the imaginary. (He's a complex guy.) The latter "branch of the government" takes him on a quest that only keep getting weirder as the (imaginary) terrorists get closer to their nefarious goal of planting nukes in American cities.

Writers Cannot Do Math: Acknowledged. So, they hired mathematicians to do the work.
---