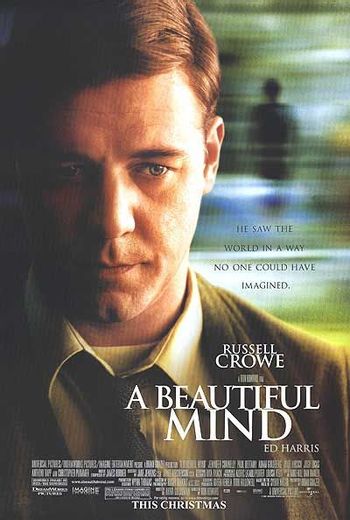 A Beautiful Mind is a 2001 American film based on the life of John Forbes Nash, a Nobel Laureate in Economics. The film was directed by Ron Howard and written by Akiva Goldsman. It was inspired by a bestselling, Pulitzer Prize-nominated 1998 book of the same name by Sylvia Nasar. The film stars Russell Crowe as Nash, along with Jennifer Connelly, Ed Harris and Paul Bettany.
The story begins in the early years of Nash's life at Princeton University as he develops his "original idea" that will revolutionize the world of mathematics.
---
This movie contains examples of:
Meaningful Echo: Several.

Hansen: You scared?
Nash: Terrified. Mortified. Petrified. Stupefied ... by you.

"Gentlemen, the great John Nash."

Mental Story: Nash's hallucinations.
Mockspiracy:

The Soviet group "New Freedom" planning a nuclear explosion in the United States never actually existed; it is all in John's imagination.

Mockstery Tale:

It initially looks like a spy thriller movie about a mathematician John Nash who assisted Pentagon in combating a nefarious Soviet conspiracy, but then it's revealed that Nash is actually schizophrenic; the spy movie-like scenes were all in his head.

No Medication for Me: When Nash realizes he can't respond to his wife, he stops taking his meds and promptly falls back into his old delusions. Also, while the real John Nash never went back to taking antipsychotics, the film inserted a line about him "taking newer medications" because the writers did not want to encourage moviegoers with mental illnesses to stop therapy.
Not That Kind of Doctor: Nash asks if a note from his doctor will get him out of teaching, only to be reminded that he is a doctor, and no it won't.
Offscreen Teleportation: William, "Big Brother," manages to go from pointing a gun at John's head, then, when John turns towards a distraction, has William in front of him again. Of course,

William had the advantage of being a hallucination

.
Ooh, Me Accent's Slipping: Russel Crowe's American accent tends to not only appear and disappear from scene to scene throughout the film, but at times he sounds like he's from different regions of the United States.
Oscar Bait: Very Loosely Based on a True Story (and heavily whitewashed) biopic about a gifted mathematician suffering from a mental illness which he learns to overcome in part through The Power of Love.
Paranoid Thriller: John is recruited by the intelligence services to find hidden messages in newspapers and thwart a Communist plot against the US. He's getting increasingly paranoid, finding hidden messages everywhere, and suspecting everyone around him of being a Communist spy.

It turns out he was schizophrenic; the Communist plot and the intelligence services he believed he was working for were all in his head.

Pragmatic Adaptation: To get involved with John Nash's story it was necessary to present the hallucinations as though they were real to the audience, which would have been impossible going straight by the real story that Nash only had auditory hallucinations. Presenting fictional characters as opposed to real characters (especially his "roommate") made it a much more interesting movie.

Also, John and his wife divorced in the 60s, and were still apart by the time he was awarded the Nobel Prize. They did remain exceptionally close, she provided him a home after his psychiatric discharge, and in fact they remarried the same year the movie came out and remained married until they died in a 2015 auto accident. Similarly, some of the more controversial aspects of both his mental illness and personal life were removed so there wouldn't seem to be a connection.

Psychological Thriller: A prominent element of the film from when William Parcher first appears until John's second admission to a mental institution.
Race Lift: John's wife in real life was El Salvadoran, but she's white in the movie
Red Scare: Nash is brought to The Pentagon to solve a Russian code that has been found.

Also Nash's work reading through newspapers and magazines looking for patterns that will lead to finding a suitcase nuke that the Russians will use to blow up part of America. Which of course isn't real, it is part of his paranoid schizophrenia.

Room Full of Crazy: Several, full of newspaper / magazine clippings
Rule of Perception: Until the audience sees that John isn't taking his meds, he acts like he is, right down to having ED. Less than five seconds after his pill stash is revealed, he starts cracking another code.
The Reveal: John has been hoarding his pills. And he's crazy and needs them.
Schizo Tech: All the government technology have not been invented yet when Nash saw them, which is a clue that it's all a hallucination.
Science-Related Memetic Disorder: Nash found that his anti-schizophrenia meds drained his energy and left him unable to accomplish anything, so he ditched the pills and battled his mental illness with cold logic.
"Shaggy Dog" Story:

The whole subplot about the Soviet group "New Freedom" and John working for William Parcher to thwart their plans. It never really existed, it's all in John's head.

She Is All Grown Up: Averted by one of Nash's delusions, as they never seem to age.
Shout-Out:

When John is asking his friend if he's been introduced to Harvey he's referencing Jimmy Stewart's imaginary friend in the film Harvey.
John refers to Parcher as "Big Brother", and his office is Room101.

Smart People Play Chess: Nash plays Go with another genius at one point. When Nash loses, he has an emotional reaction that is easily mistaken for being a Sore Loser. However, it's actually the beginning of a revelation that will eventually land him a Nobel Prize.

Nash really was known for his belief that Go is a flawed game, and even invented his own in which the first move and perfect play will guarantee victory, marketed as Hex.

Soundtrack Dissonance: The lonely piano theme during the car chase.
Take a Third Option: During a class that Nash teaches, he insists on keeping the windows shut despite the fact that it makes the room extremely hot, because a construction worker is jackhammering outside. "Your comfort takes a backseat to my being able to hear myself speak." Alicia, then one of his students, takes a third option: Opening the window, she gets the attention of the construction worker, explains the situation, and asks him very politely if he wouldn't mind continuing his work after class. Nash is suitably impressed.
Through the Eyes of Madness: For the first half of the film.
Unreliable Narrator: Nash. To make it worse, the official film descriptions were written as if from his viewpoint.
Windmill Crusader: Nash was hired by the US government in their struggle against terrorism. What neither Nash nor his closest superiors know

is that Nash is not only brilliant but also a paranoid schizophrenic who take orders from two kinds of US officials: The real and the imaginary. (He's a complex guy.) The latter "branch of the government" takes him on a quest that only keep getting weirder as the (imaginary) terrorists get closer to their nefarious goal of planting nukes in American cities.

Writers Cannot Do Math: Acknowledged. So, they hired mathematicians to do the work.
---