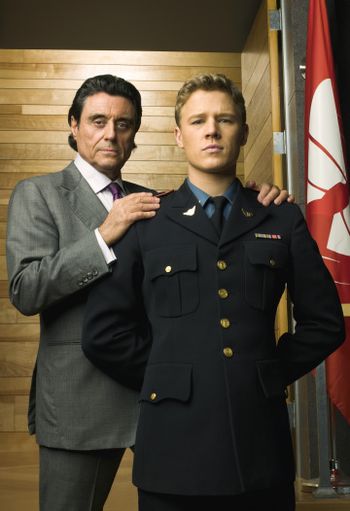 Debuting on the 15th of March, 2009, NBC's Kings is like some bizarre tonal clash of Gossip Girl and Battlestar Galactica. It tells the biblical story of King David, but set in another world not unlike Present Day Present Time, in which the kingdom of Gilboa, where King Silas Benjamin (played by Ian McShane) has just inaugurated the new capital of Shiloh. Two years later, when Gilboa is at war with the neighboring kingdom of Gath, a plucky young soldier named David Shepherd goes behind enemy lines to rescue hostages, singlehandedly destroying a Goliath tank on the way. Then one of the hostages turns out to be Jack Benjamin, the crown prince... and so David's political life begins. Also stars Susanna Thompson (the second Borg Queen), Christopher Egan, Eamonn Walker, Sebastian Stan, and Allison Miller.
Canceled due to extraordinarily poor ratings (no episode ever placed higher than 4th regardless of which night it aired) and an extraordinarily high budget (estimated at $4 million per episode with the pilot coming in at a staggering $10 million), although the series creator disputes the second part
.
On a side note: the story of David and Saul comes from 1 Samuel, not Kings, although as Kings begins during David's reign, it's not clear if the show would've gotten there if it had the chance.
---
Kings provides examples of the following tropes:
---