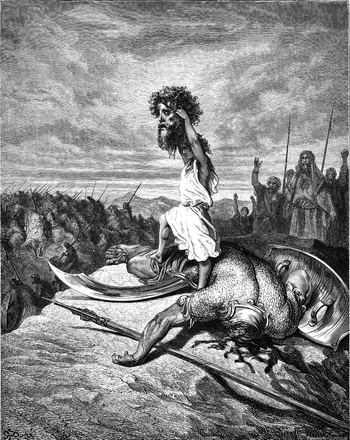 "Further, say thus to My servant David: 'Thus said the LORD of Hosts: I took you from the pasture, from following the flock, to be the ruler of My people Israel, and I have been with you wherever you went, and have cut down all your enemies before you. Moreover, I will give you great renown like that of the greatest men on earth.'"
—2 Samuel 7:8-9
The ninth and tenth books of The Bible.
The first book tells the story of Samuel who is dedicated by his mother to the priesthood. He grows up to be the most important religious and political figure of his day, becoming the last shofet or "Judge" of Israel (in the sense meant by the Book of Judges) and (somewhat reluctantly) helps establish the Israelite kingship.
The second book tells of the kingship of David, Israel's greatest king and (in the Christian tradition) ancestor of Jesus.
The first book provided the inspiration for the famous David sculpture, while Joseph Heller's God Knows — with a little meta — retold the Books of Samuel as a whole.
The Books of Samuel are followed by the Books of Kings. In some old Catholic and Orthodox bibles, the books are sometimes confusingly called 1 Kings and 2 Kings, with the later Books of Kings being 3 and 4 Kings in suit.
---
Structure of the books:
1st Samuel:
The story of Samuel the prophet (1st Samuel 1:1-7:17)
Transition of the Monarchy (1st Samuel chapter 8)
The story of Saul (1st Samuel 9:1-15:38)
The story of Saul and David (1st Samuel 16:1-31:13)
2nd Samuel:
Story of King David (2nd Samuel 1:1-20:26)
Epilogue (2nd Samuel 21:1-24:25)
---
These books contain the following tropes
---