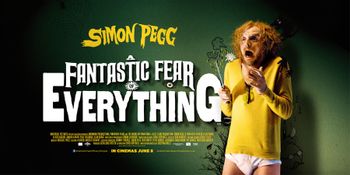 A Fantastic Fear of Everything is a 2012 British horror-comedy film, directed by Crispian Mills and Chris Hopewell, and starring Simon Pegg.
It follows Jack, a writer who has developed a crippling fear of being murdered while trying to write Decades of Death, a television serial about Victorian Era serial killers. After being invited to meet Harvey Humphries, a BBC head of scripts interested in his teleplays, Jack must face the world and another crippling fear of his, the laundrette.
Heavily inspired by Victorian Gothic Horror, this low budget film is borderline surreal in parts, even featuring a 3 minute stop motion sequence at one point. It was given mixed to negative reviews.
---
This film contains examples of:
Always Murder: Averted. When

Perkins

tries to kill both Jack and his love interest, he fails.

And the killings he claims to have previously commited weren't actually his doing in the first place
---