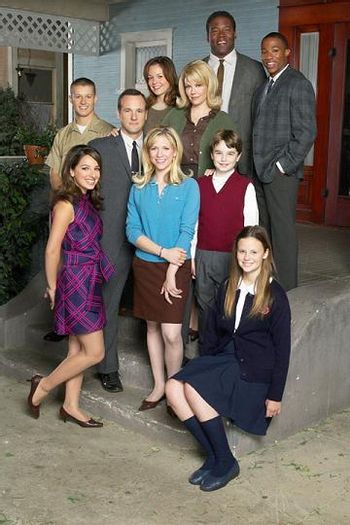 A Family Drama series which ran on NBC from 2002 to 2005 before getting cancelled due to low ratings. Regrettably, it was Cut Short in the middle of a Story Arc. The first of its three seasons was released on DVD in 2004.
Set in Philadelphia during The '60s, the series follows the Catholic Pryor family. Major characters included:
The show is perhaps best remembered for its Stunt Casting gimmick of using the American Bandstand portion of the show to have a 2000s celebrity singer dress up like a 1960s celebrity singer and sing their Signature Song. Throughout the series, they had Brandy singing "Heard It Through The Grapevine" as Gladys Knight
, Charlotte Martin singing "Downtown" as Petula Clark
, Fefe Dobson singing "River Deep - Mountain High" as Tina Turner
, Hilary Duff singing "Leader of the Pack" as Mary Weiss
, and Kelly Clarkson as Brenda Lee twice singing "Rock Around The Christmas Tree
" and "Sweet Nuthin's
". And those are just some of the ones that are easy to find on YouTube — towards the end, they did this pretty much Once per Episode.
Not to be confused with the film American Dreamz.
---
This series provides examples of:
---