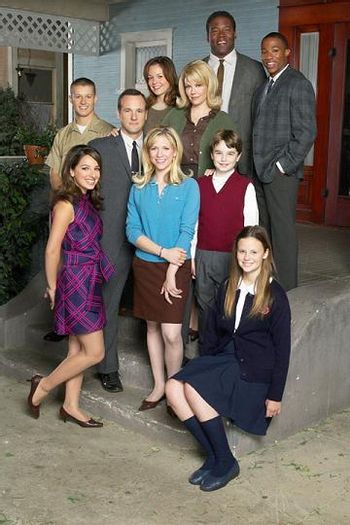 A Family Drama series which ran on NBC from 2002 to 2005 before getting cancelled due to low ratings. Regrettably, it was Cut Short in the middle of a Story Arc. The first of its three seasons was released on DVD in 2004.
Set in Philadelphia during The '60s, the series follows the Catholic Pryor family. Major characters included:
The show is perhaps best remembered for its Stunt Casting gimmick of using the American Bandstand portion of the show to have a 2000s celebrity singer dress up like a 1960s celebrity singer and sing their Signature Song. Throughout the series, they had Brandy singing "Heard It Through The Grapevine" as Gladys Knight
, Charlotte Martin singing "Downtown" as Petula Clark
, Fefe Dobson singing "River Deep - Mountain High" as Tina Turner
, Hilary Duff singing "Leader of the Pack" as Mary Weiss
, and Kelly Clarkson as Brenda Lee twice singing "Rock Around The Christmas Tree
" and "Sweet Nuthin's
". And those are just some of the ones that are easy to find on YouTube — towards the end, they did this pretty much Once per Episode.
Not to be confused with the film American Dreamz.
---
This series provides examples of:
Toxic Friend Influence: Roxanne sometimes borders on this in her friendship with Meg. Occasionally subverted — although she was normally the "good girl", Meg was quite capable of doing dumb and/or rebellious things all on her own.
"Where Are They Now?" Epilogue: An epilogue set in 1969 — three years after the last season — was filmed after the show was canceled. NBC didn't feel like airing it. It was finally shown in public to attendees at a reunion panel for the series (featuring much of the cast and crew) at the ATX Television Festival on June 9, 2013. The crowd was also shown the ultimately unsuccessful sizzle reel series creator Jonathan Prince had put together to try and get NBC to pick up the series for a fourth season.
Young Future Famous People: We see an audition from a teenage, unknown Linda Ronstadt.
---