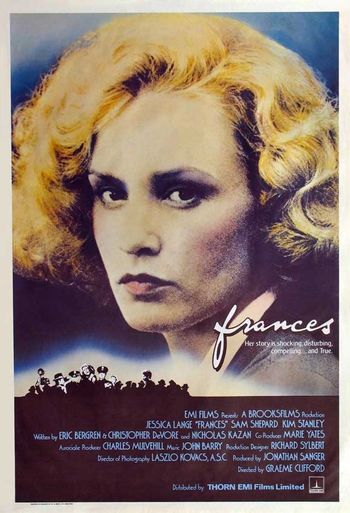 "You know, if you're treated like a patient, then you're apt to act like one".
— Frances Farmer
Frances is a 1982 film directed by Graeme Clifforc. Jessica Lange stars in the titular role as Frances Farmer, a fiery, headstrong 1930s actress poised on the verge of stardom before her alcoholism and declining mental health led to a highly publicized involuntary commitment to a psychiatric hospital of horrors. It is Very Loosely Based on a True Story and also features music by Sam Shepard and Kim Stanley.
Since childhood, Frances Farmer is a rebellious and outspoken young woman whose first taste of notoriety is a prize-winning high school essay entitled "God Dies!" A few short years later, a twenty-ish Frances travels to the USSR to study acting, seriously damaging her chances of Hollywood success during the Red Scare. But Frances is determined to make her way without kowtowing to the Hollywood machine...only to find that the machine won't let her.
Her frustration leads her to a downward spiral of drugs and alcohol, until her overbearing Stage Mom has her involuntarily committed to a borderline Bedlam House where she is subjected to a Trauma Conga Line including rape, sadistic therapeutic treatments, and ultimately a lobotomy. Eventually she is discharged from the hospital but finds herself ostracized by the specter of her mental illness.
---
Frances contains examples of:
---