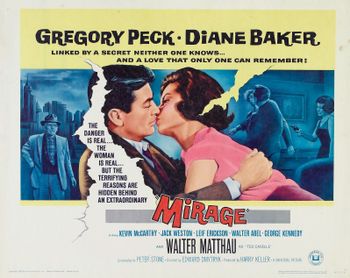 David: Shela, you've got to tell me who [The Major] is and what he wants! He can't have it both ways. How can I give him anything if I can't remember what it is?
Shela: Be grateful for that. Not remembering is the only thing keeping you alive!
David: But why?
Shela: Because you know something you shouldn't about him. But also, you have something he needs. That's why he's taking a chance on keeping you alive a little longer.
David: I'll have to write him a thank-you note.
Mirage is a 1965 noir thriller directed by Edward Dmytryk, based on the novel Fallen Angel by Walter Ericson (a Pen Name for Howard Fast). The film stars Gregory Peck, Diane Baker, Walter Matthau, Kevin McCarthy, Jack Weston, Leif Erickson, and George Kennedy.
David Stillwell (Peck) is a cost accountant for the Unidyne Corporation — or is he? See, his memory suddenly becomes mixed up, starting from the moment when Unidyne's Manhattan headquarters has a power blackout — which happens just before Wealthy Philanthropist Charles Stewart Calvin (Walter Abel) plunges to his doom from an upper floor of the building. David is bewildered that he can't recall even simple particulars of his job, and places he does remember don't exist. Believing he has some type of amnesia, he tries to backtrack what happened before the blackout. Aided by rookie detective Ted Caselle (Matthau) and confused by Shela (Baker), a woman he doesn't recognize but who claims to be an old girlfriend, David tries to make sense of the inconsistent facts.
Meanwhile, people around David are being murdered — and he may well be next. He's being stalked by hitmen working for a powerful, mysterious figure called "The Major" (Erickson). Shela says that David has something the Major wants, but he can't remember either the Major — who's allegedly his boss — or what the sought-after item is. And Calvin's death has something to do with the mystery. Can David regain his memory before he becomes the next victim?
---
Tropes:
---