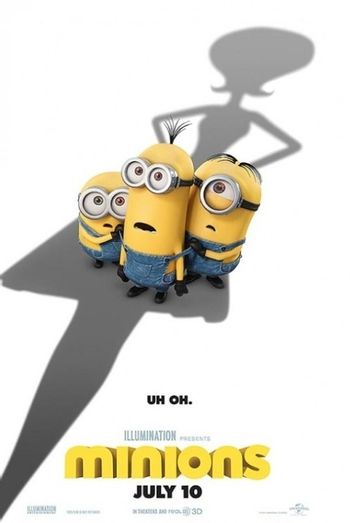 "Minions have been on this planet far longer than we have. [...] They're all different, but they all share the same goal: to serve the most despicable master they could find."
Minions is a 2015 American 3D computer-animated family comedy film, serving as a prequel to Despicable Me that explains the origins of Gru's little yellow henchpeoples. Having existed for millions of years as a race of bumbling helpers for whatever strong sinister force they could rally behind, the Minion race (Pierre Coffin) has found themselves masterless after years of failure. They have retreated to the Antarctic and spent years in a continuing depression, but in 1968, three Minions decide to set off into the world to find their people a new home and a new master. A trip to a Villain convention in Orlando leads them to world renowned super-villainess Scarlet Overkill (Sandra Bullock) and her inventor husband Herb (Jon Hamm), and now the minions must prove themselves worthy of such a dishonorable leader.
The film was huge at the box office, earning almost $1.16 billion worldwide and becoming the second highest-grossing animated film of all time back then (a few others
have topped it since). So much so, that a sequel called Minions: The Rise of Gru was announced, and originally set to be released on July 2, 2020 (this ended up being pushed back almost exactly two years, to July 1, 2022, thanks to the COVID-19 Pandemic temporarily closing the studio and further pandemic-related delays).
An official clip can be seen here
.
---
Minions provides examples of:
---