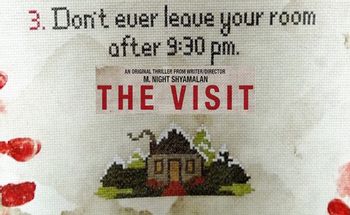 Grandma's Rules:
1. Have a great time.
2. Eat as much as you want.
3. Don't ever leave your room after 9:30 pm.
The Visit is a 2015 horror film from M. Night Shyamalan. Two children staying with their grandparents while their mother is on vacation realize that something is horribly wrong with Nana and Pop Pop when strange things start happening after 9:30 pm.
No relation to the play or video game of the same name.
---
This movie provides examples of:
---