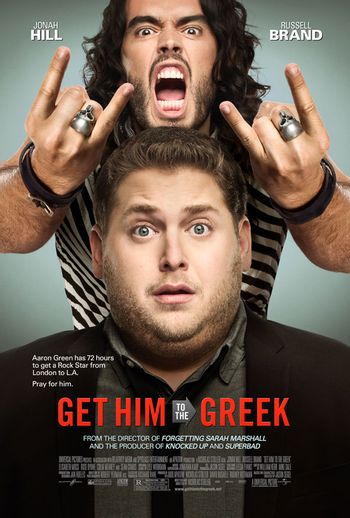 "When the world slips you a Jeffery, stroke the furry wall."
— Aldous Snow
Get Him to the Greek is a 2010 Spin-Off movie for Russell Brand's Aldous Snow persona from Forgetting Sarah Marshall, a previous joint from co-producer Judd Apatow and director Nicholas Stoller.
Jonah Hill is Aaron Green, a record company intern who has just been given the moment of a lifetime: Haul infamous Britrock libertine Aldous Snow to the States in time for his 10th Anniversary concert at L.A.'s prestigious Greek Theater. Considering Aaron is a massive Aldous Snow fan, and all he has to do is escort the playboy, this gig shouldn't be too much of a hassle, right?
In the film, Brand hits upon every British rock star stereotype as often as Hill exemplifies the harried and harassed music industry newbie. In addition, P. Diddy appears as Sergio Roma, a lunatic record exec with a fondness for animal fur and 6 kids who all need Air Jordans.
---
Tropes used:
---