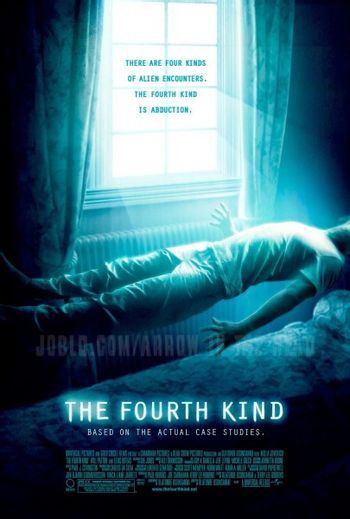 The Fourth Kind is a 2009 science fiction/thriller/horror movie starring Milla Jovovich, Elias Koteas, and Will Patton.
The movie follows a psychiatrist, Dr. Abigail Tyler, as she investigates abnormal sleep patterns in the Alaskan town of Nome. Prior to the events of the movie her husband was killed by an intruder and her daughter went blind from the mental trauma. She continues her study in an attempt to keep a normal life and notices that a connection links certain people together; many people remember seeing a white owl outside their window looking at them. She puts one participant under hypnosis and finds that they don't remember an owl at all... no, they remember something much worse...
The movie was advertised, and is strictly enforced throughout the movie itself, as a sort-of docudrama to be based on real case studies and to use actual real-life footage. However the claims are at best questionable, any attempts to corroborate the events on the movie are met with dead ends or bogus websites.
---
Contains examples of the following tropes:
---