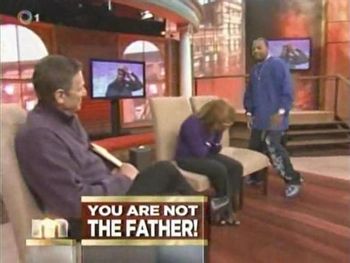 "Maury, I am [insert huge number here] percent sure that he is the father of my baby!"
— Almost every mother seeking paternity on the show from a deadbeat dad
Maury, formerly titled The Maury Povich Show, is a syndicated daytime talk show where host Maury Povich talked with guests about various problems and issues in their lives, including teenage pregnancy, medical conditions, phobias, paternity tests, domestic violence, and more.
The show first aired in 1991 and was produced by Paramount Domestic Television in national syndication. In 1998, the show began exploring "trash" topics like cheating spouses and DNA tests. Not coincidentally, around this time, he had defected from Paramount to what is currently NBCUniversal Television, who also produced and distributed fellow trash TV survivor Jerry Springer.
The most common element used in the show is DNA tests, sometimes taken to the extreme if a single man was accused of making multiple kids from different women, or when a single woman brought multiple men on the show (sometimes over the span of several episodes) to find her baby's father. The men always said, "That baby don't look nothing like me!"
Many episodes also feature rowdy, out of control teen girls who disrespected and abuse their mothers and/or siblings (they always said "You don't know me!" when confronted about said wild behavior); lie detector tests; men who treated their women like slaves; and crazy footage caught on tape (cheaters caught in the act, insane accidents, etc.). While not shown very often, there have been many episodes of mothers with extremely obese toddlers and young kids (usually ranging from ages 3-7) and their mothers who always were either clueless as to why their child kept getting fatter; who knew they're giving their kids too much junk, but didn't know what to do; or ones that firmly believed making their child dangerously fat made their kid special and beautiful. There have also been episodes about guests trying to overcome their phobias, missing children, and "Maury's Talented Kids", where really cute kids sing, dance, etc., sometimes for cash prizes or family vacations.
Around certain holidays, such as Valentine's Day or Christmas, the show celebrated said holidays by having either a group of people dressed as women (but some were men or vice versa, so the guests have to figure out who was who) or had Jack Hanna bring in a bunch of exotic animals to entertain the children in the audience.
In September 2022, the show aired its final episode after 31 years, with Povich retiring following its conclusion.
You can also play the drinking game (at your own risk).
---
You ARE the father, and a user of these tropes:
---
Until next time, America.