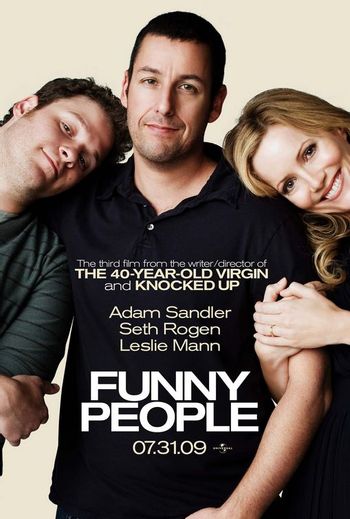 2009
Dramedy
written and directed by
Judd Apatow
and starring
Adam Sandler
and
Seth Rogen
.
Adam Sandler, a famous and popular comedian and star of numerous successful lowbrow comedies plays George Simmons, a famous and popular comedian and star of numerous successful lowbrow comedies. George is diagnosed with a rare form of leukaemia, the treatment of which promises only a low chance of success. Looking back on his life and finding it empty and lonely, realizing that he's somehow managed to drive away pretty much every meaningful human connection he ever had, Simmons decides to get back to his roots and return to the stand-up comedy circuit where he started. At his first gig, where he gives a dark, depressing routine, he crosses paths with Ira Wright (Rogen), a fumbling, shy and nervous up-and-comer who is on stage immediately after Simmons and manages to get a few laughs riffing on Simmons' dark routine.
Recognising something in Wright, Simmons offers him a job writing jokes for a corporate gig, which becomes a gig as Simmons' P.A. Ira thus becomes the first and only person George tells about his illness, and he begins to try and encourage George to come out of his shell and rebuild connections, including mending bridges with 'the one that got away' — his ex-girlfriend Laura (Leslie Mann) who is now married to an Australian businessman named Clark (Eric Bana).
Just when George has resigned himself to the inevitable, an unexpected development gives him further cause to re-evaluate his life and what he thought he knew about it — and he decides that it's time to get back together with Laura...
---
Funny People contains the following tropes:
Actually Pretty Funny: George's doctor is, at first, a little annoyed that he and Ira compare him to Hanz Gruber. When George runs into him at a bar after

discovering that he's cured

, the doctor greets him with an enthusiastic "Yippi-Ki-Ay, motherfucker!"
Adam Westing: Adam Sandler is technically playing a version of himself, except more cynical and self-absorbed.
---