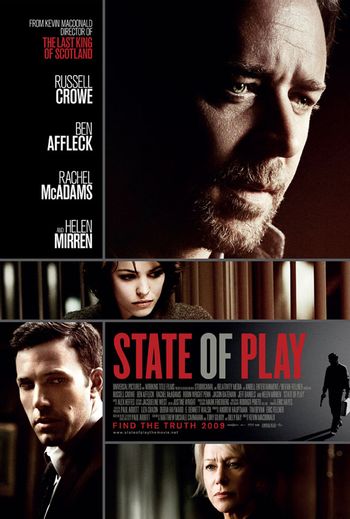 State of Play (2009) is the American adaptation of the 2003 British Conspiracy Thriller miniseries, starring Russell Crowe, Helen Mirren, Robin Wright, Jeff Daniels, Jason Bateman and Rachel McAdams.
A young drug-addicted man is killed by a mysterious man and a pizza delivery man who was witness of said assassination is left into a coma. Then, a woman named Sonia Baker is thrown into the subway rails who happened to work for congressman Stephen Collins (Ben Affleck) on his investigation for the private weapon industry PointCorp and causes a mass media scandal as she was his lover. Collins seeks for help to his old college roomate Cal McAffrey (Russell Crowe), an old school journalist for the Washington Globe, to uncover the mystery of Sonia's killing while Cal deals with another investigation and teaching newcomer Della Frye (Rachel McAdams).
Though State of Play has much in common with investigative thrillers like All the President's Men, the story revolves around the death of print news at the hand of digital media.
---
This film contains examples of:
---