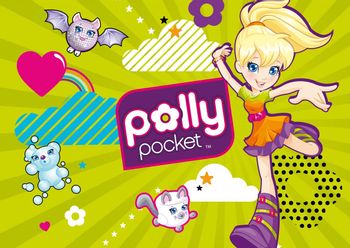 Polly Pocket is the central character in a line of pocket-sized dolls sold by Mattel. The toys were later adapted to a series of direct-to-video animated movies and a TV series in 2018.
The doll line consists of Polly herself, and her closest friends Lila, Shani, Lea, Rick, Steven, and Ana. Later releases replace Ana with Crissy and Steven with Todd, who was replaced with a new girl, Kerstie, for the 2010s reboot. Most versions of the doll line include miniature latex clothing for the dolls to wear, among miniature packs focusing on different themes. There were also compacts which open to reveal a playset inside, which had holes to insert the doll's feet into in the toyline's early days.
In the early 2000s specials, Polly is a rich girl who is loved by her friends and most of her school classmates, except for her Arch-Nemesis Beth, who is jealous of Polly because she's the most popular student in the whole school. Beth is always coming up with ways to outshine Polly, which are always thwarted by the girls' teamwork. The girls also form a rock band, Polly and the Pockets, which perform at the end of every special.
The toy line was rebooted for 2010, redesigning the characters to be more Chibi-like, and featuring a new storyline where Polly is well-off like her friends and get in their own everyday situations. They are often accompanied by ridiculously cute animals called the "Cutants".
The toyline was discontinued by 2015, but brought back and rebooted for 2018 among with a new TV series. For this reboot, Polly inherits a magical locket from her grandmother which allows the wearer to shrink to pocket-size, and she has wild journeys while trying to protect the locket from Griselle Grande, but must keep the locket's powers a secret from everyone to avoid having someone use its power for anything bad. This incarnation only keeps Lila and Shani, and introduces a new boy friend, Nicholas, as well as a full family.
Media:
---
Polly Pocket contains examples of:
---
open/close all folders
Multiple incarnations
Early 2000s toyline
2010s toyline
---